Recommended Direct Energy Plans
Compare Direct Energy Rates and Save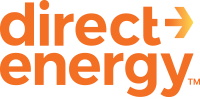 About Direct Energy
Direct Energy was founded in Toronto in 1986, as a competitive energy retailer. In 2000, the company was acquired by the British multinational energy and services company, Centrica.
In 2010, Direct Energy acquired Clockwork Home Services and its three brands: One Hour Air Conditioning & Heating, Benjamin Franklin Plumbing, and Mister Sparky (electrical services). As a result, Direct is now the largest energy and home services retailer in North America. The company has grown to roughly 4,000 employees serving over 4 million customers in North America, including 10 Canadian provinces and all 50 states and the District of Columbia.
Direct Energy provides retail electricity and natural gas services in 15 states. Texas is by far one of Direct Energy's most important markets. Headquartered in Houston, Texas, Direct operates several retail electricity brands that include Direct Energy and First Choice Power. In South Texas, Direct Energy operates as CPL Retail Energy and CPL Business. In West Texas, Direct Energy operates as WTU Retail Energy and WTU Business.
Direct Energy purchased Bounce Energy and First Choice Energy in 2013. Direct retired the Bounce Energy in September, 2019 and transferred those customers to Direct Energy. Meanwhile, First Choice is still active in Texas.
In 2021, NRG Energy acquried Direct Energy and its subsidiary brands from Centrica.
Direct Energy In The Community
Direct Energy's community involvement is very progressive. Their active social communities on Facebook, Twitter, and Pinterest keep them in contact with their customers. Direct Energy stays involved with community efforts through company programs and charitable grants. They encourage employee involvement as well by providing employees with one paid volunteer day a year.
Direct Energy not only works to help nonprofits increase the energy efficiency of their program or products but they also underwrite several important charitable and community initiatives:
The Volunteer Citizen of the Year award recognizes the significant efforts of individuals who make their communities a better place to live. The award goes to the community-nominated individual or organization that most exemplifies the volunteer spirit. First introduced in Alberta, Canada in 2005 has been expanded to include numerous cities throughout the U.S. The award winner can choose a charity to receive $5000.


Direct Energy is a proud partner of Children's Miracle Network Hospitals. In 2017, Direct contributed $2,444,116 to the network of 170 children's hospitals across the United States and Canada.


In Houston, Direct Energy has committed five million dollars through the Direct Energy Foundation to the Children's Heart Center in the Texas Children's Hospital.
Direct Energy Business
Like residential customers, business customers also face TDU charges on their monthly bills. However, how business customers use electricity has a bearing on what sort of TDU charges they will face. Not only are businesses charged on a kWh usage, some pay on a kilo-volt amperes (kVa) demand basis. Demand charges are based on the rate at which electric energy is delivered to a business by the TDU at a given instant. Businesses that draw more than 10 kVA (about ten 1,000 watt hair dryers running all at once) or more on average face demand charges.
During the four summer months, June, July, August and September, when electricity demand climbs as fast the thermometer, TDUs measure how much power different businesses use during peak demand. Known as the 4 Critical Peaks or 4CP, the average of an individual customer's peaks during the highest grid peak hours is used to set the 4CP kilowatt rate for the entire next calendar year. That rate starts with the January electricity bill. Keeping your summer demand as low as possible will save your business money year round.
Like many Texas electricity providers for business, Direct Energy does have a direct response program. Direct response programs involve temporarily halting or curtailing activities in your business that have high electricity demand. Businesses are also paid for curtailments during demand response events. Plus, these programs also offer other ways to reduce electricity demands without cutting production all together.
This not only cuts electricity bills even further, it also improves the stability of the Texas grid benefitting all Texans.
Compare Direct Energy Rates
Direct Energy EFL: Variable and Fixed Rates
How much Direct Energy plans cost you depends mostly on whether the plan's rate is variable or fixed. Because the market rate for electricity changes constantly, Direct Energy can change the rate for their variable rate plans at any time and for any reason. Their variable rate EFL spells it out in clear black and white: "This price is the price that will be applied during your first billing cycle; this price may change in subsequent months at the sole discretion of Direct Energy."
Fixed rate plans, however, have fixed prices. Once you agree to a fixed rate plan, the contract keeps the price for your energy charge constant throughout the term of the contract.
How the Right Energy Plan and Rate Saves You Money Variable rate plans tend to be great conveniences for short term periods, especially when you need a little more time or flexibility. For example, if you're moving or if you're between plans and you want extra time to shop for the best fixed rate, then signing onto a month-to-month variable plan with a low introductory rate can save you money. BUT remember that this introductory rate usually only applies for your first month. Since you're only using the month-to-month plan to give you extra time to shop, then you want to switch to a fixed rate electricity plan by the end of the month. Otherwise, the rate on your month-to-month plan jumps up to the going rate and your next bill doubles.
Electricity prices change constantly and can be unpredictable. During periods of extreme weather, like winter and especially summer, having a variable or fixed rate plan can either cost you or save you hundreds of dollars. That's because high energy demand causes the energy charge rate per kWh to rise, sometimes suddenly. Customers with variable rate plans could see Direct Energy's energy charges shoot up from 9 cents per kWh to 20 cents or more from one month to the next. Meanwhile, customers with fixed rate plans face no additional costs because the price for their Direct Energy fixed rate plan was locked-in ahead of time.
Direct Energy's Average Energy Charges
According to Direct plan EFLs, energy charges for fixed rate plans tend to run approximately 7.5 cents to 13.8 cents per kWh. All plans also come with a $4.95 base. On the whole, Direct's energy charge rates are straight-forward and fairly competitive with few "fine print" gimmicks when compared to their competitors.
Like other providers' "free" electricity plans, customers need to carefully consider their usage and their habits when it comes to Direct Energy's free weekend plans. Part of the sales pitch is that even though a third estimated consumption is on weekends, customers who shift and adapt their usage further can save money. While that may be somewhat true, the fact is that the plan's energy charges are as much 2 to 3 times higher than average during the week. And since these plans are usually offered in 12 month fixed rate or longer terms, it's certain that for several months in the year your heating and air conditioning could take a big chomp out of any potential weekend savings. As with all of these types of plans, it's up to the customer to be mindful and control their usage in order to reap the savings.
As always, Customers need to read plan EFLs carefully and fully understand how a plan's pricing works before signing up for it.
How do I get the Cheapest Direct Energy Rate?
We've created a step by step guide to help you get the cheapest electricity rate. Plus we've built tools to help analyse your TXU Energy rate. Or you can use our TXU Energy Bill Calculator tool.
There are four basic steps
Direct Energy Rates for Houston
Houston - Centerpoint Electricity prices as of 02-07-2023. Compare Houston Electricity Rates.
Direct Energy Rates for Dallas
Dallas - Oncor Electricity prices as of 02-07-2023. Compare Dallas Electricity Rates.
Direct Energy Rates for Abilene
Abilene - AEP North Electricity prices as of 02-07-2023. Compare Abilene Electricity Rates.
Direct Energy Rates for Corpus Christi
Corpus Christi - AEP Central Electricity prices as of 02-07-2023. Compare Corpus Christi Electricity Rates.
Search for The Best Direct Energy Rates
Zip Codes with the Cheapest Direct Energy Rates in Texas
Direct Energy Reviews
With a market share of 23% of electricity sales in Texas, Direct Energy is a major retail electricity providers in the Lone Star State. The Texas PUC Sorecard rates the company 4 of 5 circles. It recently reported a total of only 104 complaints about Direct between April and September, 2019.
Direct Energy rated a 734 out of 800 in the J.D. Power 2016 Retail Electric Provider Residential Customer Satisfaction Study. This put them well within the study's average satisfaction rating for Texas. While the company is not accredited with the BBB (and so is not rated), reviews at the site give it 3.5 Stars. Reviews for Direct Energy from Yelp score the company low due to complaints involving sales and customer service issues. Reviews at Consumer Affairs, on the other hand, are overwhelmingly positive for plans and customer service. Meanwhile, Texas Electricity Ratings gives Direct Energy 3 stars; 5 stars for their community outreach, plan innovation, and rewards but only 2 stars for their products and complaint resolution efforts. Most TER customer reviews give high marks (4+) all across the board, including billing and account management, order experience, plans and promotions, and price.
| | | | | | | |
| --- | --- | --- | --- | --- | --- | --- |
| Provider | 2019 Texas Electricity Ratings | Consumer Affairs | Texas PUC Rating | Yelp | 2016 JD Power Ratings | 2019 Better Business Bureau |
| Direct Energy | 3 Stars | 4.25 Stars | 4 of 5 circles* | 1.5 Stars | 734 | 3.5 Stars** |
*(Texas PUC reports a total of 104 complaints filed between April - September, 2019)
**(BBB reports Direct Energy is well reviewed but is not accredited. BBB has also posted a complaint alert on its Direct Energy review page.)
Direct Energy Scores and Ratings
455 Reviews for Direct Energy
Direct Energy Featured Plans
All plans listed include a $4.95 monthly base charge. Fixed rate plans also include an Early Termination Fee of $135 that will be applied if the customer cancels the plan contract before it expires.
Direct's two flat rate fixed energy plans discussed below are not complicated by tiers, usage windows, or bill credits. They have just one rate for all usage amounts. The energy charge is the same no matter if the amount used is 500 kWh, 1,000 kWh, or 2,000 kWh. Flat rate plans are usually easier to understand as there's just one price.
Some low usage customers shy away from flat rate plans when they first look at them because it appears that the price penalizes people who use less energy. That's not exactly what's happening. Instead, there's a distortion that happens because the rate, base charges, and TDU charges are all added together and then divided by the usage amount to show the average price per kwh. For that reason, only the plan's energy charge rates are discussed.
Live Brighter 12 This is a straight forward flat-rate contract for 12 months. Compared to other providers, Direct Energy's plans features one of the lowest energy charges around. However, because this plan is a flat rate, the lack of discounts makes it one of the more expensive. But since this plan IS a flat rate, low usage customers don't get penalized for using too little. That makes this plan a reasonably good choice for small apartment dwellers.
Live Brighter 24 With a slightly lower energy charge, this is the 2 year version of the Live Brighter 12. The same features also apply here: while it's not the lowest rate due to the lack of discounts or bill credits, low usage customers will find the flat rate let's them pay a lower monthly bill without being penalized compared to many tiered-rate plans.
Free Power Weekends 24 According to the plan's EFL, the average price calculations are based on a total consumption profile over a 12 month period that assumes 31.0% of consumption occurs during the "Designated Free Period" or weekend. Unfortunately, the plan's energy charge during the week is nearly twice that of other Direct Energy's regular fixed rate plans.
Let's assume that usage is 1500 kWh/month and the Free Power Weekend energy charge is 13.8 per kWh. If we drop 30% of usage amount (500 kWh) as the Free Weekend, the energy charge alone would then look like this: 1000 kWh x $0.138 cents per kWh = $138.00.
But if we assume that the Live Brighter 24 energy charge is 7.5 cents per kWh and also assume same usage of 1500 kWh, the energy charge looks like this: 1500 kWh x $0.075 = $112.50.
So, even with Free Weekend discount, Direct Energy customers are still more likely to pay more on average than they would with the flat rate plan at the same term length. That doesn't mean that Free Weekend customers will pay more. But, it does show that this plan requires customers to know much more about their usage and their usage habits and how to adapt them in order to take advantage of the weekend discount.
Bright Choice A month-to-month variable rate plan, it offers a low rate for the first month. Afterwards, customers will likely see their rate rise and they should expect that to happen. A was already mentioned, these sort of plans should be used for temporary electricity service. Because their rates vary with the change in electricity demand in the ERCOT grid, they shouldn't be seen as a long term energy solution.
Why do flat rate Direct Energy plans show I pay more for using less?
Recurring base charges and TDU charges tend to make the lower usage price per kWh appear higher. That's because the lower the usage, the higher the contributing cost per the same base charge amount. Both Direct Energy and the TDU have recurring base charges that are fixed amounts (and all their customers pay them). Therefore, the lower your usage per kWh, the higher percentage of your bill goes to paying for base charges. For example, Direct Energy charges $4.95 as a monthly base charge. Dividing that base charge amount by the usage equals how much that base charge contributes to the total cost of electricity.
500kWh usage: $4.95/500 kWh = $0.0099 (or .99 cents per kWh)
1000 kWh usage: $4.95/1000 kWh = $0.00495 (or .495 cents per kWh)
The same rule applies to TDU prices. For example, plug in Centerpoint's TDU charges:
($0.040512 per kWh + $5.47 base charge):
For 1,000 kWh
1000 kWh x $0.040512 = $40.512 + $5.47 = $45.982
$45.982/1000 kWh = $0.045982 OR 4.5982 cents per kWh
For 500 kWh
500 kWh x $0.040512 = $20.25+ $5.47 = $25.726
$25.726/500 kWh = $0.05145 OR 5.145 cents per kWh
In both cases, the price per kWh amounts for 500 kWh usage are higher than 1,000 kWh. If we plug these amounts into an energy charge rate of 10 cents per kWh, the average price per kWh looks like this:
For 1,000 kWh: 10 cents per kWh + 0.495 (Direct Energy base charge/kWh) + 4.5982 (TDU) cents per kWh = 15.0932 cents per kWh
For 500 kWh: 10 cents per kWh + 0.99 (Direct Energy base charge/kWh)+ 5.145 (TDU) cents per kWh = 16.135 cents per kWh
Low usage customers must remember that it's the energy charge that matters. On flat rate plans, no matter how all the base charges and TDU charges and sliced and diced, customers who use 500 kWh of electricity will still pay lower monthly bills that those who use 1,000 kWh.
Direct Energy App and Alexa
Direct has also used technological innovation as a way to win customers. In 2014, it partnered with Nest Labs to offer customers savings with the smart thermostat. Now, with smart thermostats no longer a novelty, customers can get an Amazon Echo Dot with a Direct Energy plan to manage their home energy and their Direct Energy account. Customers can interact with Amazon's Alexa digital assistant to log into their Direct Energy MyAccount and check on account balances, due dates, referring friends, and managing energy usage.
Direct Energy also helps customers stay informed via their smart device with its Direct Energy Account Manager app. This app lets customers sign up for service, transfer service, manage payment methods, set up AutoPay, check usage, and pay bills. Reviews at the Apple App store gives the iOS version 4.5 stars. The Google Android version fares worse with only 2 stars.
Direct Energy Bill Pay
Customers can choose a variety of payment options. These include paying online at the Direct energy website through their secure Account Manager portal. There is also payment by mail, overnight mail, in person at a convenient location in your area, or with a Direct Energy care center agent via phone for a $4.95 fee.
Direct Energy offers its customers a reward for paying their bills on time. There four reward programs include movie tickets, gift cards, and even free electricity upon your sixth on-time payment.
Direct Energy EFL and Plan Expiration
When a Texas electricity customer signs up for a plan, what happens when the plan expires is usually the last thing on their mind. All the same, it's an important feature in an energy plan to consider when shopping. To be clear, Texas law states that Texas electricity customers shall be notified (by mail or electronically) at least 30 days or one billing cycle prior to the date of contract expiration, but no more than 60 days or two billing cycles in advance of contract expiration for a residential customer.
According to Direct Energy's terms of service, variable rate plans and fixed rate plans do not have the same rules about notifications.
For variable rate/month-to-month customers, Direct Energy will not notify the customer about rates changes. Direct can change variable rate prices at any time and for any reason. And the rate can change every month.
For fixed rate customers, Direct sends out notices at least 30 days before the end of the initial contract term as spelled out on the Direct Energy EFL. This contract term notice tells customers that if they do not renew their contract or switch by the time the contract ends that they will be automatically switched to Direct's month-to-month variable rate default plan.
In other words, if your new 12 month plan began on January 1, you should expect a contract term notice later that year by December 1 at the latest. If you don't renew with Direct or switch to a different plan or provider, your next bill's rate could jump by 2 or 3 times the amount you were originally paying during the contract period.
So, when you receive your plan's expiration notice, it's time to shop for a new plan.