Gexa Energy Electricity Rate Comparison
Plan Filters
Plan Name
Price
MRC

The 'Monthly Recurring Charge' is a fee that the provider will add to each of your bills in addition to the electricity/gas usage charges.

Term
Type
Gexa Eco Saver Plus 24
9.4¢
$0.00 monthly recurring charge
24
Bill Credit Renewable
Gexa Eco Saver Plus 12
9.5¢
$0.00 monthly recurring charge
12
Bill Credit Renewable
Gexa Eco Saver Lite 12
17.0¢
$0.00 monthly recurring charge
12
Bill Credit Renewable
Gexa Eco Saver Premium 24
19.9¢
$35.00 monthly recurring charge
24
Flat Rate Renewable
Gexa Eco Saver Advantage 12
20.0¢
$0.00 monthly recurring charge
12
Bill Credit Renewable
Gexa Eco Saver Premium 12
20.3¢
$35.00 monthly recurring charge
12
Flat Rate Renewable
Gexa EV 24
15.5¢
$0.00 monthly recurring charge
24
Bill Credit Renewable
Gexa Saver Freedom 36
17.1¢
$0.00 monthly recurring charge
36
Bill Credit Renewable
Compare The Cheapest Gexa Energy Plans By Region
Gexa Energy Electricity Plans in Houston
Gexa Energy Electricity Plans in Dallas
Gexa Energy Electricity Plans in Abilene
Gexa Energy Electricity Plans in Corpus Christi
Gexa Energy's Plans and Rates by TDSP
Plan Name
Utility
Select Plan
| | | | |
| --- | --- | --- | --- |
| AEP-Central (Corpus Christi) | 20.6¢ | 20.1¢ | 14.9¢ |
| AEP-North (Abilene) | 20.0¢ | 19.6¢ | 14.3¢ |
| Centerpoint (Houston) | 20.5¢ | 20.0¢ | 14.8¢ |
| Oncor (Dallas/FW Metro) | 19.7¢ | 19.3¢ | 14.1¢ |
| TNMP (West Texas) | 22.3¢ | 21.5¢ | 16.1¢ |
| | | | |
| --- | --- | --- | --- |
| AEP-Central (Corpus Christi) | 12.3¢ | 16.8¢ | 19.1¢ |
| AEP-North (Abilene) | 12.0¢ | 16.5¢ | 18.8¢ |
| Centerpoint (Houston) | 12.4¢ | 17.0¢ | 19.3¢ |
| Oncor (Dallas/FW Metro) | 11.8¢ | 16.5¢ | 18.8¢ |
| TNMP (West Texas) | 14.0¢ | 18.2¢ | 20.3¢ |
| | | | |
| --- | --- | --- | --- |
| AEP-Central (Corpus Christi) | 22.8¢ | 9.8¢ | 15.8¢ |
| AEP-North (Abilene) | 22.9¢ | 9.9¢ | 16.0¢ |
| Centerpoint (Houston) | 22.5¢ | 9.5¢ | 15.6¢ |
| Oncor (Dallas/FW Metro) | 21.8¢ | 9.0¢ | 15.1¢ |
| TNMP (West Texas) | 24.5¢ | 11.2¢ | 17.1¢ |
| | | | |
| --- | --- | --- | --- |
| AEP-Central (Corpus Christi) | 22.7¢ | 9.7¢ | 15.7¢ |
| AEP-North (Abilene) | 22.8¢ | 9.8¢ | 15.9¢ |
| Centerpoint (Houston) | 22.4¢ | 9.4¢ | 15.5¢ |
| Oncor (Dallas/FW Metro) | 21.7¢ | 8.9¢ | 15.0¢ |
| TNMP (West Texas) | 24.4¢ | 11.1¢ | 17.0¢ |
| | | | |
| --- | --- | --- | --- |
| AEP-Central (Corpus Christi) | 24.4¢ | 20.4¢ | 12.2¢ |
| AEP-North (Abilene) | 23.6¢ | 19.7¢ | 11.4¢ |
| Centerpoint (Houston) | 24.2¢ | 20.3¢ | 12.1¢ |
| Oncor (Dallas/FW Metro) | 23.3¢ | 19.4¢ | 11.2¢ |
| TNMP (West Texas) | 26.0¢ | 21.7¢ | 13.3¢ |
| | | | |
| --- | --- | --- | --- |
| AEP-Central (Corpus Christi) | 23.8¢ | 19.8¢ | 11.6¢ |
| AEP-North (Abilene) | 23.5¢ | 19.6¢ | 11.3¢ |
| Centerpoint (Houston) | 23.8¢ | 19.9¢ | 11.7¢ |
| Oncor (Dallas/FW Metro) | 23.3¢ | 19.5¢ | 11.3¢ |
| TNMP (West Texas) | 25.6¢ | 21.3¢ | 12.9¢ |
| | | | |
| --- | --- | --- | --- |
| AEP-Central (Corpus Christi) | 15.8¢ | 15.4¢ | 15.1¢ |
| AEP-North (Abilene) | 15.4¢ | 14.9¢ | 14.7¢ |
| Centerpoint (Houston) | 15.9¢ | 15.5¢ | 15.3¢ |
| Oncor (Dallas/FW Metro) | 14.9¢ | 14.5¢ | 14.3¢ |
| | | | |
| --- | --- | --- | --- |
| AEP-Central (Corpus Christi) | 17.3¢ | 16.8¢ | 16.5¢ |
| AEP-North (Abilene) | 16.6¢ | 16.2¢ | 15.9¢ |
| Centerpoint (Houston) | 17.6¢ | 17.1¢ | 16.9¢ |
| Oncor (Dallas/FW Metro) | 16.4¢ | 16.1¢ | 15.9¢ |
| TNMP (West Texas) | 18.7¢ | 17.9¢ | 17.5¢ |
What Do Gexa Energy Listed Rates Mean?
The 'average rate' you see on your Gexa Energy bill and in the advertisements includes several different charges - there are per-kWh energy charges, per-kWh TDSP charges, monthly TDSP fees, monthly administrative fees from the provider, and various other utility fees and taxes. Becuase some of these costs vary with usage while others do not, the 'average rate' you see on your bill will ironically be higher when your usage is lower. That's because the fixed monthly fees are spread over a smaller number of kilowatt-hours (kWh).
ERCOT requires each provider to display the average rate at three different levels of monthly usage: 500 kWh, 1000 kWh, and 2000 kWh. Generally, the average rate will be highest at 500 kWh and lowest at 1000 or 2000 kWh. If the 500, 1000, and 2000 rates are all the same, then your average rate on your bill will not change much. If the rates vary much, then your average rate on your bill will shift up and down depending on how much electricity you use.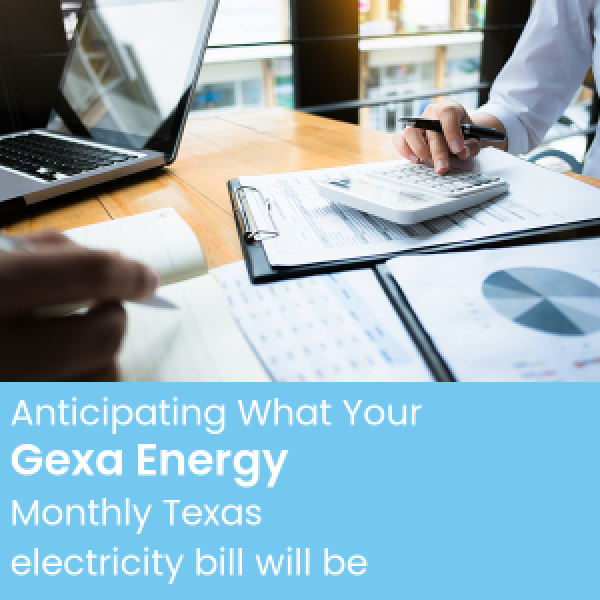 Compare Gexa Energy Rates to Electricity Companies With Similar Rates
9.0¢
$0.00 monthly recurring charge
11.9¢
$4.95 monthly recurring charge
8.9¢
$0.00 monthly recurring charge
11.9¢
$4.95 monthly recurring charge
15.9¢
$0.00 monthly recurring charge
16.1¢
$0.00 monthly recurring charge
What People Are Asking About Rates for Gexa Energy
What is the cheapest electricity plan that Gexa Energy has?

The cheapest Gexa Energy plan is Gexa Eco Saver Plus 24 with a rate starting at 9.4¢ per kWh. Customers of Gexa Energy can expect their average bill to fall around $167 per month on this plan. This plan's early termination fee is $295. This is a 24 month plan.

More details on this plan can be found on the Gexa Eco Saver Plus 24 plan page or by calling 855-259-1182.

Gexa Energy has 7 more plans with rates starting at 9.5¢ per kWh@1000/kWh and estimated monthly bills starting at $168.

Where can I order Gexa Energy electricity?

You can find 8 plans starting at 8.9&cent/kWh on our Gexa Energy plans and products page.

What do customers think about Gexa Energy?

The average customer review in Texas is 1.8. The average Gexa Energy customer review is 1.6 / 5 stars. For a different take you can go on over to our company ratings page for Gexa Energy

Why is my electricity rate higher than when I signed up?

The rate you see when you sign up is the average rate at that exact amount of usage in one billing cycle.

Some companies try to game the system by applying bill credits between certain usage thresholds. It works great if you are within the margins, but as soon as you leave that band you no longer get that bill credit and your rate per kWh can double. The PUC only requires that companies disclose their average rates at 500, 1000, and 2000 kWhs. Companies can get around this by giving you a $50 bill credit if you use between 1000 and 2000 kWhs per billing cycle.

The only way to really know what you're getting into is to read your EFL. A 10¢ rate at all usage amounts may end up being cheaper than that 8¢ rate at 1,000 kWh!

What are the cheapest natural gas plans that Gexa Energy has?

This retailer does not offer any natural gas plans in your area at this time.

Does Gexa Energy have no-deposit plans?

Unfortunately, Gexa Energy does not offer any non-deposit plans at this time. Popular non-deposit plans from other reps are:



Why Do Gexa Energy Rates Vary Across the State?
That's a great question - why is power typically cheaper in Dallas than it is in Houston? There are good reasons for those differences.
As electrical systems were built out in the early 20th century, different areas built a variety of generating plants, transmission lines, substations, and infrastructure. As a result, some areas of the state may have newer, more efficient plants, and others might have older, less efficient plants that cost more to operate for each unit of electricity they create. Then there are differences in the voltages and capacity of the transmission lines which cause more variation in the efficiency of the distribution system. Finally, different parts of Texas have different TDSPs (the companies responsible for maintaining electrical distribution infrastructure), which each have their own shareholders, costs, and management.
Ultimately, these regional rate variations are not the fault of Gexa Energy or any other Retail Electric Provider (REP) and they are certainly not due to anyone trying to cheat or gouge consumers. The decisions the generators and TDSPs have made over many years as the power grid was constructed have resulted in an environment where it might cost 1-3 cents less to create and transmit one kilowatt hour of electricity to a home compared to another region. It just depends on the costs that were incurred to create the infrastructure in that area, how densely populated the area is, along with the decisions that were made over decades about what kinds of power plants to build and where to put them.