FIND THE CHEAPEST ELECTRICITY RATES FOR Cedar Hill TX 75104
We have made it very easy to compare Cedar Hill power rates so you can get the least expensive electric price for your needs. Just enter your zip code then read company reviews, compare the Texas electricity companies that serve the area to get the best electric plan that meets your needs.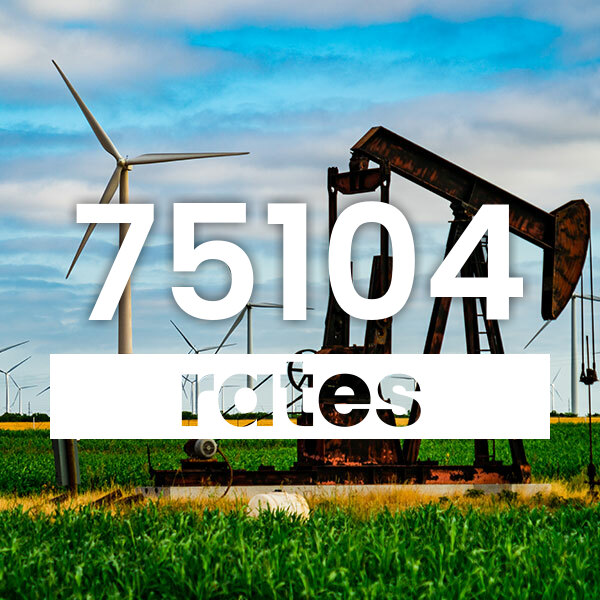 Top Electricity Rates for Cedar Hill 75104
Company
Term
Rate
4Change Energy
24/months
11.1¢/kWh
Gexa Energy
24/months
11.1¢/kWh
Frontier Utilities
24/months
11.1¢/kWh
Veteran Energy
36/months
12.5¢/kWh
Constellation
12/months
12.9¢/kWh
Rhythm
9/months
13.0¢/kWh
TXU Energy
12/months
13.9¢/kWh
Energy Texas
18/months
13.9¢/kWh
BKV Energy
36/months
14.3¢/kWh
Champion Energy Services
24/months
14.8¢/kWh
Rates as of Sep 23, 2023 at 08:27 PM
Electricity and local information about 75104
Stats for 75104
Cedar Hill, Texas, 75104 covers 39.09 square miles and has a population of 45373 people. This makes 75104 the 109th most populated zipcode region in Texas.
Area codes in 75104 include 214/469/972.
Zipcodes Near Cedar Hill
4 Cities Nearest to Cedar Hill
Smaller Zipcodes around
75104 Energy Rates, Providers, and Plans FAQ
Company
Term
Rate
Gexa Energy
12/months
11.1¢/kWh
Frontier Utilities
12/months
11.1¢/kWh
4Change Energy
12/months
11.1¢/kWh
Constellation
12/months
12.9¢/kWh
Veteran Energy
12/months
13.1¢/kWh
Rates as of Sep 23, 2023 at 08:27 PM
Cheap 24 Month Electricity Plans in Cedar Hill 75104
Company
Term
Rate
4Change Energy
24/months
11.1¢/kWh
Gexa Energy
24/months
11.1¢/kWh
Frontier Utilities
24/months
11.1¢/kWh
Veteran Energy
24/months
13.7¢/kWh
Energy Texas
24/months
14.2¢/kWh
Rates as of Sep 23, 2023 at 08:27 PM
What customers are saying in Cedar Hill

Great Customer service
I just got off the phone with a representative, and I asked if I could get an extension, after I explained my situation, she told me my options, she was very patient with me, I was panicking because I didnt want my lights to be cut off, I was going to have the money in two weeks, neither to say by the time I got off the phone, I was a happy camper and my renewal is coming up, and trust me I will be renewing my service, cant remember the young lady name, but Thanks again
Plans & Pricing

Order Experience

Customer Service

Account Management

Likely to Recommend