Updated Texas Hurricane Season
Posted on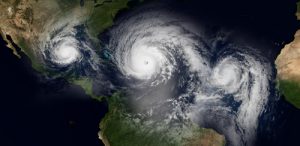 Hurricane Season Returns to Texas
On August 8, NOAA released its August update for the Atlantic Hurricane Season and the final El Niño Advisory. The news is this — El Niño is dead, conditions in the tropical Atlantic have changed. Now there's a higher likelihood for tropical cyclones to form during the last 100 days of the 2019 season.

Hurricane August Prediction Update, 2019
| | | | |
| --- | --- | --- | --- |
| | NOAA May Prediction | NOAA August Prediction | Seasonal Average 1981-2010 |
| Number of named storms (winds 39 mph+) | 9-15 | 10-17 | 12 |
| Storms becoming hurricanes (winds 74 mph+) | 4-8 | 5-9 | 6 |
| Major hurricanes (Cat. 3, 4 or 5, winds 111 mph+) | 2-4 | 2-4 | 3 |
El Nino Está Muerto
Though researchers expected that the El Niño had a chance to last until fall, the little guy didn't make it. Temperature measurements in the El Niño Southern Oscillation (ENSO) area of the equatorial Pacific showed that SSTs have cooled to 0.4°C above the long-term average. Now, that's not much of a change but the decrease takes the measurement below the minimum threshold of 0.5°C for an El Niño to begin exerting atmospheric influence.
Why Are Hurricanes A Threat to Texas Now?
The normal Walker circulation has stayed in the western Pacific. El Niños usually move the Walker Circulation eastward towards Mexico, where it sets up cyclone-killing wind shears in the Atlantic. No El Niño means no additional wind shearing to snuff out hurricanes. While there may be some wind shearing possible in the Atlantic, it will probably not be as constant since there won't be an El Niño present to change wind circulation.
Will Hurricanes Hit Texas?
It's not certain but it is a possibility and well worth preparing for. Texas residents have been hit by many late season hurricanes in the past. Both Harvey and Ike were late season storms that caused extensive damage, flooding, power outages, and numerous deaths. Though the Main Development Region (MDR) in the Atlantic has been quiet for days now, there's a lot a potential. The west coast of Africa is in what NOAA calls an "enhanced" monsoon mode. There are strong northeast trade winds streaming just off shore from the western Sahara towards the Canary Islands. Not far from the Cape Verde Islands, they run into the ridging from the wet monsoon flow heading north. South of that ridge, the winds are curving into Africa, bringing the monsoon moisture into the continent's interior. This is where the dry Sahara winds are picking up all that moist air from the south and head westward as the African Easterly Jet. If you watch this Live Surface Winds Map, you can see this air flow pattern in real time. With all this warm moist air heading westward over the warm Atlantic Ocean, tropical waves (low pressure troughs) form within the jet. Fueled by heated convection currents, they can spin up into tropical cyclone systems as they cross the Atlantic and ultimately form hurricanes.
Late Season Hurricanes in Texas, a Zombie El Niño?
Most ominous for Texas is that researchers have correlated a typical increase in the number of Category 3 to 5 hurricanes when El Niño was relatively weak and the West African monsoon was strong. This especially holds true for late season hurricanes that primarily form in the warm waters of the Caribbean and Gulf of Mexico. However, as of this writing (August 13), NOAA reports several tropical waves have formed in the eastern Atlantic and Caribbean. Some are embedded with "dry Saharan air" which limits convection or precipitation, and reducing the chance for storm formation.  As a consequence, they will likely fade out over the next 24 hours. Even with the reawakened hurricane season it might not be time to write this El Niño's obituary just yet. Conditions in the equatorial Pacific are still on the borderline and El Niños have been known to die back in late summer only to emerge healthy and fully active in mid-autumn. But while a zombie El Niño wouldn't do much for hurricane season right now, it could hold back freezing winter conditions and keep Texas energy prices low. It's just too early to be certain. Meanwhile, with the higher likelihood of a stormier tropical cyclone season, it's important to , make sure your family has a hurricane safety plan and everyone knows what to do in the event that dangerous weather is coming to Texas.
ENSO Neutral: Shopping for Texas Electricity
ENSO Neutral (or "El Nada" as some clever wags call it) means that there isn't enough warmth or cold in the ENSO area of the equatorial Pacific to influence atmospheric circulation. That leaves other features that affect the planet's atmosphere to have a great influence. In the long view, ENSO neutral winter conditions usually mean colder than normal conditions in the upper US north with warmer and wetter conditions in Texas and across the US south. That's not to say that bitterly cold out break in the US north doesn't happen during El Niño years. This recent El Niño began emerging last winter. However, ENSO neutral conditions create opportunities for longer lasting colder-than normal temperatures by shifting the Polar jet southwards. If that were to happen, northern states would likely consume more natural gas for heating and for generating electricity. That demand would decrease supply and increase price as winter wore on. Consequently, Texas and the rest of the US could see natural gas and electricity prices rise during the first quarter of 2020. With that in mind, it's an excellent strategy to shop for a new fixed rate electricity plan now. By locking in a low priced plan at https://www.texaselectricityratings.com, you can shield your family from the potential spiking winter rates and beyond.