Best Dallas Valentine's Day Restaurants   
Posted on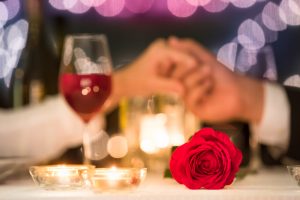 Who Has the Best Valentine's Day Dinner in Dallas?
If you've found the cheapest electricity rates in Dallas, then you're in a great position to 
shock your Valentine's Day date with an electrifying dining experience! Book a table at one of Dallas's best restaurants. But since there's so many, we've put our skills for finding the 
best electricity rates in Dallas
to the test. In our exhausting (and very filling) quest for the best ambiance and menus, we 
identified these 5 ideally romantic locations sure to make your special evening electric. 
Del Frisco's Grille - Southlake

Del Frisco's Grille doesn't disappoint. This modern restaurant features American cuisine made with fresh, seasonal ingredients and an award-winning wine list showing parings for all their dishes. Energize your appetite with a variety of shareables like Cheesecake Eggrolls, Jumbo Lump Crabcakes, and then select from their exquisite Valentine's Day Menu. Choose from various small plates like Ahi Tacos and Deviled Eggs to share or carve into a delicious 45-day aged steak. But be sure to save room for their decadent Caramel Pot De Creme.
Le Bilboquet - Dallas
If you're in the mood for Parisian ambiance and cuisine, then you need to book Le Bilboquet. This Parisian bistro has an established reputation for French-American fusion blending locally sourced, high-quality ingredients with a wine list that offers a range of energizing pairings. 
Their delightful 
Valentine's Day Menu
offers three courses. Start off with some traditional Escargot or Tuna Tartare. Then fall in love with 1 of 4 dinner options (your date will understand). And finally, dally over a dessert choice between Chocolate Mousse and Fried Bread Pudding.
Paul Martin's American Grill - Turtle Creek, Dallas

For the highest-culinary standard, join the Paul Martin's American Grill in Dallas on their mission to redefine America's food story. Energize your palate with a variety of superb steak selections and skillfully prepared fish dishes. Ingredients are all responsibly sourced and made from scratch, cooked over their famous mesquite-fired grill. Your partner's heart will "beet" faster for their Valentine menu selections  Sample their selection of handcrafted cocktails and craft beers and choose food pairings from over 100 wines. And lastly, indulge yourselves in a Triple Chocolate Cheesecake.
St Martin's Wine Bistro

If you're looking for elegance and romance, then you need to book a table at St. Martin's Wine Bistro. With an impressive Captain's portfolio of 200 wines, the French menu screams European chic and sophistication. Spark a bit of romance over the Foie Gras or the Foie Real. Their St. Valentine's Day Menu is a 42-year tradition for lovers and costs just $80. Flex your power to choose from a selection of stunning appetizers and electrifying entrees. Afterwards, relax with your date by sharing one of their fine desserts.
Tupelo Honey-Frisco

Nothing says, "we're butter together" like the Carolina mountain cuisine at the Tupleo Honey-Frisco. Cathead biscuits, fried okra, bone-in fried chicken, and Bourbon Peppercorn Glazed Meatloaf are just some of the tasty tidbits you'll find on their expansive menu; all

responsibly sourced and made from scratch. Your palate will be buzzing long after dinner.

 Try their uniquely delicious Valentine's Day 

La Vie en Rose cocktail. Finish your mountain home dining tryst with Mini-Mason Jar Dessert, Chocolate Peanut Butter Pie, or Heavenly Banana Pudding.
Fall in Love with Cheap Electricity Rates in Dallas
Don't settle for high electricity bills when love is in the air! With the cheapest electricity rates in Texas, you'll fall in love with the savings every time you get your monthly energy bill. Shop for the best deals at www.texaselectricityratings.com where you can compare rates, read customer reviews, and use special online tools to help you find energy plans that are perfect for your Dallas home. 
And that'll give you more money for more romantic nights out.