St. Patrick's Best Houston Irish Pubs
Posted on
Which Houston Irish Pubs Will Celebrate St. Patrick's Day?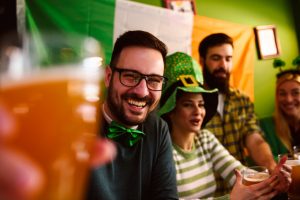 St. Patricks Day 2022 is on a Thursday this year which gives you the opportunity to party like a college student. But don't overdo it because you're not a college kid anymore. You may think you have unlimited Houston energy, but you don't. While you may love Irish music and good company, that green beer doesn't go down as easy as when you were younger. Nonetheless, with Covid lock-downs over, it's a grand time to celebrate. So let's run through our list of fine Houston Irish Pubs to help you celebrate St. Patrick's Day.
Pimlico Irish Pub - "Best St. Patrick's Day Party in Houston"
Situated a few blocks south of Buffalo Bayou, Pimlico is a great spot for celebrating St. Patrick's Day. Its location is convenient to neighborhoods including Houston Heights, Montrose, Downtown, and River Oaks. The festivities promise to include live bands, entertainment, and more. The quintessentially Irish Guinness beer will flow, so make sure you have a designated driver in your crew.
Hugh O'Connors - An Authentic Irish Bar
With two locations near the Katy Freeway, Hugh O'Connors invites you to enjoy a pint in either of their Houston Irish pubs. They offer "great food, beer, and craic." So what is craic, you say? It's Irish for news, gossip, fun, entertainment, and enjoyable conversation. That sounds like exactly what you need for a St. Patrick's Day get-together.
Clancy's Public House
If your St. Patrick's Day festivities center more around food than drink, Clancy's Public House can satisfy your hankering for Irish food. In addition to a wide variety of typical bar food, you can get shepherd's pie filled with ground beef, peas, carrots, and Guinness gravy. But be sure to save room for whiskey chocolate pecan pie.
Mo's Irish Pub
Mo's Irish Pub is more than just a place to get an Irish drink. "It's not just a pub, it's an extension of home, community, and family," they say. You can become part of their community by joining their free Pub Club. You get a free cookie on your birthday plus invitations to events, private parties, and new location openings.
Save Money On Your Houston Electricity
Not to sound like your Irish Mother Machree but remember to take it easy out there, and drink plenty of water. But if your bar tab gets a little too high, you can always save money on Houston electricity by shopping at https://www.texaselectricityratings.com. Here you can find the best power plans for any type of residential customer. Before you party at the best Irish pubs in Houston, do your wallet a favor by saving on Texas power.