Like most providers, Hello Energy has several plans available to customers in Texas. These plans, along with their specific rates by area, are listed in the tables below: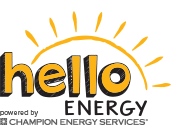 How do I find other providers plans?
You can easily find the electricity rates for Hello Energy as well as other suppliers in your area by entering your zip code in the box provided below.
Why does Hello Energy charge different electricity rates depending on where I live?
That's a good question - you might think the rates should be the same everywhere, after all, it's just electricity, right?
Texas electricity rates are subject to change throughout the calendar year. Energy rates in Texas can change depending on many factors, including the demand for energy and wholesale energy prices. Wholesale Texas electricity prices are driven by factors such as weather, forecasted vs actual demand, and commodity prices such as natural gas (The predominant electricity generation fuel) Keep in mind that as Solar and Wind energy generation grow, energy forecasting will get more complicated as clouds and wind paterns will effect Texas electricity rates in real time.