Looking for Cheap Electricity in Texas?
Shopping for the cheapest electric company in Texas can be a difficult experience. In fact, sometimes the process, which should be relatively straight-forward, can end up being quite complicated for customers to understand. Why is it hard to find cheapest electricity, you ask? Because the advertised price might not apply to you. This guide will help Texans shop for, and find, the lowest Texas energy rates available.
How To Compare Electricity Rates
Shopping for the cheapest electricity company in Texas might seem easy, but that isn't always the case. Common sense would say it is like anything else, find the lowest rate listed and you win. But that isn't the case in Texas. For examples look below:
Texas Electricity Rates Chart
You can see a list of different electricity plans, and you can shop by the lowest rate, but there is no guarantee that will actually be the electric rate that you end up paying for electricity. Why is this? The answer is electricity usage. The short of it is that electricity companies are allowed to charge customers different rates for different usages even if customers are on the same plan. In addition, these plans only need to be advertised at one of the three possible rates! So two Texans on the same electric plan could be charged different rates depending on whether they live in an apartment versus a mansion. See how that can be confusing? So when a customer wants to find the cheapest electricity rate, and they want to compare electricity rates between companies, the most important thing they need to understand is their own usage.
Usage Affects Low Energy Rates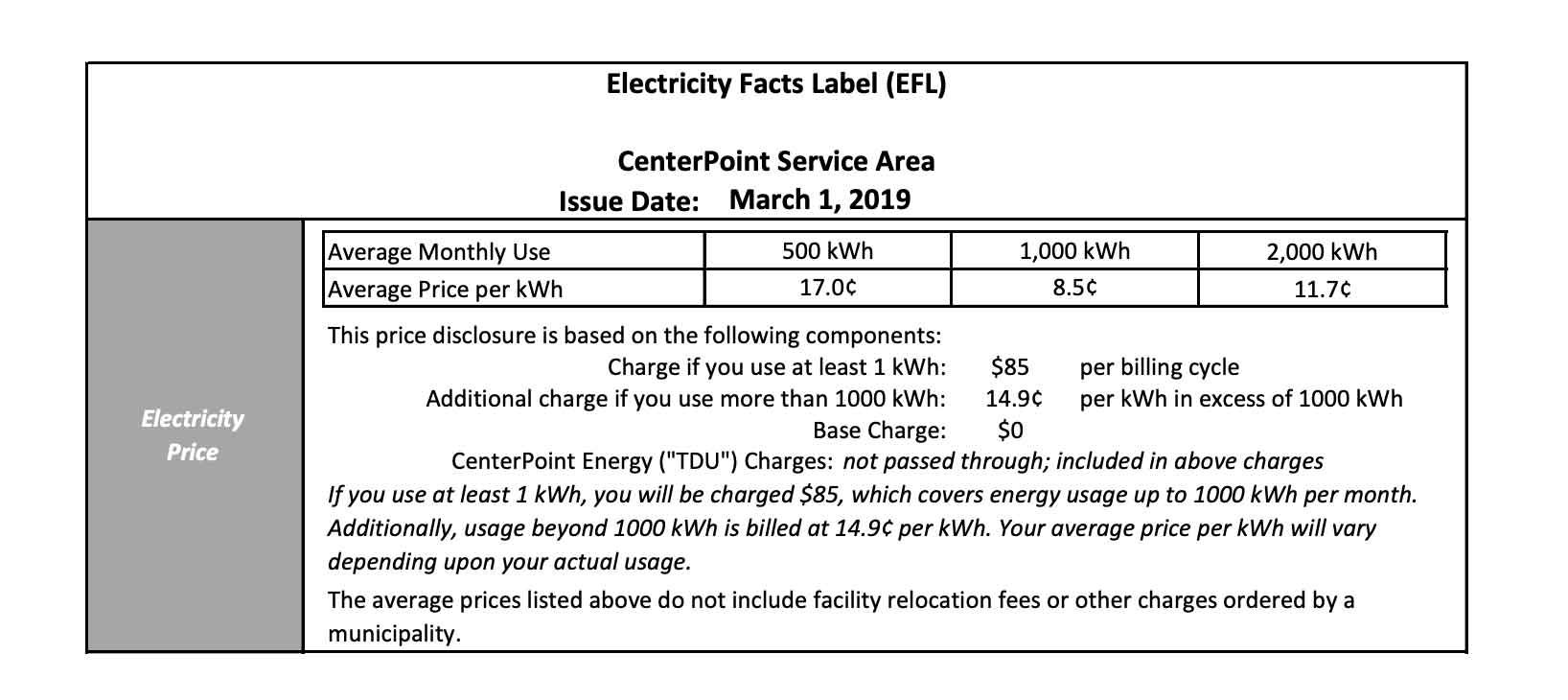 Look at the sample table above, and you will see three different electricity rates listed. Why is that? Because while people view electricity the same as other commodities, like say gasoline, that isn't how the pricing works. Instead of paying one rate for energy, the same way you would pay for a price per gallon of gas, electricity rates are determined by a customer's usage. So if a customer is a light user, they might fit in one pricing bucket. If they are a heavy user, with a huge home and a pool pump, they might qualify for a different rate based upon their usage. And the usages are illustrated in the chart above. So a big user might pay Z, while someone in an apartment might pay X. This is what people struggle to understand. For comparison sake, it would be if the gas station advertised one rate to customers, but in reality they offered a discounted rate for anyone who filled up a tank with more than 20 gallons. Or if they charged more.
What is the solution? Well, read the fine print. In this case, the fine print is an EFL (Electronic Facts Label).
How to Find the Cheapest Electricity
Now that we understand the important aspects that go into determining your electricity rates, the real question on everyone's mind is how to find the cheapest electricity rates. Well, since we know cheap electricity is determined by your usage, step one is going to be looking at some past bills and understanding what your usage numbers actually look like. And this will be tricky, because usage will vary at different times of the year. For example, folks use more energy in August in Texas than they do in March. But having an idea of your usage, you are then armed with which Tier of usage you fit. Most websites where you shop for electricity have a usage you can display by (500, 1000, or 2000) for comparison. If this is the case, you can use that to filter by your usage level, and then look at the prices. Shopping for cheap energy rates takes some work. If you are on a webpage that doesn't have a toggle for usage, then you need to click on the EFL link and look at the rates at different usages listed for that plan. If you are speaking with someone on the phone, ask them directly what the different rates are at different usage levels.
Knowing that a real electricity bill would be determined by the price of the commodity as determined by the usage rage multiplied by how much was used, we know HOW to shop. Or, to continue our gas analogy, it would be the cost of gas as determined by the size of your gas tank multiplied by how much gas you actually pump. But using your usage to shop by the rates listed will allow you to shop for the cheapest electricity plans.
How to Find Low Rate Energy Companies
It would be easy on electricity shoppers if they could find companies that generally offer low energy rates, the same way a car shopper might know that a Honda is cheaper than an Acura, or a Nissan is cheaper than an Infinity. But at the end of the day, that is not how it works in Texas electricity. Despite what commercials might tell you, there is not one, much less a few, companies that consistently have cheap prices in relation to the electricity market. The best a customer can do to shop is to search for electricity plan by plan, not company by company. One company might make some good decisions one year and have really cheap plans, but something else could change a few months later and the plans they are offering could be higher. That is why:
1) It is important to lock into longer term contracts and
2) Shop the marketplace for the best plans when your existing electricity contract expires.
Finding Cheap Electricity with No Deposit
Another difficulty in finding cheap electricity in the Texas electric market is finding good plans without deposits. This is extremely difficult because it is impossible to know what a specific electricity company's credit thresholds are at any given time. What one company might charge a $300 deposit for, another company might sign up without asking for a deposit. And it is impossible to know this outcome until someone tries to order electricity, because all deposit situations are made on a person by person basis, by each company. One real way to find no deposit electricity, however, is with Pre-Paid electricity plans. Pre-Paid electricity, also known as Pay-As-You-Go electricity, are plans that work similarly to certain cell phone providers. Instead of paying a bill after a month of service, Pay As You Go electricity plans ask you to fill up an account with money in advance, and then use it to buy electricity from the provider. While this does not require a deposit, these electric companies generally require a minimum account balance from customers. But the good news is that shopping for these plans is the same as shopping for any other cheap electricity plan in Texas. Just look at the EFL and understand what your rate will be per your usage. And while you still have to put money down, at least that money goes directly to your electricity, not some deposit you will get back when your contract is up with a certain provider. Here are the current Pre-Paid electricity plans in the market:
Company
Rating
Phone
Payless Power

(4.3/5)
888-620-3978
1 results