Terrible service and will take advantage of over charging you if they are given the opportunity
| | | |
| --- | --- | --- |
| | The average rate I was given in my contract per kilowatt(electric service) was .10 and when contract expired they went up to an average .18 per kilowatt(electric service). My other company I was going to go with could not find meter so they were given an opportunity to raise price and they did as you see above dramatically. I have switched now but please be careful with Brilliant if allowed an opportunity they will take what they can. I called to try and speak to them about not charging me so much and they said nothing they can do since I did not renew my contract on time with them. Matter of fact I spoke to Abraham Serrano (who is the director of customer service & collections) and all he did was interrupt me in the middle of my sentences non stop. I would be talking and he would just jump right in and start talking over me so we were continuously talking at same time. I felt more like I should be listening then talking as he interrupted me pretty much anytime I tried to talk. I could not believe how unprofessional he was in not letting me finish my sentences. Not sure how he is in the position he is in but it tells you a lot about the company if he is in that position. At the end I had it as I could not really even talk. Needless to say he basically said to bad we could have given you a better deal if you would have renewed on time but you have to pay the much higher price now on those bills I was sent. Two main issues here how unprofessional Mr. Serrano was and them not trying to do anything about charging so much when contract expired. I own my own business and I am not sure I could stay in business with this type of service from anyone in my company. Just horrible customer service from Abraham Serrano. | |
| | |
| --- | --- |
| Plans & Pricing | |
| Order Experience | |
| Customer Service | |
| Account Management | |
| Likely to recommend | |
— Jeremy Swindall from Pottsboro, TX on October 5th, 2020
False Renewal Terms
On 8/19, I called to cancel a one year renewal that was supposed to start on 9/1 because my home was sold. Initially, when I renewed it about a week ago, I thought Id have the house another couple of months before it sold. I explained that to the rep and she told me as long as I cancelled the renewal within 10 days of my current contract Expiration date of 8/31, that I could cancel with no problem.

Fast forward to 8/19, I call to cancel the renewal and the rep tells me I wont be able to cancel without a early termination fee unless its approved by a supervisor because they already paid up my year long contract the day I renewed. (Insert the dumbest face you can here.) I was specific with the 1st rep that I was in the middle of selling the house and didnt know how long in the renewal contract Id need services but could transfer the service to a new residence. Since it happened so quickly, I dont have a new residence yet and will be moving with family until I find one. The rep put me on hold to speak to a supervisor to see if she could cancel and then came back to tell me I had to wait until the house was closed on to send over those documents. That was the only way they would wave the early cancellation fee. I asked to send over the signed contract with the close date of 9/11 and she said it still needed to be finalized. That made no sense because then, my actual new contract would have started and that was what I was trying to prevent. I asked for her supervisor name and she refused to give me his last name. (First name was Abraham) She also gave me some generic customer service email to send my confidential contract documents to and said she couldnt give me her name either. Then, she said she would need to end the call because she had already told me the same info over and over and that she was now over her time. I am so annoyed and quickly took off my autodebit info from the site. Such a scam company that clearly is into trying to trap customers into bogus contracts.

If anyone knows who I can go to to file another complaint, please let me know. I see they arent BBC accredited either.
| | |
| --- | --- |
| Plans & Pricing | |
| Order Experience | |
| Customer Service | |
| Account Management | |
| Likely to recommend | |
— Disgruntled Customer from La Porte, TX on August 19th, 2020
Reneged on Contract!
I signed up for residential service with Brilliant Energy when they offered a decent price for electricity a couple of months before my current contract had expired. I got an email confirmation with what was to be my new rate, welcome letter, and was even able to log on and set up an account. I thought we were good to go.

Several days before service was scheduled to begin, I called them to confirm just to make sure we were set to make the switch. I was told that because they could not access my credit report on the day I signed up that they would not use our agreed upon rate and that I could "choose from our current plans" which were of course 20% higher than our agreed upon plan. All they had to do was LMK they needed more credit information either by phone or email (they did neither), but they used that as an excuse to weasel out of their contract obligation and direct me to their more expensive plans. Needless to say after that incident I will NEVER do business with them again and ended up purchasing a plan with another company at the last minute. They put me in a bind as since we had an agreement I called to just make sure they were ready to start on our contracted date, but instead i was scrambling to find a new plan (with a different company of course!) several days before my old contract was set to expire.

Do not trust them to honor their contractual obligations!!!!!
| | |
| --- | --- |
| Plans & Pricing | |
| Order Experience | |
| Customer Service | |
| Account Management | |
| Likely to recommend | |
— Phil T. from Houston, TX on July 17th, 2020
Gotcha fees
Avoid if possible - if already enrolled, watch out for "gotcha" fees, and take screenshots of enrollment!

May 25, 2020: Set up a 3-month plan and set up autopay as part of the enrollment, as we have done countless times successfully with other electric providers.

July 9: Received the first notice of an invoice (via email), and the email says that the balance is overdue and a 5% late payment fee has been automatically added.

July 11: Log in to Briliant to check, and the autopay setup has disappeared. Manually made payment and re-setup autopay. Emailed Brilliant to report the issue.

July 14: Brilliant CS rep calls to ask if I can prove autopay was set up at enrollment, which cannot be proved (no screenshots). They will not waive any fees.

Should have read these reviews first

We will (of course) be switching to a less shady provider in August.
| | |
| --- | --- |
| Plans & Pricing | |
| Order Experience | |
| Customer Service | |
| Account Management | |
| Likely to recommend | |
— Austin, TX from Round Rock, TX on July 15th, 2020
Cut off my Power
Recently moved into a new house. Signed up for Brilliant Energy's 3 month plan. I signed up on May 27, 2020 with a start date of June 5, 2020. Upon signing up i got two emails, one confirming my plan and another asking me to set up an online account which i did. Done, everything was set up and easy. We move in to the house on June 6 and have no issues, power is on. Fast forward to today, June 30, around 9:00am the power was shut off. I call Brilliant Energy and they informed me that my account was shut off because i failed to send them a copy of my Driver's license and something else. She tells me an email was sent to me the May 27 with a request for those documents. I tell her i did not receive that email nor any follow up emails regarding this. I ask if i can provide those documents now and she tells me that they no longer offer the 3 month plan i signed up for and i would have to sign up for a 1, 2,or 3 year plan at more per kW. At this point i am upset and ask to speak with someone else and she says no. So i ask her "What am i supposed to do then?" she says "You can go online and sign up for a different plan or i can sign you up for one of our reasonable plans". I say "Again i have no power so how am i supposed to sign up for another provider?" She doesn't respond and i hang up. I go to a local store and use their internet to sign up for another provider.

The whole situation felt like a trap and i was lucky to be home when it happened so i could fix it.
| | |
| --- | --- |
| Plans & Pricing | |
| Order Experience | |
| Customer Service | |
| Account Management | |
| Likely to recommend | |
— Hayden from Krum, TX on June 30th, 2020
Worst company around town
The rates are horrendous.
Customer service phone On hold forever.
Treat customer badly on the phone.
Why even run a customer service center like this?
| | |
| --- | --- |
| Plans & Pricing | |
| Order Experience | |
| Customer Service | |
| Account Management | |
| Likely to recommend | |
— Adam Nguyen from Needville, TX on July 31st, 2019
Had them for years
| | | |
| --- | --- | --- |
| | I had Brilliant Energy for many years set up on auto pay. I was a very loyal customer. When I came off contract they set my rate above .18¢ per kwh and did not even put it on the bill. I had to calculate it. No phone call or email. Why did you treat me this way? Here's your review. | |
| | |
| --- | --- |
| Plans & Pricing | |
| Order Experience | |
| Customer Service | |
| Account Management | |
| Likely to recommend | |
— Big A from Spring, TX on October 13th, 2018
Buyer Beware
We signed up with Brilliant on a rate of 4.9 cent per KwH. The Electricity FACT Label listed our expect bill at 8.6 cents per KwH. First Bill arrived an it was 27 cents per KwH. Specifically, the charges were:

807 kWh Energy Charge = $39.79
TDU Charges = $158.14
Plus taxes

Calling Brilliant for an answer -- infinite hold... sent an email, no response. sending complaint to the PUC.
| | |
| --- | --- |
| Plans & Pricing | |
| Order Experience | |
| Customer Service | |
| Account Management | |
| Likely to recommend | |
— Buyer Beware from North Richland Hills, TX on April 13th, 2018
Billing Issues
During the year of service contracted, I had no issues. Bills arrived, they were promptly paid and never heard anything good or bad from them. After the end of the contract and paying my final bill is when I received a letter accusing me of non-payment, breach of contract and threatening with all sorts of legal actions. I sent them my Proof of Payment issued by the Bank for this $7 payment sent almost a month ago, and expect to clear this up promptly.
They just guaranteed a non-returning customer with their attitude.
| | |
| --- | --- |
| Plans & Pricing | |
| Order Experience | |
| Customer Service | |
| Account Management | |
| Likely to recommend | |
— Disappointing Service from Coppell, TX on March 2nd, 2018
Way overpriced
Signed up few years back - once the contract expires they don't follow up - as their out of contract price is way higher. Even the contract price is much higher than other energy providers. besides their cancellation fee is also steep.
All in all you end up paying twice for the electricity
| | |
| --- | --- |
| Plans & Pricing | |
| Order Experience | |
| Customer Service | |
| Account Management | |
| Likely to recommend | |
— Soms from Irving, TX on August 17th, 2017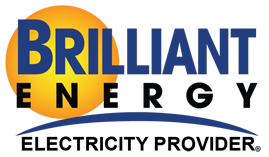 Reviews Overview
---
The best review categories for Brilliant Energy are the order experience, rated at 2.6 out of 5, and their plans and pricing, rated at 2.4 of 5.

1.8 / 5

Overall

2.4 / 5

Price, Plans and Promotions

2.6 / 5

Order Experience

1.4 / 5

Customer Service

1.3 / 5

Billing and Account Management

1.0 / 5

Likely to Recommend

About Brilliant Energy
---
Brilliant Energy is a Houston, TX based retail electricity provider that was founded in 2007. Brilliant Energy services both residential and commercial electricity customers.
One you've researched a Brilliant Energy, you can exercise your power to choose and compare electricity rates from competitive providers. Texas has over 50 competitive providers to choose from. There are no switching fees, your electricity stays on throughout the whole process, and no special equipment is needed. If you're moving to to Texas, your new provider will turn on your power and set up your new service.
Remember, the cheapest electricity rate may not be the best, that's why we provide recommended plans based on your home size. You'll find dozens of choices and options to choose from, whether you're looking for a 12 month fixed rate plan or a month to month plan. You can also choose green energy plans, plans with Rewards, Incentives, and Smart Home plans featuring free programmable thermostats such as the Nest thermostat. We've made it easy by recommending plans and providers that have proved that they provide the best customer service and a great electric rate for your home or business.
Once you've found the plan that makes sense for you, your provider will require a credit check to determine if a deposit is needed to establish service. If you do not have credit established or have poor credit, there are no deposit electricity plans available at competitive terms.