What is The Best Texas Electricity Rate?
Texans have had the power to choose their electricity provider since 1999, so, you can compare, shop, and order your electricity service from any of the dozens of competitive providers in Texas. Providers supply your electricity and bill you, while utility companies like Oncor, Centerpoint and AEP maintain the poles and wires and ensure that your electricity service is seamless and trouble free. This guide will teach you how to compare and find the best electricity rate that fits your needs.
How To Get The Best Texas Electricity Rate
There are 4 steps to getting a cheap Texas electricity rate:
Understand Your Usage
Know Your Credit Score
Understand TDSP Fees
Understand Your Electricity Facts Label (EFL)
Understand Your Usage
The first step is to understand your usage. In other words, how much electricity did you use last month? Do you use double that amount during the summer? Do you use less during winter? Knowing your usage history will help you get the best rate and avoid common traps and tiered pans that look cheap but are sometimes double or triple the cost you expected. Some companies provide usage statistics on the bill or you can use our Bill Calculator to model out your usage for an entire year. So, no need to enter every month to figure out your usage for a year.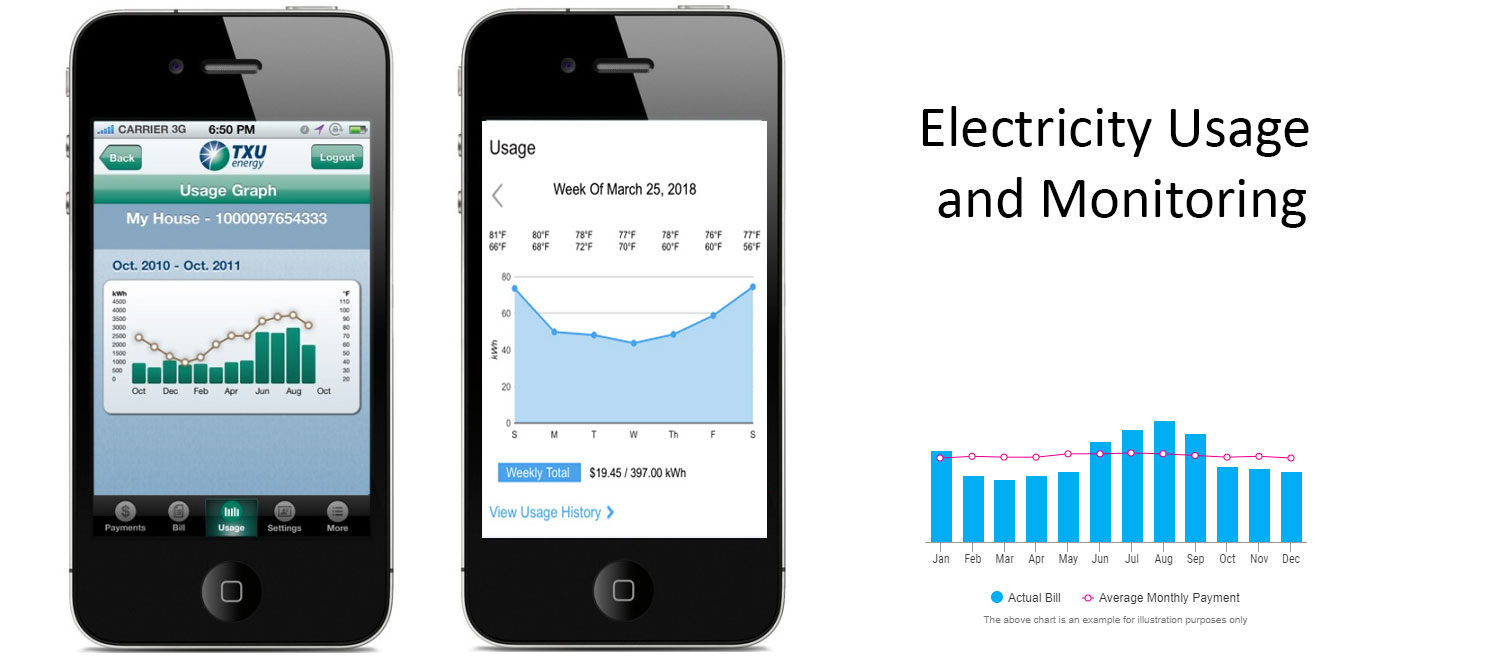 The Texas PUC created 3 usage levels (500, 1000 and 2000) to help customers understand their usage and the rates providers charge at those levels of usage. Over the years, these arbitrary numbers are often gamed by providers to appear to have the lowest prices on the Texas Power to Choose web site.
The rates you pay may be "flat" - meaning you pay 10 cents and 500 kWh and 10 cents at 2000 kWh. In the last few years we've seen the emergence of tiered rate plans. These plans are built to incentivise customers to monitor their usage and in some cases punish customers for usage greater than certain tiered amounts. For example: 10 cents from 500-1000 kWh, then 15 cents for every Kwh used over 1001 and 20 cents per kWh over 2000 kWh. These can be great plans, but you have to know your peak usage month. . . which is not something most people know off hand.
Now add Bill Credits, where Texas energy companies provide credits at usage levels. Bill credits are primarily used to drive down the price to appear to be the lowest cost on Texas Electricity Comparison websites. You should be wary of them.
Sample Texas Electricity Usage Examples
Monthly Usage

500kWh

1000kWh

2000kWh

Flat Rate

10¢

10¢

10¢

Tiered Price

08¢

12¢

15¢

Tiered Price with

$50 Permanent Bill Credit at 1000

15¢

8¢

12¢

Tiered Price with $50 Conditional Bill Credit at 1000-1500 kWh

15¢

8¢

22¢
Texas Electricity Bill Examples
| | | | |
| --- | --- | --- | --- |
| Example Actual Monthly Usage | 800kWh | 1500kWh | 2500kWh |
| Flat Rate Bill | $80 | $150 | $250 |
| Tiered Price Bill | $40 | $124 | $199 |
| Tiered Price with $50 Permanent Bill Credit at 1000 kWh | $120 | $70 | $130 |
| Tiered Price with $50 Conditional Bill Credit at 1000-1500 kWh | $120 | $70 | $410 |
So in our example Tiered Price with $50 Conditional Bill Credit at 1000-1500 kWh, you would pay 64% more than a flat rate plan, because the conditions of the credit were that you had to use "up to x". In this worse case scenario - you lose the bill credit because you went over the usage cap.
Compare Texas Electricity Rates
Know Your Credit Score
Your credit score is the measure of your past ability to pay your bills on time. Your FICO score is the Fair Issac Corporation rating of your credit risk. It is based on your payment history for products that are reported back to credit rating agencies. FICO Scores range from 300-850.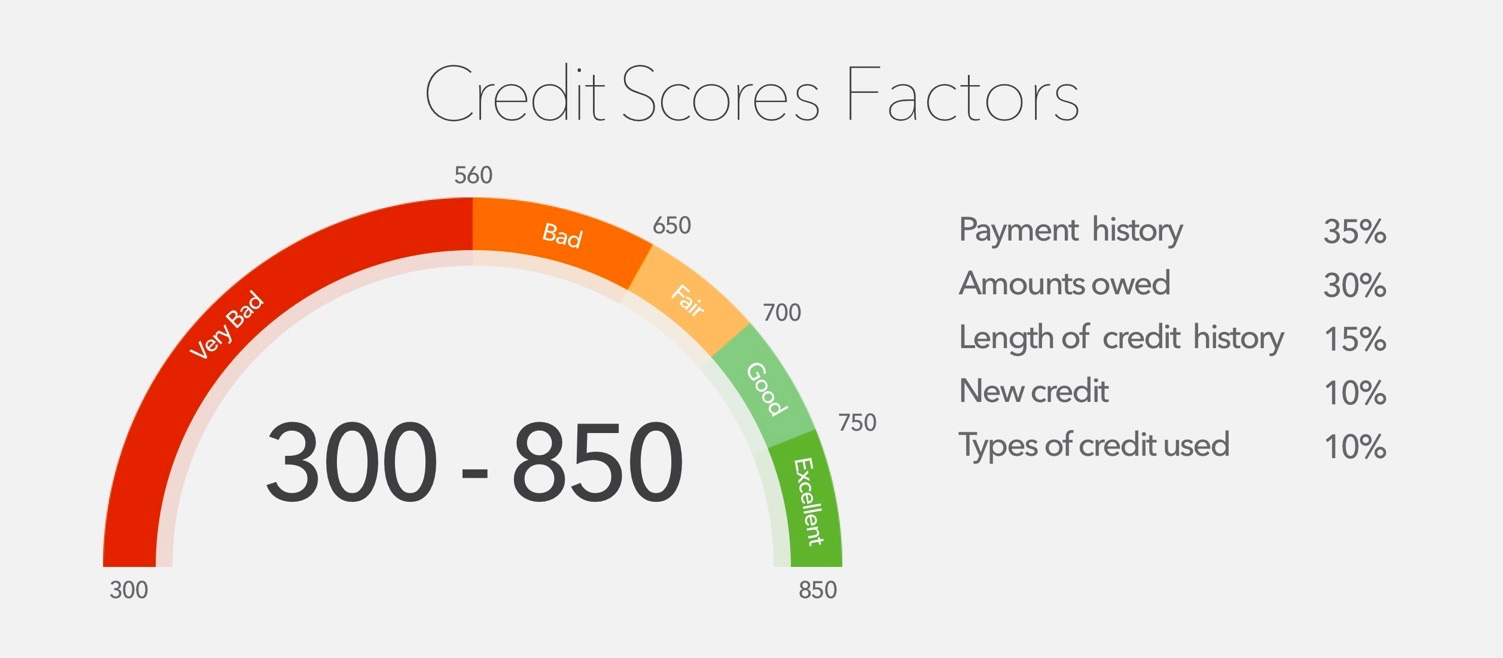 Most Texas electricity companies require a credit check to provide service. A Social Security Number or driver's license is required. Texas Electricity Companies will often use the "TEC" score. The TEC (Telecommunications, Energy, and Cable) Score is based on a risk model developed specifically for telecom and energy accounts.
The TEC Score is a risk model from Experian. Transunion uses a "Vantage Score" and Equifax uses an "Exchange Risk Score", while some Texas electricity companies use the traditional FICO score.
Your Texas electricity service deposit may range from 0-$400 or more depending on your annual usage. The Texas PUC has rules and protections that specify the maximum amount that deposits may be. The maximum is 16% of the annual usage, or basically 2 months usage. (Rules Link)
What If I Have No Credit History?
Many utilities and electricity suppliers do not provide payment histories to credit reporting agencies. So while you may have a 620+ FICO score, you may have a 400 Utility Score (because your previous Utility/Gas/Electricity Company did not report your good standing) and have to pay a deposit. Many Texas Electricity Companies provide alternative ways to show previous utility credit. Most often this will be a letter from your previous electricity provider stating that your account has been in good standing. You can learn more at Texas PUCT Deposit Rules.
Texas Electricity Credit Scores and Deposits
| | | |
| --- | --- | --- |
| FICO Credit Score Range | Credit Score Type | Deposit Amount Required |
| 300-559 | Bad | $200-$400 |
| 560-650 | Poor | $175-$400 |
| 650-700 | Fair-Good | $0.00 |
| 750+ | Excellent | $0.00 |
Alternatively you can sign up for no-deposit or pre-paid Texas Electricity service.
Understand Utility / TDSP Charges
TDSP fees account for up to 1/3rd of your Texas Electricity Bill. You know your TDSP (Transmission and Distribution service providers) by its brand name, such as Oncor, Centerpoint, AEP or TNMP. They are the "poles and Wires" companies that maintain the wires, meters and transmission infrastructure to get power to you home. They are the guys who get the power turned back on when there's a blackout due to a storm, or disruption.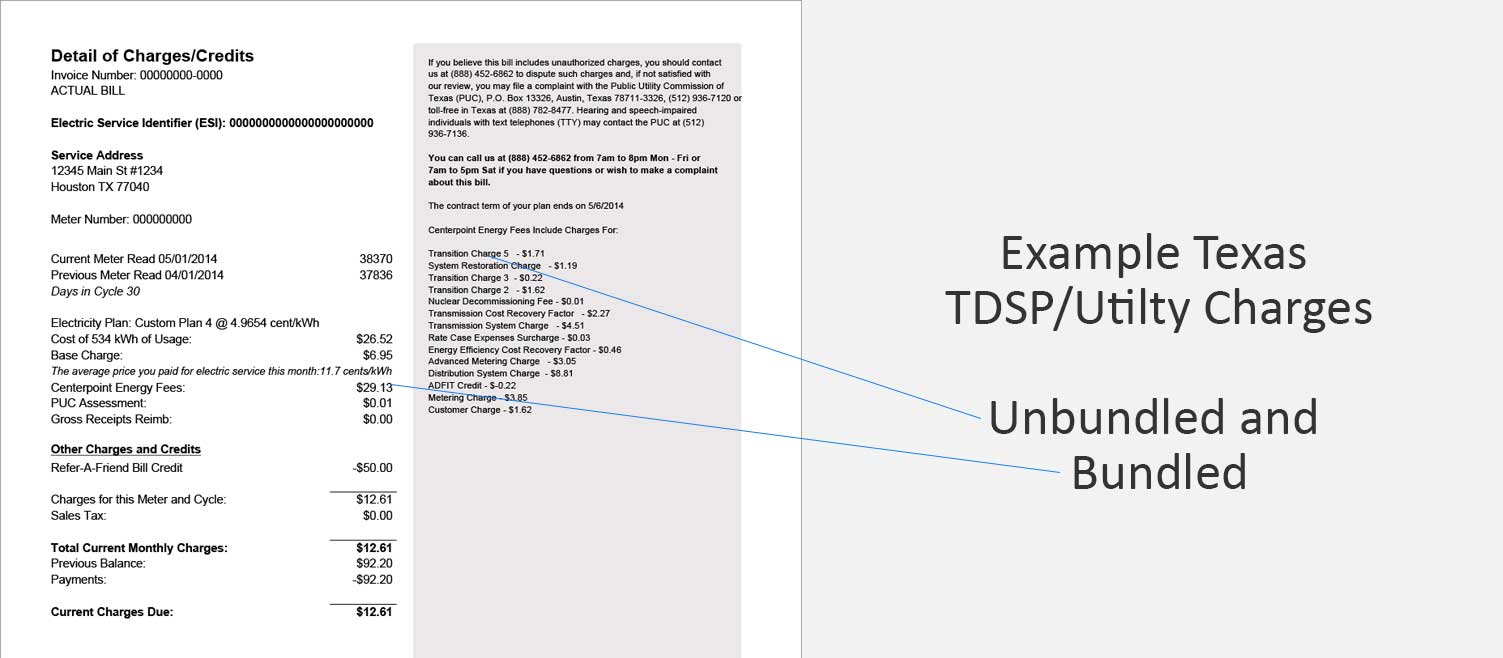 They charge .032 to .041 plus a monthly base charge that ranges from $5.00 to $9.00. Most Texas Electricity Suppliers "Bundle" these costs into their rate, So a 10 cent rate includes the base charge, and the per KwH TDSP fee.
Texas Electricity Utility Rates
| | | | | | |
| --- | --- | --- | --- | --- | --- |
| Company | Monthly Base Charge | Per kWH Deliver Charges | TDU Charges @ 500 kWh | TDU Charges @ 1,000 kWh | TDU Charges @ 2,000 kWh |
| Oncor Energy | $5.25 | $.036957 | $23.73 | $42.21 | $79.16 |
| Centerpoint Energy | $5.47 | $.041084 | $26.01 | $46.55 | $87.64 |
| AEP North | $10.53 | $.036805 | $28.93 | $47.34 | $84.14 |
| AEP Central | $9.00 | $.037663 | $27.83 | $46.66 | $84.33 |
| TNMP | $8.65 | $.032779 | $25.04 | $41.43 | $74.21 |
Understand the Electricity Facts Label (EFL)
Next, you need to understand an EFL - the Energy Facts Label. This is the key to understanding the rate you pay. The EFL is Divided into 2 areas. The Electricity price and the Disclosures.
The Electricity price section displays the rate you'll pay for your electricity at 500, 1000 and 2000 kWh, It also provides a breakout of charges, such as Energy Charges, Minimum Usage Fees, TDU Delivery Charges, TDU monthly fees, and any usage credits.
The Disclosures Chart lays out The type of plan, contract term, termination fees, renewable energy content or "fuel mix" and any other disclosures that may affect your rate. Check out our Texas EFL guide to learn more.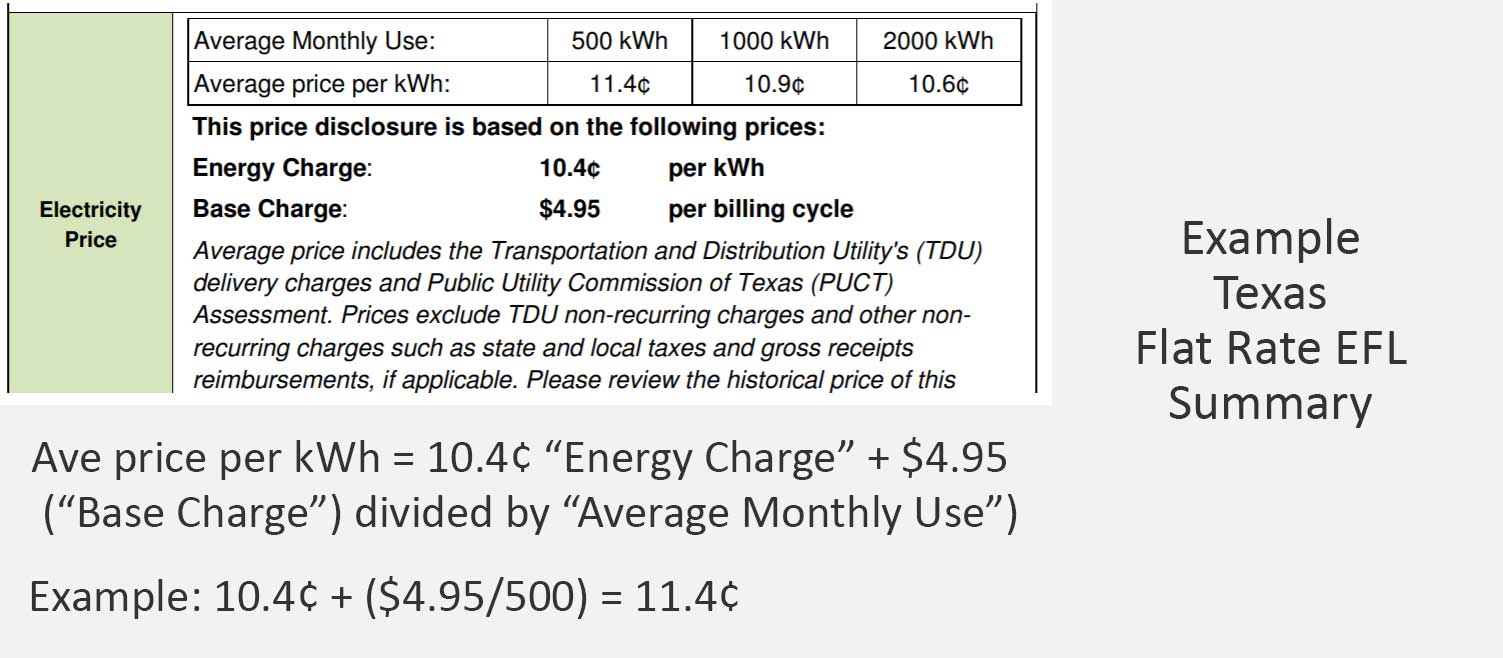 Compare and Save on Your Texas Electricity Bill
---
Texas Electricity Rate Charts
Based on EIA Data as of March, 2023
What is the average electricity rate in Texas?
The average electricity rate in Texas is 14.82¢ per kWh.
How much electricity does a home in Texas use?
The average household's monthly electricity usage in Texas was 845 kWh in November, 2022.
What is the average electric bill in Texas?
In November, the average electricity bill in Texas was $125.
Comparing and Shopping for Electricity
Fixed Rate Electricity Plans in Texas
Fixed rate plans in Texas lock in a rate for a term or period of time ranging from 3 months to 5 years. The most popular terms are 6, 12, 18 and 24 months. They are best for shoppers looking for stable rates, and long term price protection. The greatest risk of a fixed term contract is that rates go down significantly during your term. In these cases it's best to do an analysis of paying the early termination fee ($100-$200) if rates have fallen to the level where paying the fee makes sense.
Centerpoint Energy - Fixed Rate Houston Electricity Rates

Houston - Centerpoint Electricity prices as of 03-31-2023. See all Houston Electricity Rates.


Oncor Energy - Fixed Rate Dallas Fort Worth Electricity Rates

Dallas - Oncor Electricity prices as of 03-31-2023. See all Dallas Electricity Rates.


AEP North - Fixed Rate Abilene Electricity Rates

Abilene - AEP North Electricity prices as of 03-31-2023. See all Abilene Electricity Rates.


AEP Central - Fixed Rate Corpus Christi Electricity Rates

Corpus Christi - AEP Central Electricity prices as of 03-31-2023. See all Corpus Christi Electricity Rates.
Variable Rate Plans
Variable rates are best for customers who need flexibility, or are between contracts. Your monthly bill will change and vary with the fluctuations of the electricity market. If it's a hot Summer you will have high bills, if it's a colder than average winter you will have high bills. And the opposite if we have a cool summer or mild winter. It's risky and we only recommend using them between contracts for 1 month periods max.
Pre-Paid Plans
Pre-Paid plans are great for those who have weak, no credit, or are just getting started. The rates paid will be a few cents higher than traditional fixed rate post pay plans. However, prepaid providers have made the process extremely easy, with phone apps and texts that tell you to refill your account. Some provide bridges to post pay plans if you maintain on time payments.
Texas Prepaid Providers
Green Energy Plans
Green energy plans are a great way to support green energy generation. You will pay a premium for green energy, because you are paying for traditional electricity generation PLUS a subsidy for green energy. Your energy will be provided by the nearest generation source. However, you will offset the "dirty" generation usage with green energy RECs (Renewable Energy Credits which cost you 2-3 cents per kWH

Texas Green Energy Providers
Texas Business Electricity Rates
Whether you're running a hair salon, a sandwich shop, an industrial shop, or a major manufacturing enterprise, getting the right business plan can make a big difference to your bottom line. Comparing Texas Business Electricity rates is easy.
Houston Business Electricity Rates

Houston - Centerpoint Business Electricity prices as of 03-31-2023


Dallas Business Electricity Rates

Dallas - Oncor Business Electricity prices as of 03-31-2023
Zip codes with the Lowest Prices for Texas Electricity
Moving? Get Same Day Turn On.