Will Houston Electric Bills Be More Expensive in February?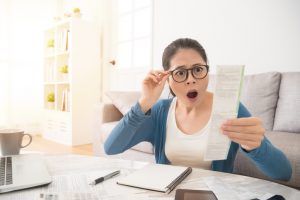 As the outside temperature falls, the number of times your home's heater turns on throughout the day increases. Each time your heater blasts warm air into your home, you consume more energy. Whether this increasing consumption dramatically impacts your electricity or natural gas bill depends on your heater. Either way, your home's consumption this month will likely be greater than December and January. Energy demand increases during the coldest weeks of the year. So as you can see, shopping for power plans at Texas Electricity Ratings is the best way to ensure your Houston electric bills won't get burned by the cold. 
How Much Energy Does A Houston Home Use?
As the saying goes, everything's bigger in Texas … and that includes homes. Sure, you can find two bedroom bungalows like in Southern California or studio apartments New Yorkers squeeze themselves into. But most Houston homes have at least three bedrooms and fall somewhere in the range of 1,500 to 2,000 square feet. That's a lot of space to cool in the summer and heat in the winter!
According to data from the US Energy Information Administration, Texans consumed 1,132 kWh per month in 2020. At an average price of 11.71 cents per kWh, the average bill was $132.59. Of course, these figures were higher when outside temperatures reached their highs and lows for the year.
Today's Fixed Rate Electricity Prices
Let's say you have an average Houston home and consume a bit more than the average during winter. When you shop for electricity plans today, the lowest rate for 1,500 kWh per month is the Bigger Than Texas 24 plan from Energy Texas. At 12.0 cents per kWh, the bill works out to $175.39. This plan holds steady your electricity pricing for two years. Yes, your Houston electric bill is higher than the average, but so is your consumption.
Watch Out For Variable Rate Electricity in Houston Electric Bills
If you're on a variable rate electricity plan, now is the time to switch to a fixed rate plan. The price on variable rate plans changes each month, so you ride the ups and downs of electricity pricing throughout the year. The cheapest variable rate plan that doesn't require prepayment is the Energy Texas Monthly plan also from Energy Texas. This plan's rate is 14.0 cents for 1,500 kWh of consumption. This way, you can save mo with the fixed rate plan. 
Lock In A Fixed Rate Plan
Don't get stuck with a power plan that doesn't meet your needs. It's easy to lock in a fixed rate at http://www.texaselectricitratings.com. No matter what the temperature does outside, your electricity pricing stays the same.