Featured Provider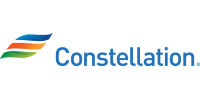 36 Month A/C Protect Premier for 2 Units
at 1,000 kWh

36 month Bill Credit Non-Renewable

est. avg. bill

Based on a

yearly usage curve

averaging

1,000

kWh per month

Everything about my experience was amazing. From the minute I requested help on rates, explanation, I was incredibly impressed. Incredible service, attention and commitment to finding what I needed with a provider. HIGHLY RECOMMENDED
Power to choose
Texans have had the Power to Choose their own electricity provider since 1999. And since then, Texas has historically had the lowest energy prices in the US. Competition has created confusion as well. There are upwards of 1800 different energy plans available in the Texas Market Every Week. We read, rank, and analyze the best providers and their plans, making sure that the best rates from the best providers. We filter out the tricky plans, intro rates and the gotcha's, so you can make an educated apples to apples comparison and get the best rate for you.
The Best Electricity Providers in Texas
We've rated the providers based on multiple criteria, including BBB and PUC complaints, plan types and availability, ease-of-use, and much, much more.
Recommended Texas Electricity Plans
Champ Saver-24
at 1,000 kWh

est. avg. bill

Based on a

yearly usage curve

averaging

1,000

kWh per month

24 month
Fixed Rate
Non-Renewable

Free Weekends-18

at 1,000 kWh

est. avg. bill

Based on a

yearly usage curve

averaging

1,000

kWh per month

18 month
Fixed Rate
Non-Renewable

Flex Forward
Enter your zip code to find rates for your city
Ratings
We gather information from dozens of sources. Then we rate and rank each Texas Electricity provider based on over 40 data points.
Real. Average. Bills.
Sick of confusing energy plans that cost more than what you expected? We've taken the guesswork out of all that. Using plan data and yearly usage curves we can calculate real bill averages. So much more goes into your yearly bill than just the rate at exactly 1000 kWh. It's 2020, we can do more than just move a decimal.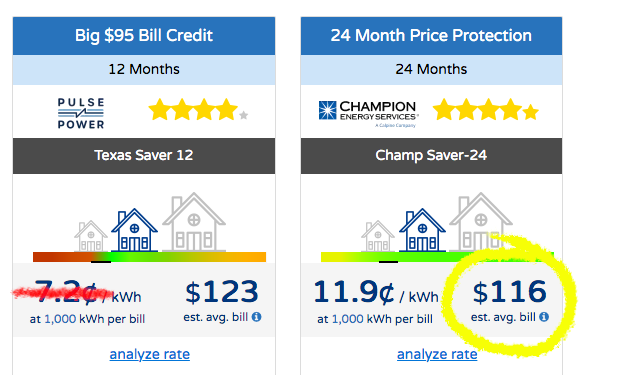 People's Choice
These are the top providers based solely on customer reviews in the past two years. We must have at least 10 reviews for a provider to be included in this listing.
Featured Plan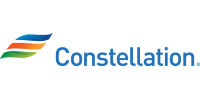 36 Month A/C Protect Premier for 2 Units
Plan Type:Bill Credit
Term Length:36 months
Early Termination Fee:N/A
Monthly Recurring Charge:$0.00
Texas Energy News & Resources