Recommended Electricity Plans for Valentine
The new company ratings are in!

Texas Electricity Ratings has just completed our comprehensive ranking process and have identified the best electricity providers in Texas. New this year is our awards system, where we give Gold, Silver, and Bronze awards to the companies who scored the best in our extensive analysis. We've done the hard work, so you don't have to!

When you see the Gold, Silver, or Bronze trophies on our site, you'll know that company is head-and-shoulders above the rest.
Enter your zip code to find rates for your city
Ratings
We gather information from dozens of sources. Then we rate and rank each Texas Electricity provider based on over 40 data points.
Real. Average. Bills.
Sick of confusing energy plans that cost more than what you expected? We've taken the guesswork out of all that. Using plan data and yearly usage curves we can calculate real bill averages. So much more goes into your yearly bill than just the rate at exactly 1000 kWh. It's 2020,
we can do more than just move a decimal
.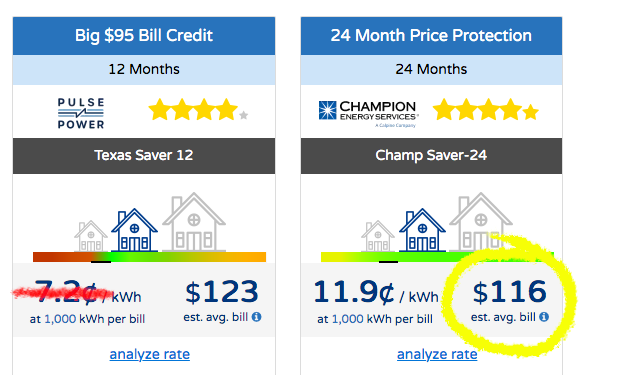 Featured Plan

Frontier Super Value 12
Plan Type:
Bill Credit
Term Length:
12 months
Early Termination Fee:
$150
Monthly Recurring Charge:
$0.00
Texas Energy News & Resources
---