Compare Dallas Electricity Rates & Energy Suppliers
We analyze, rank, and recommend the best electricity plans from the highest rated providers in Dallas.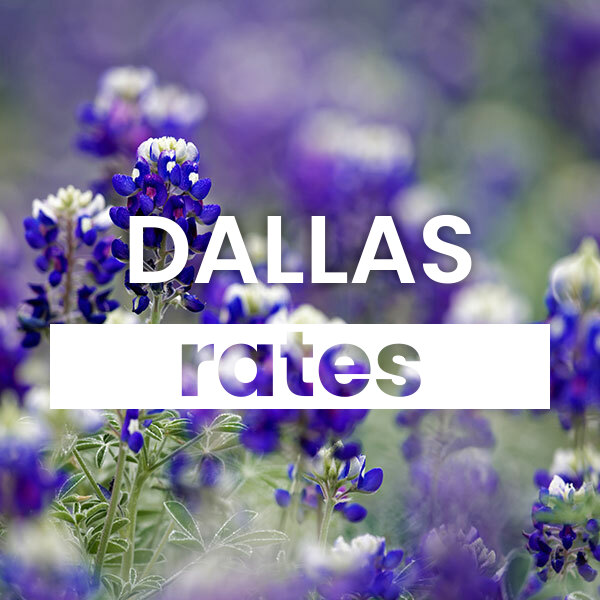 Market Update:
Warm Fall Predicted But Is Improvement On the Way?
The most important factor in your electricity cost is the weather. The hotter or colder it is, the more electricity you use to keep your home at a comfortable temperature. And the higher your bill.
NOAA predicts a warm fall to follow this year's hot summer in Dallas. So, we're not expecting high electricity usage all the way through November. That's good news because north Texans probably won't face heating bills at Thanksgiving.
However, natural gas rates are expected to increase. (Source 1) This could increase electricity rates so that while your usage will go down, you may pay more per kWh.
Good news is that in spite of price spikes in the wholesale market, cheap natural gas and renewables (solar and wind) have helped Texas beat the heat this summer. So much so that retail prices are actually lower than last year by as much as 5 cents per kWh. (Source 2) And for consumers using an average of 1,000 kWh per month, that's a savings of $50!
So, if you want to see some great savings this fall and winter, then now is the time to shop and compare Dallas electricity rates and energy suppliers.
Source 1: EIA.gov
Source 2: TexasElectricityRatings Historical Rates
Top Five 12 Month Best Electric Rates for Dallas
Company
Term
Rate
Gexa Energy
12/months
11.1¢/kWh
4Change Energy
12/months
11.1¢/kWh
Constellation
12/months
12.9¢/kWh
TXU Energy
12/months
13.9¢/kWh
Rates as of Sep 25, 2023 at 02:26 PM
Five Cheapest 24 Month Electricity Prices in Dallas
Company
Term
Rate
Frontier Utilities
24/months
11.1¢/kWh
Champion Energy Services
24/months
14.8¢/kWh
Rates as of Sep 25, 2023 at 02:26 PM
Dallas's Top 36 Month Fixed Rate Electric Plans
Company
Term
Rate
Veteran Energy
36/months
12.5¢/kWh
BKV Energy
36/months
14.3¢/kWh
Rates as of Sep 25, 2023 at 02:26 PM
About Electricity Rates in Dallas
As a Texas resident searching for low rates in the ONCOR area, you have the power to choose your electrical provider. You also have the advantage. Energy retailers in Texas constantly compete for your business by offering plans designed to cater to your household needs.
There's a lot of information out there to sort through. That's why we help break down energy plans and explain all the information you need to know when shopping for the best energy provider. The following information will help give you the resources you need to help make it easier for you to switch electricity companies in Texas.
Average Electricity Rates & Energy Usage in Dallas
In November, the average electricity rate in Dallas was 14.82¢ per kWh. The average households monthly electricity usage was 845 kWh, making the average bill around $125.
based on EIA Data as of August, 2023
Dallas Energy Rates, Providers, and Plans FAQ
Maxx Saver Select 24 is the cheapest rate from 4Change Energy. It is a 24 month plan with a rate of 11.100 cents per kWh.

We recommend you compare electricity rates in Dallas and see if this plan is right for you.
TDSP Charges from Oncor in Dallas
Dallas TDSP Charges:

TDU Delivery Charge

3.135 cents per kWh

TDU Delivery Charge

$3.42 per billing cycle
Transportation Distribution Service Provider (TDSP) charges are what utility providers charge you for delivering power to your home. These rates over the wires, poles, meters, and other equipment used to deliver your power and are separate from your base energy charge.
If you live in Dallas, then ONCOR is your Transmission and Distribution Utility (TDU). The Public Utility Commission (PUC) of Texas has to approve the amount your TDU can charge you for energy distribution.
But what makes understanding TDSP charges so important, and what many people fail to understand, is that they are fixed costs. They are consistent on every electricity bill in dallas, regardless of the electricity provider. People often think these are just tacked on fees used to inflate bills, but actually they are fixed costs passed through to customers regardless of which electric companies in Dallas you use for energy. That means that to really find which electric companies are the cheapest, you have to focus on the energy charges listed in the fine print.
Electricity Plan Types in Dallas
Now that we have explained TDSP rates, the second thing to consider is the type of electricity plans a customer can buy. Each plan will likely end up having different rate scales. There are three types of electricity plans you can choose from when selecting an energy plan that best fits your needs.
Fixed Rate Electricity Plan in Dallas
Lock in low energy rates for a period of months ranging from 9 to 36. Be aware that these contracts typically charge an early termination fee if you switch before your term ends.
Variable Rate Electricity Plan in Dallas
Month to month contracts with rates that vary. You won't have to worry about deposits or early termination fees, but rates can decrease or increase from month to month.
Pre-Paid Electricity Plan in Dallas
You deposit money into an account that your energy company bills directly depending on your use. Keep in mind there are often daily charges with these plans. Rates typically change from month to month.
There are other kinds of plans, such as green plans, or plans that come bundled with things like Smart Thermostats, but for the most part, these three plans are the main three kinds of choices available.
Recent Customer Reviews for Energy Providers
Excellent employee. Very kind and knowledgeable. Understanding and patient.
Belinda from Taylor, Texas
June 28th, 2023
Frequently Asked Questions - Dallas Electricity Rates, Plans & Energy Providers
What Types of Contract Terms Can I Expect from Electric Companies in Dallas?

If you want to know the details about what to expect from a particular energy plan, then you should read the Electricity Facts Label (EFL). Your EFL will have specific details about your energy plan including the base charge for electricity, any additional fees, charges, and credits, and average rates for 500, 1000, and 2000 kWh of use per billing cycle.

While you should always look over you EFL before switching to a new electricity provider, you should also read the terms of service. It covers details about making payments, extra charges and fees, and other information you should be familiar with before making the decision to switch energy providers.

What Do Energy Plans Look Like in Dallas?

You can expect a wide-range of plans designed to cater to your household needs: Length: Prepaid, fixed rates, or variable rate plans.

Freebies: Free nights, Free weekends, A/C protection, Smart Thermostat, and bill credit plans. Renewable: 100 percent green energy plans Bundled: No gimmick, straightforward pricing with set rates.

When Is the Best Time of Year to Shop for Dallas Electricity Plans?

The simplest answer is that you should shop while energy rates are low. The key is to avoid changing providers when rates and demand are high, mainly in the months leading up to summer when providers are less certain about having access to energy to meet demands.

How can I find out my Dallas Electricity usage?

If you want to know your electricity usage, there are two ways.

The easiest and best way to understand your annual usage is to gather together your old electricity bills (or check out your billing history on-line) and see how much you used each month over the past year. Pay extra attention to the amount you used in the summer months as they will likely be the most expensive.

If you do not have access to your old bills, then you'll need to learn how to read your Texas electricity meter. By learning how to read your dial, you can figure out your current energy use so you stay within your budget.

Why Does My Dallas Electricity Company Need to Know My Credit Score?

Much like any recurring service (cell phone, cable tv, etc.), electricity companies need to determine you are who you say you are, and that you will pay your bill on time.

When you sign up for electrical service in Dallas, you will need to provide your social security number and/or your driver's license.

You may also need to pay a deposit, depending on your credit. If you have a history of bad credit, then you will most likely need to put a larger deposit down. One away around that is to find a low deposit or bad credit option for electricity in Dallas.

How Does Tiered Electricity Pricing Work in Dallas?

A Tiered electricity plan in Texas allow you to pay a set rate for targeted amount of electricity use.

Tiered rates are a good option if you have consistent energy use in your home and can keep it within the pricing tier that works best for your electricity budget.

For most plans (though not all), you will have three options for pricing: 1 - 1000 kWh, 1001 - 2000 kWh, 2001+ kWh.

Typically, you receive a charge per tier. Meaning if you only use 999 kwh and the agreed rate for your plan is $83 for usage under 1000, then you will be charged $83 for energy use. If you use 1001 kWh, you would pay the rate for the second tier in addition to the first. And once you move passed the second tier, you would pay a fixed rate per kWh for any usage over 2000 kWh.

How Do Green/Renewable Energy Plans in Dallas Work?

If you're looking for a renewable energy plan in Dallas, then you have plenty of options. You will easily find them backlit by a green background on our website. Whatever plan you choose, know that the energy that goes into your home may not be renewable. However, energy retailers will purchase 100 percent renewable energy to offset your energy use.

Which Electricity Provider Is the Best in Dallas, TX?

If you are looking for the best energy provider in Dallas, then you will want a company that impresses its customers. Our review process combines data over 6000 customer reviews taken from multiple sources to create a list of the best Texas electric companies.

Why Is Reliant Energy the Highest Rated Provider in Dallas

Using a variety of data sources, we combine results and rate companies on a scale of 1 to 5 stars, 5 stars being the best. Currently, Reliant Energy ranks higher than the competition with 5 out of 5 stars. Gexa Energy follows with 4.88 stars and TXU with 4.87 stars. However, this could change over the course of the year, so it's important to check back in while you are shopping to see the best ranked electricity company in Dallas when you are ready to order electricity.

How Can I Switch Electricity Companies in Dallas?

Texans have had the power to choose since 1999, and switching energy providers has never been easier. Here's what you do: 1 - Enter your zip code in the box below. - Compare energy providers to find the best plan for your needs. 3 - Read customer reviews for your energy company. 4 - Switch providers.

Who has the best electricity rates in Dallas TX?

The current best electricity rates in Dallas are provided by Chariot Energy, Constellation Energy, Pulse Power and Gexa Energy. These fixed rate plans provide rate stability and the providers are ranked as top 10 providers based on TexasElectricityRatings.com rankings.

How much does electricity cost in Dallas?

The average cost for Electricity in Dallas is 7.5 cents per KwH for an average bill of $122.00 per month. Multiple factors can influence the rate and your electricity bill, including the term of your contract, your usage and your credit rating

Who provides electricity in Dallas?

Electricity in Dallas is provided by multiple retail electricity providers and delivered by Oncor Energy. They take care of the "poles and wires". Dallas residents choose their electrcity provider, and can choose the price, and the plan term; 3, 6, 12, 24, or even 36 months. They can also decide if they want a fixed rate or variable rate. They can also chose plans with high or low renewable energy content or select 100% green energy plans.

Fixed-rate plans offer plenty of stability and security with a set rate and set contract term. Variable-rate plans, change on a monthly basis based on market forces. Green Energy content reflects the amount of green generation such as wind or solar used to generate your electricity.

Texas energy deregulation is what gives residents the power to choose their energy plan and provider. It gives people the opportunity to find the best options and the lowest rates.
Other information about electric rates in Dallas
Electricity Outages
To report an electricity outage or downed power line, contact xxxx at 000-000-0000
Cities Near
To report an electricity outage or downed power line, contact xxxx at 000-000-0000
Zip Codes
To report an electricity outage or downed power line, contact xxxx at 000-000-0000
About Dallas Texas
Founding of Dallas
In 1839, just three years after the Texas won its independence from Mexico, John Neely Bryan, accompanied by his dog and a Cherokee he called Ned, staked his claim on a bluff overlooking a "white rock crossing" in the Trinity River that was handy for wagons needing to cross. Returning in 1841, Bryan established a permanent settlement named "Dallas" and hired a surveyor to plot the town in 1844. A lawyer by training, Bryan initially served as the town's postmaster, store owner, and ferry operator.
Trade helped Dallas grow and it was formally incorporated on February 2, 1856. But while small packet steamer carried goods up and down the Trinity River all the way from the Gulf of Mexico to Dallas, snags, sandbars, and periods of low water in the Trinity river prevented it from being reliably navigable. Hampered thus, it wasn't until after the Civil War that Dallas legally became a city in 1871.
Likewise, the first railroads didn't reach Dallas until 1872 when the Houston & Texas Central Railroad arrived. The following year, however, Texas and Pacific railway arrived and intersected the Houston & Texas Central tracks. This formed an important railway crossroads of east-west and north-south lines. Trade boomed. North Texas farmers suddenly had access to markets for their cotton, cattle, and hides in all directions. The city's population tripled from 3,000 in 1870 to 10,000 by 1880.
By 1900, eight competing railroads converged on Dallas. The city became a leading industrial center attracting workers from Mexico, the US South, and the Midwest. The city's wholesale markets drove commerce; one of the largest in the world was the Dallas Cotton Exchange. The city also featured some of the tallest skyscrapers west of the Mississippi at the time. By 1930, Dallas' population had grown 511% to more than 250,000 people and it developed into a major manufacturing center. The great east Texas oil boom of the early 1930s further established Dallas as the financial center for the oil industry in Texas and Oklahoma. And during World War II, the city evolved into a manufacturing center for aircraft and electronics.
Cosmopolitan and ethnically diverse, Dallas is best known today as a banking, commercial, financial, and cultural hub. Roughly 6,000 companies have their corporate headquarters in the Dallas area.
Dallas Landmarks
Dealey Plaza is a city park in the West End Historic District of downtown Dallas. The site of the site of President John F. Kennedy's assassination in 1963. The plaza contains several historic buildings and landmarks, including:

Founders Plaza in downtown Dallas is an open area park has the cabin built by city founder John Neely Bryan.
The former Dallas county courthouse now known as the Old Red Museum where visitors can learn about the history of Dallas County.
The Texas School Book Depository which houses the Sixth Floor Museum at Dealey Plaza which commemorates Kennedy's assassination and chronicles his legacy.

Reunion Tower, locally as "The Ball," offers panoramic 360-degree views of the Dallas skyline. Built as a free-standing 560 foot tall tower in 1978, it was incorporated into the adjacent Hyatt Regency Dallas Hotel in 1998. A network of LED lights on its outside make the Ball visible from all over the city. The tower is composed of three floors, each with a circular floor plan. The GeO-Deck offers views of Dallas from 470 Feet in the Air. From 2009 to 2020, the top floor sported the world class restaurant called the 560.
To the east of Reunion Tower is Union Station. At one point, eight competing rail lines had their own passenger stations in different parts of town. Union Station brought them all together. Constructed at a cost of $1,500,000 between 1914 and 1916, the station was designed to handle as many as 50,000 passengers and 80 trains daily. Now called "Eddie Bernice Johnson Union Station", the station serves DART Light Rail, Trinity Railway Express commuter rail, and Amtrak intercity rail.
Built in 1922, the Magnolia Hotel 29-story, Beaux-Arts style skyscraper constructed as the headquarters for the Magnolia Petroleum Company. In the 1930s, the company mounted a rotating neon-lit red Pegasus on its roof. The winged horse came to represent the city of Dallas. The city of Dallas bought the building in 1977 and is listed in the National Register of Historic Places. Since 1997, the building has been a luxury 330-room hotel. And in 2000, the Pegasus on the roof was replaced with rotating copy. The original is on display at the Old Red Museum.
Known as a "pocket park", Trinity Overlook Park offers some the best views of the Dallas skyline. The site is also approximately where city founder John Neely Bryan operated his ferry to help settlers cross the Trinity River.
Located in Old City Park, the Dallas Heritage Village features 22 pioneer and Victoria homes and other structures moved from their original sites in north Texas to the park within the last 40 years.
Dallas Culture
The Dallas-Fort Worth metroplex region is the fourth-largest metropolitan area in the United States at 7.5 million people. Dallas itself has a population of over 1.3 million people, its inhabitants hailing from all over the globe. Ranked as the #4 most diverse city in America, Dallas is best known for its sprawling arts scene. Residents and visitors can experience bars, restaurants, boutiques, theaters, galleries, and plenty of music venues. Dallas neighborhoods offer a world of cultural differences that delight the senses! Check out the Arts District for the the Dallas Museum of Art (one of the largest in America) and the Crow Collection of Asian Art cover thousands of years of art. In the downtown Arts District, the sleek Nasher Sculpture Center showcases contemporary sculpture. Take in indie film festivals in the Bishop Arts District. Or hit Deep Ellum for quirky art, jazz, blues, and food. And these are just a few!
Dallas also offers major performance venues to world class opera, ballet, musicals, and symphony concerts. The city is home to the Texas Ballet Theatre, three Dallas Symphonies, and the Shakespeare Festival of Dallas. Broadway Dallas has been bringing in the best Broadway productions to Dallas for 80 years to the historic Music Hall at Fair Park. Fair Park constitutes the largest intact concentration of 1930s-era exposition buildings and public art remaining in the United States.
Dallas Tourist Attractions
There's plenty to see and do in Dallas that will delight adults and children of all ages.
Medieval Times Dinner and Tournament at their Dallas Castle has been offering feasts and jousting knights since 1992. Based on the true story of a noble family from the 11th century, guests enjoy a period feast as a tale of chivalry, rivalry, and swordplay unfolds before their eyes.
Come celebrate all things Texan! The State Fair of Texas kicks off at the end of September through the first week of October. Come see and learn about Texas agriculture, horses, livestock, longhorns, tractor pulls, and -most important of all - the food! Plus plenty of rides!
Located 5 miles northeast of downtown, White Rock Lake provides Dallas with a beautiful setting to hike and bike, sail, kayak, bird watch, picnic, fish, and enjoy the outdoors. Operated by the city of Dallas, the lake was once the the main water source for the city. Now, it host about 1 million visitors each year.
Created in 1888, the Dallas Zoo is home to over 406 different species of animals. With more animals facing extinction, the zoo is actively engaged in saving endangered species and breeding animals in captivity, participating in over 40 Species Survival Plans as well. Visitors can learn about their favorite animals and go on a 90-minute guided tour to learn how the zoo cares for its animals.
Not to be outdone is the very popular Dallas World Aquarium where some 87,000 gallons of saltwater sets the stage for several different habitats of birds, reptiles, amphibian, mammals, - and of course fish.
The Perot Museum of Nature and Science features exhibits on birds, energy, gems and geology, space and engineering, and of course dinosaurs. Visitors can build and battle their own robots, manipulate magnets to control strings of plasma, and watch paleontologists process dinosaur fossils fresh from the field!