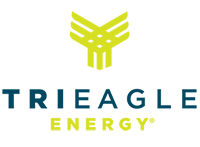 TriEagle Energy Resources

TriEagle Energy is an electricity company that has specialized in commercial electricity since it's founding in 2002. In 2011, TriEagle expanded into the residential electricity market in Texas as well as the deregulated electricity market in Pennsylvania.
---
Recommended TriEagle Energy Plans
---
Most Recent TriEagle Energy Reviews
Good
Smooth transaction

— Vino from Trophy Club TX
Satisfied
Just moved here and happy with them so far.

— Mark from Mckinney TX
Discounts to Retired Military or Law Enforcement
I asked the agent if TriEagle give a special rate or discount to retired Law Enforcement or Military. He did not know and informed me to call Customer service. Was just curious if did or not I have 27 years of service, I was told to ask by a few companies.

— Ale from Sealy TX
4-5 Star Reviews: 66 (38%)
3-4 Star Reviews: 22 (13%)
Mixed opinion
Process & administration good experience. Price on the high side.
2-3 Star Reviews: 15 (9%)
Change Billing date
I had called Trieagle about 7 months ago and tried to get my due date changed from the 22nd of the month to the 1st of the month and they said it can not be done. REALLY?? A lady I spoke with said she would see what she could do and get back to me. Never heard from them again. Then, 1 week ago, I was late by 12 days as I thought I had already made the payment and they shut off my electricity. It turned out I had only paid $50.00 dollars instead of $105.00. An honest mistake, but to shut of my electricity was wrong. My social security does not come until the 24th of the month and had they changed my due date, this may not have happened. I do not want to do business with a company who can not help out the edelry
1-2 Star Reviews: 69 (39%)
Do not use them!!!
When you order your service you can't understand them...they make it seem like you have this awesome deal to save on electricity. I have a 4 bedroom one bath my kids go to school and my husband and I both work..so tell me why was my bill about $400-$500+ a month I would not recommend them. I highly recommend carrots energy. They gouge you rip you off and right now when things are the way they are they aren't willing to work with you to help you out. Ridiculous now I end up with a bill for almost $1,000 now tell me who can pay that in electricity with the economy being the way it is. Ugh very unsatisfied with this company and I regret ever using them!!
TriEagle Energy News
Shop Dallas's Best Short-Term Electric
Long term commitments don't work for everyone. But if you shop short-term electric plans in Dallas right now you'll be ready to snap up cheaper rates in the fall! Who Has the Cheapest 6-Month, Fixed-Rate Plans in Texas? Temperatures are looking to get colder before the winter's end (and rates t...
Best Low Usage Electric Rate In Houston
Paying too much to your Texas electricity provider for using too little? Let us show you who has the best low usage electric plans in Houston, TX! Where Is The Best Low Usage Electric Rate in Houston? It can be tough for low usage electricity customers to find plans that fit their needs. Plans wi...
Best Green Electric Plan Rewards in Houston
Sure, you might not sign up for a green electric plan without a rewards program. But the biggest reward often lies in just how good the plan actually is. Which Green Electric Plan Rewards Are Worthwhile? With credit card companies offering cash back, airline miles, and various points, you wouldnâ...
All TriEagle Energy Plans
36 month
Fixed Rate
$
108
est. avg. bill
Based on a
yearly usage curve
averaging
0
kWh per month
36 month
Fixed Rate
$
112
est. avg. bill
Based on a
yearly usage curve
averaging
0
kWh per month
36 month
Fixed Rate
$
114
est. avg. bill
Based on a
yearly usage curve
averaging
0
kWh per month
24 month
Fixed Rate
$
108
est. avg. bill
Based on a
yearly usage curve
averaging
0
kWh per month
12 month
Fixed Rate
$
112
est. avg. bill
Based on a
yearly usage curve
averaging
0
kWh per month
24 month
Fixed Rate
$
113
est. avg. bill
Based on a
yearly usage curve
averaging
0
kWh per month
24 month
Fixed Rate
$
114
est. avg. bill
Based on a
yearly usage curve
averaging
0
kWh per month
6 month
Fixed Rate
$
112
est. avg. bill
Based on a
yearly usage curve
averaging
0
kWh per month
6 month
Fixed Rate
$
116
est. avg. bill
Based on a
yearly usage curve
averaging
0
kWh per month
12 month
Fixed Rate
$
117
est. avg. bill
Based on a
yearly usage curve
averaging
0
kWh per month
12 month
Fixed Rate
$
120
est. avg. bill
Based on a
yearly usage curve
averaging
0
kWh per month