Abilene Electricity Rates, Plans & Suppliers
Currently, the cheapest Abilene electricity rate is 13.5 ¢/kWh, 29% lower than the average rate of 18.9 &cent/kWh.
Based on recent order data, the best electricity providers in Abilene are Champion Energy Services, 4Change Energy, and Gexa Energy.
56% are choosing plans with a contract length of 24 months, with 12 month contracts being the second most popular choice at 12%.
The average electric bill in Abilene ranges from $160 to $310, with an average electricity usage of 1100-1400 kWh per month.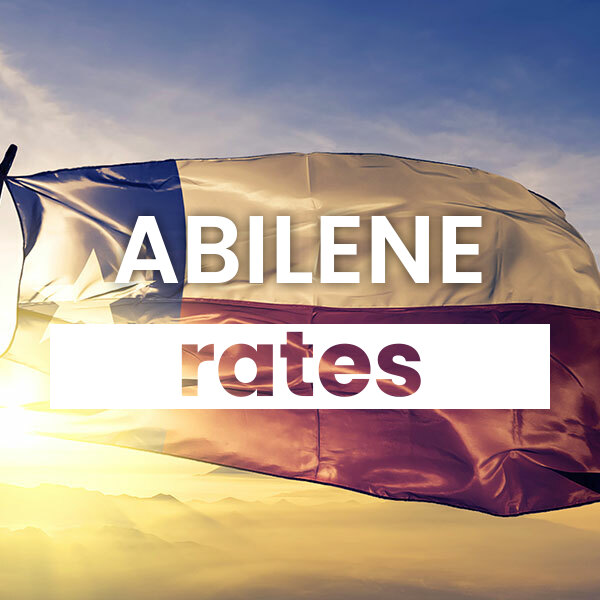 Five Cheapest Electric Rates for Abilene
Company
Term
Rate
Frontier Utilities
12/months
12.9¢/kWh
Veteran Energy
36/months
13.1¢/kWh
Gexa Energy
12/months
13.2¢/kWh
4Change Energy
24/months
13.5¢/kWh
APG&E
6/months
14.2¢/kWh
Rates as of Nov 30, 2023 at 02:26 PM
Green Energy Options in Abilene
Most Texas electricity companies have a 100% green / renewable energy plan, where 100% of the energy you buy supports renewable energy generators. Some Abilene electricity companies are exclusively green, where every plan is 100% green and prices and rates support 100% green energy and renewable generation.
Company
Term
Rate
Gexa Energy
12/months
13.2¢/kWh
Chariot Energy
24/months
14.9¢/kWh
Champion Energy Services
24/months
16.4¢/kWh
Rhythm
8/months
16.6¢/kWh
GoodCharlie Energy
36/months
16.9¢/kWh
Rates as of Nov 30, 2023 at 02:26 PM
The 5 Best Electric Providers in Abilene's
Power To Choose for Abilene residents
Abilene electricity consumers do have a Power To Choose their own Retail Electric Provider (REP). Texas Electricity Ratings has created a great electricity marketplace where you can compare, shop, and order from multiple top-tier energy providers like these:
"Plug In" (haha) Your Zip Code To Compare Electricity Rates and Switch Today
No Deposit & Prepaid Plans for Abilene
There are several no deposit light companies in Abilene that can get your lights on tonight. No deposit electricity plans require that you prepay for your electricity. You can order online, and deposit a small amount - generally $25-$75 and get your lights on in a few hours. Once you've ordered service, you download an app and that reminds you when you need to deposit more money to keep your lights on.
Company
Term
Rate
Payless Power
6/months
18.8¢/kWh
Payless Power
12/months
19.3¢/kWh
Rates as of Nov 30, 2023 at 02:26 PM
Abilene Rates, Plans and Provider FAQ
About Abilene Texas
History of Abilene, TX
This gorgeous city was founded by cattlemen who used the spot as a stock shipping point in early 1881 along the Texas and Pacific Railway. The city obtained its name from Abilene, Kansas, the initial endpoint of Chisholm Trail. The owner of land north of Buffalo Gap named the father of Abilene named the region. According to research, it is believed that almost 800 citizens had started camping in the area before the lands were sold. Auctioning to the town's lots started on March 15, 1881, and Colonel J. Stoddard laid out the town.
It was not until the late 20 th century that Abilene got access to the Cisco and Texas State Technical Colleges branches. It is in the city where the main offices of the former institution are located.
Abilene Culture
In matters concerning culture, it could help if you knew Abilene's cultural aspects are concentrated around a blend of local university and college campuses, the city's agricultural community, and a fast-growing nightlife spot in the downtown region. Additionally, Abilene homes Frontier Texas, Abilene Convention Center, public parks, television stations, Grace Museum, Paramount Theatre, Center for Contemporary Arts, Abilene Philharmonic Orchestra, and many radio stations, to mention but a few.
Landmarks in Abilene
The Grace Museum

This is an accredited museum in the heart of Abilene, TX. The museum is home to five art galleries that feature artwork and rotating exhibits from a permanent collection, a historical gallery with rotating and permanent exhibits that features West Texas, Abilene, and Taylor County artifacts. There is also an art library, an engaging gallery for families and children, and an education center.

Frontier Texas!

This is an incredible historic museum that focuses on the Old West. While at this spot, you will enjoy experiencing and seeing the holograms, which are quite realistic. Once you visit this place, you will experience nothing but a lot of Texas history. You could also go through the amazing videos and other immersions of history.
Tourist Attraction Sites in Abilene, TX
Abilene Zoo

Once you visit this incredible museum, expect to experience the unexpected. You will enjoy the several animal species in the zoo, not to mention its large size. The zoo is well-kept, and the staff members are kind and listening. Once at the museum, you can carry out several activities like taking photos and feeding the giraffes, among other amazing experiences. It is recommended that you should visit the zoo during the weekend. Amazingly, there is no wait time, and you can make a reservation. The entrance fee is quite pocket friendly for adults. You can locate this incredible gem at 2070 Zoo Ln, Abilene, TX 79602, USA.

Adventure Cove

Be sure to fall in love with this lazy river once you make that visit. This spot is quite welcoming for children, and their prices are very reasonable. You will enjoy every bit of it upon visiting, and it could help if you knew that they also rent out the pavilion in case you want to conduct a party. Its address is 2742 S 9 th St, Abilene, TX 79605, USA.