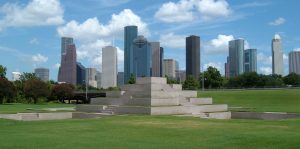 Why get prepaid electricity?
Houston electricity customers choose prepaid plans for a variety of reasons, including the need to track daily electricity consumption, avoid long-term contracts, and skipping the credit check electricity providers require when signing up for traditional service.
The best prepaid plan in Houston right now is the Valtricity 3Cent Intro Rate plan from Acacia Energy. This plan does not offer the lowest rate currently available; however, it does offer the most competitive rates across users with low, moderate, and high electricity usage. If you're unsure about your future usage pattern, this is a good prepaid electricity plan to use while you determine what normal usage is for your household.
The Valtricity 3Cent Intro Rate plan gets its name from an incredible discount Acacia Energy offers during the first few weeks of service. For the first 15 days, customers pay 3¢ per kWh. During days 16 through 30, customers pay 5 cents per kWh. After that, customers pay an average rate of 8.1 cents per kWh assuming 1,000 kWh in consumption.
Prepaid electricity means no monthly bill
You will not receive a monthly bill because all electricity is purchased before it is consumed. The dollars you pay are converted to kilowatt hours. Since your account is prepaid, you will receive a notice by text message or email within three days of your account balance reaching the threshold for disconnection of service. You can add money — and therefore electricity — to your account at any time.
Without a monthly bill, how do you know your usage? One option is to request a Summary of Usage and Payment (SUP). This document is sent to you via email or US Mail within one business day of requesting it. The SUP covers the previous 12 months if you have had service with Acacia Energy that long.
Customers who have medical necessity for electricity are not permitted to enroll in this plan. Existing customers who become dependent on electrically powered medical equipment cannot remain on this plan. Should this happen, customers can stay with Acacia Energy but must enroll in a different plan.
Pay for power in a variety of ways
Payment can be made by credit or debit with a MasterCard or Visa card through the Acacia Energy website, using their automated payment processing line, or calling customer service. Payment can be made in person at MoneyGram locations.
Switch electricity providers for deep discounts
The Valtricity 3Cent Intro Rate plan is great for Houston residents unsure of their normal electricity usage. In addition to some deep discounts at sign up, this plan offers competitive rates for all customers regardless of how much or how little power each customer consumes. . And because it is a prepaid plan, there is no long-term commitment, no credit check, and no ID required. Shop other Houston Texas electricity rates, and you'll find this plan hard to beat.