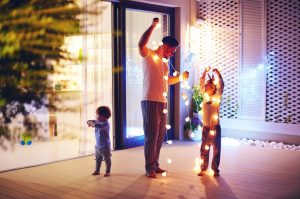 Celebrate the Holidays with Traditions That Last!
It's nearly Christmas time in Texas. And while you have the power to choose a reputable Texas energy company for your needs, you also have the power to choose the best fun and festive holiday traditions too. If you're running out of ideas this year, then here is some inspiration to help make your holidays fun and festive during this holiday season.
Put Up the Christmas Tree
It starts with going to the Christmas tree lot and picking out a nice evergreen with your family. Bring it home, turn on the holiday music, and begin hanging up the tinsel and ornaments. When it's finished, gather the family around for pictures.
Decorate Your Home
You don't need to stop with the tree when it comes to decorating. Depending on how festive your family is, you can decorate throughout the house using lights and sparkly garlands. Don't forget the mistletoe but make sure you put it up high where children and pets can't reach it.
Check Out the Christmas Lights
If you want to get out into some fresh air, take the family out to see the lights throughout your neighborhood. This will let you see all the other festive houses throughout your city. You can also take Holiday light tours of decorated homes in Dallas! You may even find inspiration for your own home but you'll also want to be sure your Texas provider is giving your the cheapest energy rates.
Watch the Christmas Parade
Every city tends to have a festive holiday parade. Gather up the family and find a spot along the route. Or, if the weather doesn't agree, watch it on TV.
Volunteer at a Local Food Bank
One of the greatest parts about the holidays is the chance to make a difference in people's lives. Find a local shelter or food bank to work at and help provide families with food for their holiday meals.
Plan a Holiday Dinner
Nothing inspires festive holidays like a memorable meal. Add a twist by having each member of your family prepare a dish to share at the table. The time in the kitchen and the delicious meal afterward is sure to create some memorable moments.
Host a Holiday Party
If you're not in the cooking mood, then try hosting a holiday party instead. Invite friends or family over to a night full of great food and drinks as laughter and Christmas music plays in the background.
Compete in an Ugly Sweater Competition
Spice up your holiday party or any other festive event by competing in an ugly sweater competition. These can get pretty outrageous so plan on plenty of pictures. Some even offer prizes depending on how awful your sweater is.
Watch Christmas Movies
Sometimes choosing your favorite movie can seem to be almost as difficult as comparing electrical rates in Texas. There are too many holiday movies to choose from for all ages. Make it a night and settle down one day each week before the holiday to watch a Christmas movie together as a family. Or watch several the night before Christmas.
Get an Advent Calendar
This tradition dates back to the mid-19th century. You can find the calendars at nearly any store. Pick one out and then pull each day open to see what present's waiting inside.
Bake Cookies with the Family
While Santa is sure to love his milk and cookies, baking with the family can be a great way to bring everyone together. Sugar, chocolate chip, and of course gingerbread cookies are several different options to choose from.
Do Festive Arts and Crafts
When it comes to holiday festivities, sitting around with the family and working on crafts can be an easy way to spend time with everyone. Not to mention, there are endless low-cost arts and crafts ideas to choose from.
Shop for Cheap Electricity in Dallas
Spend more on memories, not electricity. One way do this is to compare Oncor electricity rates so that you can get the best energy plan that meets your needs . The more you save, the more memorable moments you can have this holiday season with friends and family.
Shop now while energy rates are low. For more information on how to switch Texas electricity companies visit www.TexasElectricityRatings.com. You'll find plenty of information on how to navigate the confusing, deregulated energy market.