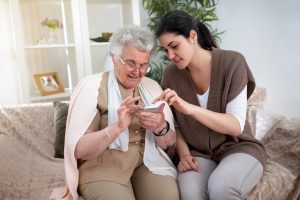 Which smart devices help seniors age in place?
As the Texas population skews older over time, the idea of aging in place becomes a more pressing and higher profile issue. Aging in place is an effort to keep seniors in their homes as long as possible to postpone transitioning to a nursing home. Aging in place is less expensive than nursing home care, and it provides seniors with higher degrees of independence.
According to SeniorLiving, the average annual cost for a nursing home private room in Texas is $92,376. In economically disadvantaged rural areas of Texas, that can be more than the median house value. Considering AARP reports more than half of people who retire in their 60s and 70s don't have a mortgage, paying such a high cost for nursing home residency is an incredibly daunting increase in household expenses.
And you thought summer Houston electricity bills were staggeringly high!
Smart technology is making aging in place a viable option for more seniors. Though this technology is usually targeted for a younger demographic, smart devices often have a special impact on seniors. Let's explore the top smart home tech for seniors aging in place.
Echo Connect can call 911
The Amazon Echo digital assistant device and its competitors have made modern conveniences available by merely speaking a few words. You can use one to control lights, lock doors, operate cameras, and manage a thermostat. You can even use it to search online for the best rated Houston electric provider.
One thing the Amazon Echo cannot do by itself is call 911. However, the Echo Connect allows voice dialing by linking your Amazon Echo to your home's landline.
For many seniors installing an Echo Connect is preferable to wearing an emergency call button. The biggest problem with wearable emergency call buttons is seniors don't wear them. They do this either by choice or by forgetting. In either case, the button does no good. Upon being summoned to a senior's home, emergency personnel often find these wearable call buttons hanging on a hook by a door.
With Echo Connect, wearing an emergency button isn't an issue. Instead, a fallen senior can simply say, "Alexa, call 911."
Pill dispensers can regulate medicine dosage
Taking medication in the correct dosage at the correct time can be confusing at any age, but this task gets trickier as people accumulate more and more prescriptions. Pillboxes that divide medications by days of the week are helpful, but for seniors who have memory issues, they may not be enough to keep seniors in step with their medication regimens.
The Medminder Pill Dispenser comes in several models. These devices take those old pillboxes to a new level. The model with the most features allows only one compartment to open at a time and gives cues such as flashing lights, audible prompts, phone calls, and text message alerts. It can also notify caregivers or medical professionals if problems occur.
Wifi enabled vacuum cleaners do the work for you
The last thing Texas seniors need is a long electrical cord running along the floor of their homes. When in use and when just standing around, traditional vacuum cleaners are trip hazards. Wifi-enabled vacuum cleaners help seniors avoid the trip hazard and take a break from cleaning. When a robot can perform tasks, such as light housekeeping that would normally be done by a caregiver, seniors aging in place can remain that much more independent.
Shop Texas electricity plans
Smart devices typically consume very little electricity, so they add very little to your Houston electricity bill. The best way to keep your electricity bills lower is to compare and shop Texas electricity prices. You may be paying too much, and it could be time to switch retail electricity providers. You'll never know until you shop Texas Electricity Ratings.