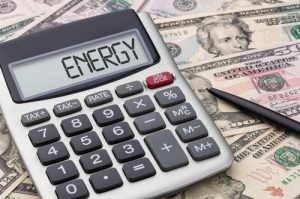 Which Houston Plans Have the Lowest Average Electricity Bill?
One of the most common ways retail electricity providers advertise their pricing is to state the average price per kWh at 1,000 kWh of usage. But when has your electric bill ever been exactly 1,000 kWh? Probably never. 
Texas Electricity Ratings goes beyond this single number to show you the average electricity bill for 1,000 kWh over the course of a year. Usage in some months can fall 1,000 kWh, other months it climbs above 1,000 kWh. The Estimated Average Bill feature gives you another point of comparison in your search for the lowest average electricity bill in Houston. You can even input your own average usage into the Texas Electricity Ratings Bill Calculator to customize the information to your energy needs. 
Why Do Average Price and Average Bill Differ? 
The electricity plan with the lowest average price doesn't always have the lowest average bill. This happens because plans have different pricing structures. Some plans have flat billing where you pay the same price for each kWh you use. Other plans have tiered rates and bill credits that can drastically change the average price base on a single kWh difference. 
Many plans have these sort of price differences at the 1,000 kWh mark. Therefore, months when usage varies above or below this threshold can have significantly different prices. This can have a huge impact when you're trying to save on utility bills. 
3 Plans With The Lowest Average Electricity Bill in Houston 
Even though these 12-month fixed rate plans have higher average price per kWh at 1,000 kWh, they have the lowest average electricity bill in Houston: 
With the exception of a relatively small bill credit in the 12 Month GREEN plan, these plans have flat pricing structures. This means customers can save no matter how much energy they use in a month. 
3 Plans With The Lowest Average Price in Houston
For sake of comparison, the 12-month fixed rate plans below have the lowest average price yet do not always have the lowest average bills:  
The bill credits in the first two plans in the table above cause very different bill amounts throughout the year. The Cirro Energy plan has flat pricing. It appears in both tables because it has a low rate that helps customers save no matter their usage. 
Compare To Save On Houston Electricity 
Finding the lowest average electricity bill in Houston is all about understanding your own usage. Your typical high month, low month, and average month help you determine which plan is right for you. Shop plans at http://www.texaselectricityratings.com to find the one that makes the most sense for your home.