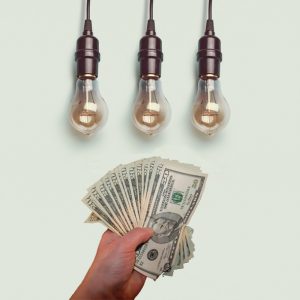 How Can I Reduce My Monthly Energy Use?
The EIA predicts that for the fourth year in a row energy prices will increase. But just because the nation's price for energy increases, doesn't mean you need to get stuck paying more for electricity. Follow these 10 energy saving New Year's resolutions to make sure that even though prices continue to rise, you'll still be able to cut costs off your monthly bill energy bill in Texas.
Switch to Energy Efficient Lighting
A quick fix to lower electricity rates in your Texas home is to make the change from incandescent lights to LED bulbs. These bulbs are slightly more expensive than traditional bulbs, but they last longer and cut energy costs.
Stop Phantom Energy Use
Phantom power is when appliances (especially smart appliances or those with remote controls) use electricity even when they're not turned. That's because they use a small amount of power so they can stay ready for use. By unplugging these appliances and turning off any surge strips when not in use, you can reduce energy use.
Install a Smart Thermostat
A smart thermostat allows you to automatically adjust the temperature in your home. This allows you to automate the heat and A/C for energy efficiency. And if you don't have one in your home, a smart thermostat electricity plan will give you one when you sign up.
Optimize Thermostat Use
Cut costs by adjusting your room temperature. Generally, the optimal daytime temperature to set your thermostat to is 78°F during the summer and 68°F during the winter. By setting your thermostat to these settings, you can start seeing instant savings.
Insulate and Seal Air Ducts
Inspect your house to makes sure your HVAC ducts are properly sealed. Approximately 20 to 30 percent of the air moving through them can leak out causing waste. Instead, seal the ducts with either mastic sealant or metal tape. Also make sure they're insulated to prevent air from escaping and raising your energy bills.
Clean Your HVAC Filter
For your HVAC filter to perform properly and reduce energy use, it needs to be cleaned every 1 to 3 months. Cleaning it reduces the time the HVAC system needs to run while giving you huge savings on your Texas energy bills.
Use Appliances More Efficiently
Fully load appliances like dishwashers and washing machines to reduce the number of loads you need to run. Also, by keeping your fridge stocked (but not over-filled), you'll improve its energy efficiency as well.
Purchase Energy Star Appliances
If you need new appliances in your home, make sure you purchase Energy Star most efficient products. These appliances undergo rigorous testing make sure they meet DOE standards for energy efficiency.
Shorten Shower Times
By reducing shower times, you reduce the time your hot water heater needs to run in order to maintain water temperatures. Aim for under 4 minutes to see optimal savings.
Install Window Films
Rather than installing new, energy efficient windows in your home, apply window film instead. This cheap and easier to install option can block up to 66 percent of the sun's rays, reducing energy costs.
Switch to a Cheaper Electricity Company in Dallas
If you're looking to cut costs on your energy bills, take advantage of your power to choose. Whether you're looking for low rates in the ONCOR area or another area in Texas, you have options for cheap electricity. For more information on how to shop and compare electricity providers, visit www.TexasElectricityRatings.com.