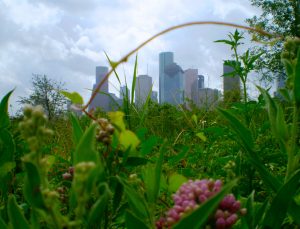 Who Has the Best Green Plans in Houston?
More and more electricity customers are switching to green energy plans. As green technology progresses, its pricing becomes more competitive with traditional electricity sources. Houston has many green plans for the choosing, but the overall best option right now is the Green & Clean 6 plan from Frontier Utilities. Compare electricity rates, and you'll agree!
This plan boasts 100 percent renewable energy and offers the lowest price among green plans. After an $8 base fee, customers pay 2.7 cents per kWh for usage less than 1000 kWh and 7.0 cents per kWh for usage greater than or equal to 1000 kWh. These rates are locked in for six months.
When you sign up for Green & Clean 6, you get more than just green energy at a great price. You also get a power provider dedicated to your satisfaction. The mission of Frontier Utilities is "to create superior value and satisfaction for our customers, employees, communities and investors through the sale and supply of energy and related services. We execute our mission through the highest standards for service, innovation, integrity and financial performance within a supportive, collegial, and solutions-oriented work environment."
Frontier is a family-owned Texas company. They provide power in other states, but their primary offices are in Dallas and Houston.
Electricity payments at your convenience.
Frontier makes it easy to pay your bill through a myriad of options. Customers can pay bills online, by phone, by mail, or by paying in person with cash at any Ace Cash Express storefront.
While Frontier Utilities may require a deposit from a new customer, that customer's deposit will not exceed an amount equal to that customer's next two estimated monthly bills or one-fifth of that customer's estimated billings for the coming year. Deposits are refunded after 12 billing cycles without a late payment and may be refunded as a bill credit.
Switch power providers for more predictable bills.
The Average Billing Program allows customers to pay an estimated average bill rather than contending with the ups and downs of seasonal usage. Houston electric bills are no picnic in the summer, and this program allows customers to smooth out their payments to relieve the sting of running the air conditioner nonstop from May to September. Every six months, customers square up with Frontier either by either paying any underbilled amount or by receiving a credit for overpayment. This program is available to customers on rate reduction plans and to those who are not delinquent on payments.
Going green in Houston is easy
The Green & Clean 6 plan from Frontier Utilities is a great way to power your home. You get 100 percent renewable energy at a competitive rate from a provider who make your satisfaction its top priority.