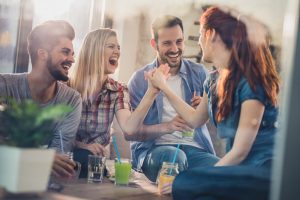 How can I get rewarded for my energy consumption?
Everyone likes to be rewarded. Considering the varied rewards options, the Fast Fixed 4 plan from Bounce Energy has the best plan incentives in Houston. This 4-month plan will make you a loyal customer because you get a great electricity rate plus bonuses just for paying on time.
Try Bounce Energy at a fixed price.
This plan offers electricity at an average price of 9.9 cents for a 1,000 kWh bill. This rate is competitive with similar plans, and when you throw in the rewards, who can resist giving them a try? After all, your Houston electricity contract is only locked in for four months. After that, you'll want to stay with Bounce Energy for the long haul.
With the summer just around the corner, having a fixed price plan locked in will protect you from soaring summer time prices when Texas reaches peak electricity demand.
Given the short contract term, you're likely to stick with the Fast Fixed 4 plan through its term. Should you decide to cancel your plan, there's an early termination fee of $135.
Earn rewards that appeal to you.
Once you're a Bounce Energy customer, you can pick from a wide assortment of rewards programs that fit your electricity consumption and can actually use. Here's a few examples:
Let your power bills take you on vacation.
Many people have airline miles as rewards for their credit cards, but few people can say they earn flights just by paying their electric bills. One reward option for Bounce Energy customers is to have their electricity bill payments count toward flights earned through the American Airlines AAdvantage Rewards program. You can earn one mile for every dollar of your electricity bill paid on time.
Not a frequent flier? No problem! You have more options.
Put money back in your wallet.
With their 3% Cash Back Rewards program, you earn three percent back when you pay your bill on time. After paying 12 bills on time, you get three percent of the total amount you paid on those 12 bills as a credit to your account.
Can't wait that long for your rewards? Here's another program ….
Get gift cards twice a year.
Mommy Merits gives moms a little something extra every six months of on time bill payments. And the rewards get better each time all the way up to 24 months. Gift cards to some of the most popular stores await for Mom to splurge for herself without the guilt of paying with plastic.
Switch power plans to start earning rewards.
If you're ready to start earning rewards on a competitively priced energy plan, give the Bounce Energy Fast Fixed 4 plan a look. Switching plans in the Houston Centerpoint footprint is easy at Texas Electricity Ratings!