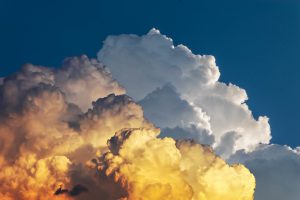 How bad will hurricane season be this summer?
Extreme weather is exerting a greater impact on our lives now than ever before. Hurricane season makes this all too clear. Storms can disrupt gas and oil wells and knock down transmission lines, both of which can affect the price of energy throughout the country. Homeowners dwelling in coastal areas need to pay close attention to the threats of storm surge while others further inland need to be on the look out for flash flooding. And everyone in the storm path should takes steps to prepare for Texas electricity supply outages.
Recently on May 24, forecasters at the National Oceanic and Atmospheric Administration (NOAA) announced their prediction for the 2018 Atlantic Hurricane Season. While conditions this year are somewhat different than last year, NOAA is forecasting a near-normal to above-normal storm season with a 70% probability for:
10-16 Named (Tropical) Storms
5-9 Hurricanes
1-4 Major Hurricanes
While that prediction seems dire, it's important to keep in mind that there are other forecasts, all of which are reading the data somewhat differently.
Back in April, Colorado State University's (CSU) Tropical Meteorology Project released its annual long range hurricane forecast saying the season would be slightly above average:
14 Named (Tropical) Storms
7 Hurricanes
3 Major Hurricanes
The seasonal average from 1981 to 2010 is:
12 Named (Tropical) Storms
6 Hurricanes
2 Major Hurricanes
In contrast to NOAA and CSU, both the Weather Company and London-based TSR (Tropical Storm Risk) are expecting below to normal seasons this year:
Weather Company forecasts a below average season:
12 Named (Tropical) Storms
5 Hurricanes
2 Major Hurricanes
TSR (Tropical Storm Risk) forecasts an average season:
12 Named (Tropical) Storms
6 Hurricanes
2 Major Hurricanes.
So who do you believe? Basically, the two main factors contributing to all of this season's forecasts are the current El Niño Southern Oscillation (ENSO) and the sea surface temperatures (SST) spanning the west coast of Africa to the Caribbean in what's known as the Main Development Region (MDR). Both affect the formation and lifespan of tropical storm systems. Ironically, how they influence the hurricane season sometimes depends on an area in one ocean being cool and another area in the other being warm.
How does ENSO in the Pacific affect Atlantic hurricanes?
ENSO is a phenomena when warm or cool water in the Pacific changes the circulation of the planet's atmosphere (called the Walker Circulation) and influences weather patterns throughout the world. The ENSO area is actually thousands of square miles in the Pacific Ocean. When it's warm during an El Niño, LOTS of water evaporates, causing convection currents that rush up into the atmosphere. The air cools aloft and then falls, producing strong wind shear in the MDR which can snuff out hurricanes or even prevent storms from forming.
During La Niña, the western Pacific warms up while the the eastern Pacific Ocean waters stay cool. Winds in the MDR moderate, allowing the Atlantic to warm. Wind shearing tends to be average or weak. This allows storm systems to develop into powerful hurricanes.
While the Walker Circulation in ENSO Neutral sort of flows like La Niña, it's thermal effects appear marginal. This allows other atmospheric conditions to exert more influence on both the circulation of the atmosphere and hurricane formation in the MDR.
Currently, temperature readings in the ENSO area of the Pacific show SSTs have risen out of the La Niña range. On May 10, NOAA announced that La Niña conditions had ended and switched to what's known as ENSO Neutral. It's likely an El Niño will emerge in the Pacific in very late summer (perhaps later-ish). While an emerging El Niño is good news for your wintertime Texas Energy bills, it's expected to remain in ENSO Neutral most of the Atlantic hurricane season. NOAA expects to see near-average or weaker wind shearing in the MDR.
How warm is the Atlantic Ocean?
While SSTs have been above average in the MDR since1995, NOAA's models are suggesting that SSTs in the MDR could stay cooler this summer between August and October.
But —the key factor at play is the word "could". Here's what's going on.
March through April SSTs in the MDR were below average and those temps have persisted. And while SSTs in the Caribbean had been warming they are now also falling. NOAA says the cooling has been caused by a high pressure ridge in the central North Atlantic blowing a strong and cool trade wind across the MDR for the past 60 days. A trade wind is a wind blowing steadily toward the equator from the northeast in the northern hemisphere or the southeast in the southern hemisphere.
If this ridge persists and the trade wind persists, the cooling affect on the MDR could persist and could help reduce either the number or strength of storm systems.
A Certain amount of Uncertainty
The problem with this season's predictions is that no one is exactly sure if and when the current patterns in the Pacific and Atlantic will change and if they do how fast will they occur. TSR's prediction is based on the influence of that high pressure ridge in the North Atlantic chilling the waters of the MDR. NOAA, however, says there is a 40% chance for a near-normal season and a 35% chance for an above-normal season. It's that 35% chance for an above-normal season that considers the possibility that the ridge may dissipate or that late summer SSTs in the Atlantic will warm up sufficiently to nullify the effects. That could help hurricane formation. And then there's the possibility that warming in the eastern Pacific could occur faster than anticipated. This would speed up the emergence of an El Niño which would help produce those hurricane-hampering wind shears.
Will a hurricane hit the U.S.?
Hurricanes striking the U.S. coast and coming ashore are always a possibility. How strong those storms might be is difficult to say. While there will likely be a number of strong tropical storms that come ashore, one thing all the experts agree on is that there are good chances for at least one major hurricane to develop in the Atlantic somewhere. A major hurricane in this case is a Category 3 or above and as Texans well know, these storms can be disruptive, damaging, and deadly.
What you can do to prepare.
It always bear repeating that it only takes one storm to create a disaster. Tropical storms and hurricanes don't end as soon as they hit land — they often wander far inland, bringing torrential rains, flooding, and tornados.
Learn to keep your family safe when the power goes out by preparing for the worst storm now. Have a plan and make a checklist of supplies that you'll need. Learn about rules covering Texas evacuation routes. Be sure to check out Ready.gov for more information on how you can weather these summer storms.