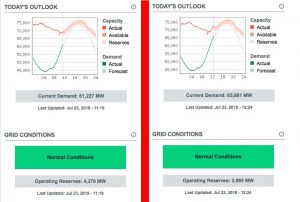 How big will demand for Texas electricity go?
High temperatures are expected throughout the north central region of Texas today. Dallas electricity customers will still see over 100°F with Austin and San Antonio likely to hit their hottest day of the summer thus far. Demand is forecast to get to 74,647 MW today and on hot days like this, ERCOT is figuring that it takes 100 MW to power 100 homes.
Fortunately, cooler weather is on the way tomorrow.
At 12:21, system wide conditions showed a demand of 65334 MW with reserve of 4,074, some of which was wind power.
With the exception of the far west, midday wholesale electricity prices for Dallas, Houston, and the bulk of the state were in the mid $30 range. With reserves very tight today, prices could easily surge past $150 per MW.
If you're on a fixed rate electricity plan, you might want to raise your home's thermostat's setting a few degrees! If you're on a variable rate or month-to-month plan, you NEED to shop for the fixed rate plan that best suits your family's energy needs at https://www.texaselectricityratings.com!