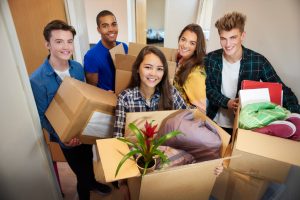 How do I pick a college apartment electricity plan?
So you have your off-campus apartment lease signed, and you're ready to move in. What about electricity service? Picking a Texas electricity plan can be confusing in the best of times but because rates will likely fall when summer's gone you're not going to want to pay a high rate all year long.
Your decision boils down to your power to choose either a short-term fixed rate plan or prepaid electricity service. But which one is the best choice? And who do you choose to be your Houston electricity provider? No fear — we've got you covered!
Should I lock in a short term price?
In most cases, retail electricity providers give customers lower rates for longer contract terms. However, these contracts often come with high early termination fees meaning you pay several hundred dollars for simply ending your contract before it expires. You don't want to put yourself in that condition if you can avoid it.
If you want to go with a short, fixed rate contract, you'll pay somewhat more than customers locking in longer contract periods. Even so, compared to a month-to-month rate, a Houston fixed rate electricity plan will shield you from the ups and downs of the Texas electricity market. You know the price you pay per kilowatt hour, and you know that price won't change until your contract ends.
Pay as you go at market rates
Prepaid electricity is a whole different ball game. You purchase electricity before you use it. The day you purchase the electricity, you pay the going market rate. So when you buy, the price could be the same, a little different, or drastically different. In order to keep your rate low, you'll need to watch the rate closely for a couple of months.
A big positive about prepaid electricity is you can always quit and switch to a fixed rate plan. There are no early termination fees because prepaid electricity does not require a contract. If you decide to switch to a fixed rate plan because your prepaid company's electricity prices go up, you might be out of luck finding cheaper electricity. Because you didn't lock in a fixed rate plan earlier, you've exposed yourself to market forces. Fixed rates might have risen since you last looked.
Will prices go up more? The Texas summer heat is expected to last well into September, so prices will likely be high for a while longer. However, by the mid-semester, market electricity rates may be lower than they are now. So, it's good idea to keep an eye on prices and compare Houston electricity rates so that you can switch providers when the time is right.
Your source for Houston electricity information
Hopefully, you have some inkling about whether to go with a fixed rate plan or prepaid electricity. If not, don't worry! Review Houston electricity plans at https://www.texaselectricityratings.com to arm yourself with the power plan information you need for your college apartment.