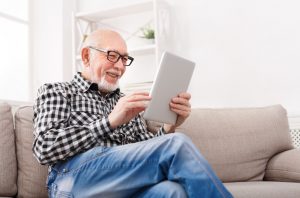 Which smart home devices keep seniors connected?
As we learned last month, social isolation among seniors can have dire effects on their physical and mental health. A significant portion of seniors live alone, but that doesn't mean they have to go through life without connecting to other people.
Caring family and friends can help the seniors they love live full lives. Smart home gadgets can be outstanding tools to make this happen. Even though another human being may not be around all the time, smart home tech enables seniors to remain connected to the world outside their homes. Purchasing a smart home hub — such as Amazon Echo Show, Facebook Portal, or Google Home — is something you may want to discuss with the special elder in your life to help them age in place and remain integrated into the community.
Smart hubs bring families together
Seniors have a reputation for being late adopters when it comes to technology. Family members prod elders to join the rest of the population's obsession with new technology. Even though smart hubs are gaining in popularity, don't expect Grandma to rush out to buy one. It's best to compare the best features that work for them first.
Though Google Home Hub lacks a camera like Amazon Echo Show and Facebook Portal, this device connects family members through Google Assistant. By adding your Google account to Grandma's Home Hub, you can demonstrate all the ways it makes your life better. Ask her what she wants this device to tell her. Later, you can take off your account if you need to do so. But at the start, showing her how technology works is better than telling her how it works. Some seniors might feel overwhelmed by their options. Remember to show her that she has the power to choose which applications to use.  She'll respond to email, follow social media, and keep up with current events all in one easy-to-use device.
Additionally, Google Home Hub brings together all the other smart home technology at Grandma's house. This makes it much easier on her to control all the gadgets made by different manufacturers. She can tell the devices what to do rather than trying to recall how to operate each one.
Public investment in technology skills for older adults
In the UK, the government is working toward reducing digital exclusion. One project aimed at rural communities is providing smart home tech to seniors, training them how to use it, and empowering them to train others. By enhancing the technological savvy of older adults, the government expects to see improved financial inclusion, higher degrees of  independence, reduced social isolation and loneliness, and overall better quality of life.
Pay less to power your smart home tech
Smart home hubs typically don't use much electricity, but why pay more than necessary for your home's power. Shop electricity plans through Texas Electricity Ratings to see whether you need to kick your current retail power company to the curb. You could save hundreds of dollars per year by switching. Check out power plan prices for your city today!