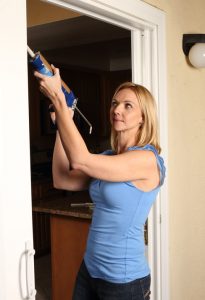 Home Fixes For Huge Savings on Your Energy Bill
Finding ways to improve the energy efficiency of your Texas home is a great way to reduce costs and cut down on any unwanted bill shock this holiday season. Homes that aren't weatherized leak heat, leaving you with higher than average electricity bills. If you want to have the cheapest electricity rates in Texas, then you need to try these 5 quick fixes to winter-proof your home. 
Install a Smart Thermostat
Smart thermostats let you set your temperature and forget it. Energy.gov points out that setting your house temperature between 7 – 10 degrees from its normal setting for 8 hours can lead to huge savings. The average home can save up to 10% a year on heating and cooling. A smart thermostat will automatically heat your home when it's needed, saving you money.
If you don't already have one, some Texas energy companies offer Smart Plans that include a free smart thermostat when you sign up.
Switch Your Ceiling Fans to Clockwise
Most people set their ceiling fans and forget it. But if you turn it off and flip the switch on the side of it, you can change the direction it moves in. Setting your fan to a clockwise motion will push the rising hot air back down along the walls. This helps improve air circulation, keeping rooms warmer, longer. 
Check Windows, Doors, and Around Pipes for Drafts
Preventing heat from escaping from gaps is a quick and simple way to save money on your monthly energy bills. An easy way to do this is to take a piece of paper or a dollar bill and see if it can fit into any of the gaps around the doors and windows in your home. If it can, then add weather stripping and door draft stoppers to help keep your home insulated. Also caulk and seal around the edges of doors and windows outside to prevent drafts entering your home. Also seal around any wires or pipes that enter your home in your garage and crawlspaces.
Insulate Windows with Window Film
New windows can be expensive. But for those who are worried about heat leaking through windows and who don't want to cover their windows with plastic bags, installing window film works wonders. 
Window film functions like plastic wrap that you apply to a window inside your home and heat with a hairdryer. The film shrinks and prevents cold air from infiltrating your home through the window. It's a fairly fast and easy process that can help reduce your monthly energy use during the winter. 
Clean or Replace the HVAC Air Filters
You can greatly improve the energy efficiency of your home's heating, ventilation, and air conditioning (HVAC) system by cleaning or replacing the HVAC air filter. While some HVAC filters washed, most often they need to be replaced every three months. Clean filters mean that your appliances won't need to run as long to do their job, cutting down your monthly Texas energy bill. If there is a smoker in the home or you have pets, the filters should be replaced every month.
Use Line Dryers
Using a clothes dryer consumes a lot of energy. A great alternative is to air dry your clothes. When it's windy or warmer, consider putting your clothes outside on a line dryer. It may take longer than a traditional dryer, but you'll see the huge savings at the end of the billing cycle. Another great alternative is to dry your clothes over night using a clothes drying rack and a small fan. This save wear and tear on your clothes, saves energy, saves money, and helps humidify your home.
Save Big By Switching Energy Providers
While there are a lot of quick fixes you can do to keep energy costs down in your home, often the easiest and most overlooked one is to shop for a cheaper energy provider in Texas. With the power to choose, you can compare electricity providers before switching to a cheaper plan in Texas. 
But the deregulated energy market in Texas can be complicated. And if you're not careful, you could end up paying higher electricity rates. That's why you need to visit www.texaselectricityratings.com for more information on how to shop, compare, and switch to the best electricity plan for your Texas home.