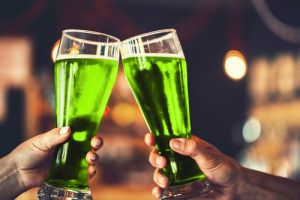 What's the Best Pub to Celebrate St. Paddy's Day in Dallas?
What's better than finding the cheapest electricity rates in Dallas? Dancing to live music while wearing green with a pint of Guinness in your hand on St. Paddy's day. For a top-rated Dallas electric atmosphere, visit the best Irish pubs in the city and join in the celebrations. But, don't leave it up to the luck of the Irish. Choose one of these pubs for a legendary St. Patrick's Day! 
The Old Monk
For the feel of an authentic Irish Pub, you should stop by the Old Monk at the historic Henderson Avenue. It's a local watering hole in Dallas with authentic Irish bites and a great atmosphere. The pub is packed full of antiques that make you feel like you're in Dublin. Their menu features a variety of European food, including their ever-popular Monk Burger. For St. Paddy's, they'll have corned beef and hash on the menu. And, of course, plenty of Guinness and Jameson to go around.
Trinity Hall
For a range of traditional Irish food and authentic Irish coffee, you'll want to stop by Trinity Hall. It's an authentic Irish pub knowing for their traditional music and warm, Irish atmosphere. Stop by after Dallas Paddy's Parade Day and catch some live music on Saturday after 1 PM. And if you're looking to avoid the St. Patrick's Day party scene, you can stop by on Sunday for a family-friendly party.
The Crafty Irishman
If you like to keep green and electric in Dallas, then you should visit the Crafty Irishman located in the historic Merchantile Building. The bar's owned and run by a Dublin Native, so you can expect the pub to feel truly authentic. Disappear to the Emerald Isle as you listen to Irish accents and sip on your preferred pint. Celebrations go all week with traditional Irish music, bagpipes, a day for Guinness and Oysters. 
Malarkey's Irish Tavern
With the power to choose one of the best St. Paddy's Day pub in Dallas, you should stop by Malarkey's Irish Tavern. Located at the Trinity Mills/Dallas Tollway Intersection, you'll travel across the sea with one bite of their delicious shepherd's pie and a perfectly poured Guinness. Live music and an expansive menu of authentic Irish cuisine will keep you full and entertained on St. Patricks Day this year.
The Blackfriar Pub
Let the Blackfriar Pub be your lucky charm this St. Patrick's Day. Located in Uptown Dallas, this pub was made with wood from an English castle. Outside, you'll find a lovely beer garden where you can dance to traditional Irish music with a whiskey of your choice. People will be crawling about before, during, and after the parade, so you're sure to find a lively crowd. Their menu boasts a fusion of Irish and North American fare. Fish and chips, corned beef poutine, and their famous tacos are just a few of the more popular selections. 
You Don't Need Luck to Find the Cheapest Electricity in Dallas
The paddy doesn't start until you walk in. So, don't let high electricity bills in Dallas ruin your St. Patricks Day. The best way to get the cheapest electricity rates in Dallas is to shop for plans while rates are low in Dallas. But with so many options, finding the right electricity plan can get confusing and frustrating.
If you're looking for the cheapest energy rates in Texas, then you need to shop around and compare plans from Dallas energy providers. Luckily,  www.TexasElectricityRatings.com makes that easy for you. Visit us to find out more about how to get the cheapest electric rates in Dallas. And make sure you have a shamrockin' good time this St. Paddy's Day!