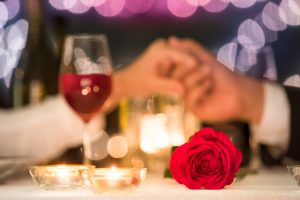 The Best Restaurants in Dallas for Valentine's Takeaway
Just because you're staying safe at home this Valentine's day doesn't mean you need to cook. Lots of restaurants have great options for incredible meals. So, save a big on your electricity bills in Texas by staying out of the kitchen, lighting some candles, putting on soft music, and ordering in this year. Here's our list of the best romantic dinners to go to in Dallas.
Best Affordable Romantic Restaurant in Dallas
Nothing says, "I love you" like tacos. Mario Bros. Tacos currently has an electrifying Valentine's Day special in Dallas. For $49.99, you get a full spread of twelve tacos with your choice of filling (Trompo, Bistec, Chicken, Barbacoa, Tripas, Campechano).
You'll also get three sides: Charro Beans, Rice, and Bacon Wrapped Jalapeño Poppers! And for dessert, two Mexican cokes and a Valentine's Cinnamon roll.
Best Date Night To-Go For Valentine's Day
What better way to spend the holiday of love curled up next to your loved one to watch a film and snack into a heart-shaped pizza from Mimi's Pizza. For $21.95, you'll get a beautifully heart-shaped pizza with your choice of sides and a slice of Red Velvet cake. Carbs. Carbs. And more carbs. Now, that's more than love. That's Amore!
Best Fancy Dinner from a Romantic Restaurant in Dallas
If you're looking for something a little fancier, you can order a romantic dinner from Truluck's. Their "Romance on Demand" menu gets you a full-on platter of surf and turf for $150 per couple.
You'll get a 16oz bone-in ribeye filet, 1lbs of king crab legs, and a jumbo lump crab cake. Sauteed asparagus, parmesan yeast rolls, and parmesan mashed potatoes are your sides. And there's a wedding cake for dessert.
And if you're looking for more, you can get South African lobster tails and fresh Florida stone crab claws. Finally, there are plenty of wine pairings to boot to really make your Valentine's Day dinner even more memorable.
Best Sushi for Valentine's Day
Sushi makes for a delicious dinner that's light on the stomach and good for the soul. Currently, Sushi de Handroll has an excellent special for lovers looking to order in this Valentine's Day. Their Premium Mosaic Sushi menu gives you 25 pieces of sushi for $50 to share with your partner.
Best Wine Dinner at Home in Dallas
Cru Wine Bar in Dallas has a Valentine's menu for to-go dinners. This elegant, four-course menu starts off with roasted asparagus and burrata salad. The main course is chateaubriand with wild mushroom duxelles and a red wine truffle sauce. You'll also get au gratin potatoes and buttered broccolini for sides. And finally, snuggle up to share tiramisu for perhaps the best romantic dessert in Dallas.
Best Savings on Your Dallas Electricity Bills
Whether you want to have a casual Valentine's Day dinner or an extravagant feast, it pays to have the budget you need to enjoy the best romantic night in Dallas with your loved one. As an Oncor service area customer, you have the power to choose a cheaper electricity provider. And one of the easiest ways to make that happen is to save BIG on your Dallas electricity bills.
But, finding a cheaper electricity plan in Dallas that you can fall in love with isn't always easy. There are a lot of providers out there offering a range of plans for you to choose from. Finding the best one takes the right know-how. That's why we do the work for you!
Visit https://www.texaselectricityratings.com for more information on how to shop, compare and save BIG when you switch to a new electricity provider in Dallas.