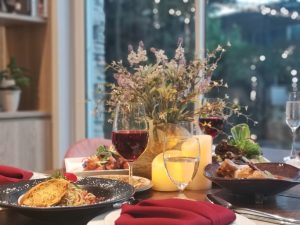 Who Has The Best Romantic Dinner To Go In Houston?
This year's Valentine's Day is unlike any other we've experienced. The weather will be colder than in most years, and there's that pesky, more-than-little pandemic. Cold weather and COVID-19 are just extra reasons to share a romantic dinner for two at home this Valentine's Day. Plus, if you order out, you won't need to cook! Viva l'amor!
The Annie Cafe & Bar
A fine dinner at home can help you turn up the heat without cranking up the thermostat. With a takeout Valentine's Day order from The Annie Cafe & Bar, you can even pick up the flowers, too. Their $125 per person prix fixe menu includes an amuse bouche, three first course options, three second course options, and three dessert options. If you want to bring home a special flower arrangement, that's $155. Is it Houston's best romantic dinner to go? You'll have to try it to see for yourself! 
Etoile Cuisine et Bar
The Valentine's Day takeaway menu at Etoile Cuisine et Bar is sure to satisfy. This French restaurant's food will transport you to Paris without leaving your Houston home. Their $78 per person prix fixe menu features four courses with tempting options like lobster bisque, salmon tartare, and seared sea bass. The special menu is available all Valentine's Day weekend. 
BB Italia
The floral arrangement with a meal purchase seems to be catching on among Houston restaurants. BB Italia offers one for $65 alongside their Valentine's Day prix fixe menu which is $85 per person. Culinary highlights from this menu include shrimp scampi bruschetta, basil pesto grilled chicken, and osso bucco. The dessert course includes four amazingly tempting choices: chocolate cake, cheesecake, tiramisu, and ricotta cake. You and your honey should make different dessert choices so you can try more than one! 
Save Money For The Best Romantic Dinner To Go 
It's much more fun to think about Valentine's Day dinner than it is to consider Houston electricity plans. But switching Houston light companies could save you enough money to pay for the best romantic dinner to go in Houston. Shop https://www.texaselectricityratings.com to find your new power plan today!