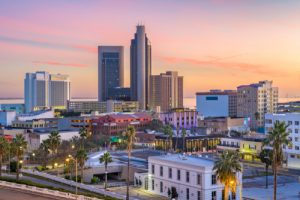 What is a cheap electricity rate?
Getting a bargain from light companies in Corpus Christi, Texas, is easier than you might believe. Right now, retail companies serving this part of Texas have some great plans available. Gexa Energy offers the cheapest Corpus Christi electricity that customers can sign up for today.
Their lowest price plans allow customers to lock-in lower rates over longer contract terms. The rates shown in the table below include charges from Gexa Energy and AEP Texas (Corpus Christi's TDU).
The key feature common among these three Corpus Christi electricity plans is a $75 bill credit which kicks in when usage stays between 1,000 and 2,000 kWh in a billing cycle. These plans offer a great choice for households using a moderate amount of electricity. However, high usage and low usage customers may find better prices with other plans.
Beat the average Corpus Christi electric bill!
To know whether an electricity plan price is good, you need to have a feel for what other customers pay. According to the US Energy Information Administration, Texas electricity customers paid an average of 11.68 cents per kWh for electricity. This includes charges from both the retail electricity provider and the electric utility.
An apples-to-apples comparison between these Gexa Energy plans and what the average Texas household pays shows these deals are too good to pass up. Even if you don't wind up signing up for one, you'll kick yourself for weeks if you don't at least explore whether switching makes sense for you.
Great electricity rates with renewable energy!
Besides their excellent prices, these electricity plans stand out because they use 100% renewable energy. Though some feel renewable energy is overly expensive, green energy plans are now competitively priced. For the Gexa Energy plans described here, the renewable plans beat all others for customers using moderate amounts of electricity.
Power to choose your energy company!
Corpus Christi, TX, electricity companies compete for your business in the deregulated Texas energy market. You have the power to choose which provider serves your home. Whether the plans described here meet your needs or you want to study other plans, https://www.texaselectricityratings.com is the place to start and end your energy plan search.