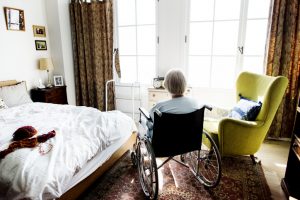 What causes isolation among seniors?
When you think about the older adults in your life, you may perceive them as homebodies. They don't like to get out as much as the used to do, but is that really the case? Is it that they don't like to get out or that they have a hard time getting out?
According to information from the AARP Foundation, social isolation among adults 50 and older is caused by a myriad of factors. The main drivers of social isolation among seniors include the following:
Living by oneself
Death or a spouse or significant other
Disabilities affecting mobility or sensory perception
Poverty
Caring for another person
Cognitive impairments
Living in a rural area
Living in an unsafe neighborhood
Living in an area inaccessible for individuals with disabilities
Limited English proficiency
The AARP Foundation also states that 17 percent of adults 65 and older are isolated. Even more startling, 46 percent of women age 75 and older live alone.
Loneliness can have dire effects on older Texans
Most seniors value living independently. Being able to take care of themselves and meet their responsibilities, such as even paying their monthly Texas energy bill, can mean a lot to their self esteem. Yet, no one wants to be lonely, and for seniors, the negative impacts can be severe.
Loneliness is a health threat for older adults. For some, prolonged isolation can have the same effects as smoking 15 cigarettes per day! When you stop to think about this, it makes complete sense. Isolated seniors often lack exercise which leads to obesity and high blood pressure. On top of poor physical health, prolonged isolation can lead to declining cognitive functioning, dementia, and depression.
You may not want to move in with your grandmother, but smart technology can help you keep her connected. Plus, some smart home devices can help seniors better manage their Houston electricity bill  and that would make their incomes go further.
Smart home technology makes a difference
Social isolation doesn't have to be a problem for the older adults in your life. Smart technology can help you keep seniors connected to their communities where they can thrive.
As we'll explore this in more detail next month in part two of this article, many smart home devices do more than just make life a little easier. These gadgets can be a lifeline to the outside world outside. Smart home devices make it more convenient for friends and family to stay in touch and to monitor a loved one's well being thus allowing seniors to age in place.
Texas electricity plans for young and old alike
Even though most smart home gadgets use very little electricity, the same can't be said for major household appliances. You need the right electricity plan to match your home and your power usage. No matter your age, shopping for a power plan at Texas Electricity Ratings can help you reduce your monthly utility expenses.