What is the best Texas electricity plan?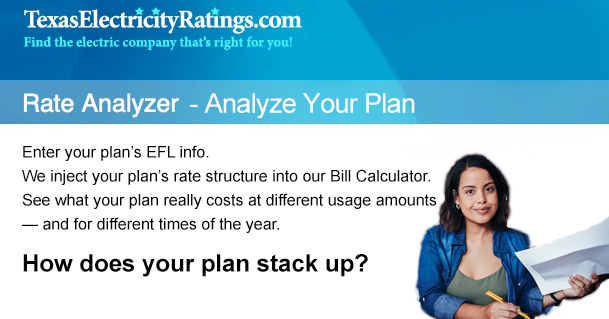 With large cities like Houstonand Dallasas part of the deregulated Texas electricity market, 87 percent of Texans choose their electricity providers. Many companies compete to serve retail electricity customers, and their pricing methods can be confusing.
Before you sign up for an electricity plan, you want to know how much you're likely to spend each month. With the different pricing structures across plans, it can be difficult to compare them. With Rate Analyzer from Texas Electricity Ratings, you enter the pricing details of your plan to get back information on how much you will spend at different electricity usages.
Making sense of your electricity plan EFL
State law requires retail electricity providers to produce an Electricity Facts Label (EFL) availble for every plan they offer. The EFL summarizes pricing and terms for any given electricity plan. Though every plan's EFL looks similar, there are a few key terms you need to understand when comparing electricity plans:
TDU (Utility/TDSP) Charges— (also known as Transmission and Distribution charges) delivery charges by your area's utility company. Almost all the time these charges are passed straight through to your monthly bill. The charge is based on cents per kWh multiplied by the total kWh used.
Energy charges— the price you pay per kWh of usage.
Bill credits— amounts your electric company will deduct from your bill when you use a certain amount of electricity in a billing cycle. Some plans have more than one credit at different thresholds.
Visualizing your Texas electricity bill
When you enter your plan's EFL details into Rate Analyzer, it is also processed by the Texas Electricity Ratings Bill Calculator. The Bill Calculator will show you graphs that clearly display the average amount you pay per kWh and how much you pay at usages between zero and 3,000 kWhs. This way, you can compare plans head –to-head based on the amount of electricity you expect to use.
Finding the best deal on Texas electricity couldn't be easier!
Picking the right Texas electricity plan for your home
If you're ready to choose your new power provider, Rate Analyzer is a great place to start. For many parts of the Lone Star State, Texas Electricity Ratings has dozens of plans ready for you to explore. So grab last year's electricity bills, and see which of today's plans is best for your family's usage pattern.