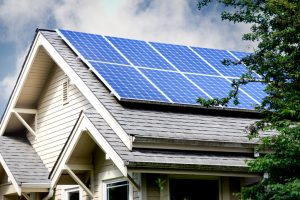 How do I save on Texas Solar Panels?
This year is the best year to go solar in Texas! Let our guest blogger, Sherren Harter from Texas Energy Lab, show you why!
If you have ever thought about installing solar panels for your home, this year is the perfect time to do so. Why? Here's five key reasons why 2019 is the best year to start getting your power from residential solar energy!
1. Lower but Stabilizing Solar Panel Costs
The overall cost of solar in Texas has fallen 47% over the past 5 years according to the Solar Energy Industries Association.
However, the price of residential solar panel installations in Texas are leveling off, down only 5% in 2018 due in part to higher equipment costs resulting from tariffs.
The price of solar power systems may continue to fall modestly in the future. However, these prices won't fall fast enough to make it worth putting off savings you can get from generating your own electricity this year.
2. Federal Tax Credit Phase-Out
According to federal tax rules, 2019 is the last year to claim the full 30% federal investment tax credit (ITC) for solar power systems.
How does it work? If you install solar panels this year, you can reduce your tax liability by 30% of the total installed system cost. This also includes solar panel systems with battery backup. If you spend $30,000 to install solar, you can claim a credit of $10,000 on your 2019 tax return.
In 2020, the tax credit will be reduced to 26% as part of an ongoing 3-year step-down. The longer you wait, the lower your potential tax credit!
3. Tax Exempt Home Value Increase
Although the real estate and appraisal industry lacks a consistent practice for assessing the additional value of a solar panel array, home buyers are interested in homes with solar panels. On average, Texas homes with solar panels sell for $15,000 more than those without.
Moreover, a property tax exemption in Texas prevents the appraised value of your residential solar panels from being factored into your property tax assessment. Another statewide benefit is legal protection for homeowners who have a homeowner's association and want to go solar. That means your HOA cannot prevent you from installing solar panels for your home.
4. Solar Net Metering Programs
Texas still lacks state-wide net metering. However, some Retail Electric Providers (REP) in the competitive electricity markets will reimburse you for your solar electricity production.
When you install a grid-tied solar power system, the solar you generate will meet your electric usage first. When you use more electricity than your solar panels produce, you will be pulling the additional electricity from the grid.
Conversely, when you generate more solar energy than you use, the excess electricity will be sent back to the grid. Solar buy-back programs typically reimburse you for this excess generation. Most pay at the same retail rate you pay for electricity from your provider.
TXU Energy, Reliant Energy, and Green Mountain Energy offer such solar buy-back programs. In addition to reimbursing you for your excess solar energy generation, TXU also has a partnership with SunPower, the U.S. based manufacturer of the world's most advanced solar technology, and is committed to bringing more solar to Texas at a utility scale.
5. Air Quality
The Texas population continues to grow more rapidly than almost any other state, especially totaling 380,000 more people in 2018 than the year before. Growing suburban counties surround every major city in Texas. That increased suburban sprawl can increase the risk for reduced local air quality.
The American Lung Association rates the Houston-The Woodlands metro area as the 15th most polluted city in the U.S. when looking at year-round particle pollution. Counties in Houston area that have an "F" grade for high ozone days from the American Lung Association include Brazoria, Harris, and Montgomery. High ozone levels also affect Collin, Dallas, Denton, Hood, Johnson, Parker, and Tarrant counties in the Dallas-Fort Worth metroplex as well as Bexar, Hays, and Travis counties in Central Texas.
Unlike traditional electricity generation from coal and natural gas, solar panels do not produce emissions to make electricity. By making your own power at home, you can help reduce the amount of fossil fuel emissions and contribute to improving air quality.
The Solar Future Is Here Now
While solar is a large financial investment, on average it saves homeowners tens of thousands of dollars. Now is the best time to go solar by taking advantage of favorable pricing and limited incentives.
A residential solar project can take 2-3 months to plan and install. With the 30% tax credit set to expire at the end of the year, solar installer schedules are filling fast! Don't put it off! Contact solar companies in your area for a quote today!
Sherren Harter has worked in the renewable energy industry since 2011. She is currently a producer of the Texas Energy Lab radio show and the Director of Marketing at Freedom Solar Power, a Texas-based solar company. A writer focusing on renewable energy and sustainability topics for almost a decade, she lives in Austin, Texas.