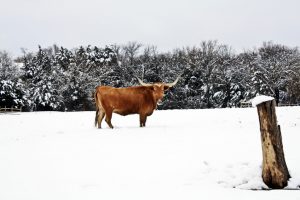 Winter arrives on December 21. In Texas, winter will probably be over by noon.
NOAA is forecasting that with the emergence of the weak La Niña this month, there's likely to a better chance for "above-normal temperatures for much of the southern U.S." from December, 2016 through February, 2017.
ERCOT was more specific in its updated winter weather forecast, saying  "average near-normal to above-normal across the ERCOT region over the three-month winter period." The warmest part of the state being in west Texas, the coolest in the east.
Not surprisingly, ERCOT's winter demand forecast  doesn't anticipate a winter peak of more than 58,000 megawatts (MW). That's higher than the record caused by the Great Freeze Out of Feb. 10, 2011, the reasoning is that it's best to be prepared for a few extra cold days, just in case.
But NOAA also warns "a slight tendency toward below-normal temperatures is forecast over parts of the upper midwest and northern plains" where the majority of homes use natural gas for heating. While current natural gas stocks in storage are at record levels, weeks of snowy days and frigid nights in the heartland are expected to burn through a good chunk of surplus supply by the April thaw. The US Energy Information Administration's current (November 8) Short-Term Energy Outlook  forecasts a decline in natural gas output and a 21% increase in consumption this winter due to a somewhat colder winter and a subsequent commodity price increase through 2017.
The question is how will all that effect Texas electricity rates?
Depending on the how cold and how long winter is, EIA predicts West South Central states could see residential electricity rates increase by 6% this coming year.  For the average Houston electric bill of $150/month, that can add on $9 extra per month — or $108/year.
Winter is coming. It's a good time to shop for a new fixed rate plan and lock in today rates for the future.