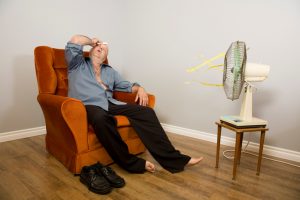 7 Ways to Cool Down in Dallas Without AC
Nothing's worse than having your air conditioner break down in the middle of a Dallas summer. The suffocating heat can have you screaming for ways to try and keep cool if you live in the Oncor service area. Luckily, if you're looking for fast relief from the summer heat, we've got 7 easy ways you can use today to stay cool until your AC gets repaired.
1. Use Ceiling Fans Properly
The human body evaporates sweat to keep cool. Fans are very effective at cooling because they blow air across the skin and this evaporates sweat faster. Make sure all of your ceiling fans are set to counterclockwise motion. The easiest way to check and make sure they are is to stand under them. If you feel a breeze, then you're good to go.
2. Avoid Using Appliances During the Day
Turn off appliances that use heat. Dishwashers, dryers, and ovens all use heat to do their jobs. Also, try cooking meals at night for the next day and saving your laundry until the evening when it's cooler outside. Even better, if you want to save on your monthly Dallas electricity bills, try line-drying your clothes when it's hot out!
3. Treat Yourself to Cool Snacks
An electric way to avoid the Dallas heat is with ice cream. But you don't have to limit yourself to sweets. Drinking plenty of ice water, iced tea, or any other iced beverage will not only keep you hydrated, it'll help cool you down.
4. Keep Windows Closed When It's Hot Out
Leaving your windows open is a great way to get a breeze flowing through your house, as long as it's the right time of day. Aim to keep your windows open from early evening to the morning. However, once things start to heat up, you need to close the windows to keep your house from heating up. Also, you'll want to draw the shades to block out the heat.
5. Find AC Elsewhere
You have the power to choose from a lot of different places you can go to escape the heat. Try shopping at your local mall, catching a movie, or going to a restaurant and soak up the cool air. You can also find a lot of cool places to chill while you wait for your AC to get fixed. Room escape games, for instance, get you out of the heat while giving you some electrifying memories with your family.
6. Go Outside
Why stay home when you can go out and find ways to cool down? Go to a swimming pool and work on your tan while diving into the deep end to cool down. Visit a water park and spend the day sliding down massive slides or splashing around in a lazy river. You can even catch a breeze at your local park. Just be sure to bring sunscreen…
7. Sleep with Minimal Bedding
One of the easiest ways to stay cool when your AC is broken is to remove all the extra bedding and pillows from your bed. Also, it's best to use cotton sheets over other fabrics because they stay cool to the touch and are a lot more breathable than fabrics like wool or polyester. The less bedding you use at night, the less heat it'll trap and the cooler your bed will feel.
Keep Cool with the Cheapest Electricity Rates in Dallas
While no one wants to deal with the discomfort and expense of a broken AC unit, some of these tips can help reduce your AC use and even lead to huge savings on your summer electricity bills. Be sure to keep them in mind even after your AC gets repaired to help keep your electricity rates low during those hotter months.
Of course, the best way to find these plans and the cheapest electricity rates in Dallas is to visit www.TexasElectricityRatings.com. We provide tons of tools that make it easy to compare the best electricity plans and switch to a new provider. Stop by and see how we can help you and your energy bill stay cool this summer!