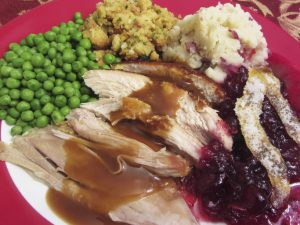 Celebrate Thanksgiving in Texas with the Best Takeaway Meals
One great way to lower your Texas energy bills during the holidays is to order your Thanksgiving meal to go! Whether you don't want to go out for dinner on Thanksgiving because of COVID or you struggle with boiling water, there are a lot of great takeaway options for a great meal. We've compared all the offers this holiday season, and these are the top 3 most electrifying Thanksgiving to go dinners for Oncor residents in Dallas.
Best BBQ Thanksgiving To Go
For those who want that smokey Texas BBQ flavor with their Thanksgiving dinner, Big Al's Smokehouse BBQ has the perfect takeaway option for you.
They're offering a special Thanksgiving Take Home Meal that gives you a choice between Turkey, Cajun fried turkey, pork loin, and spiral ham for the main. And 2 quarts of cornbread dressing, smashed potatoes, and seasoned green beans. Each holiday feast includes cranberry sauce and fresh-baked rolls.
The meal will set you back $125 ($140 if you choose an alternative meat option over Turkey). You can order online or call 214-350-2649.
Best Traditional Thanksgiving To Go
Craving a more traditional Thanksgiving dinner for takeaway? Norma's Cafe has you covered.
They're offering a Thanksgiving meal that includes your choice of turkey breast, smoked turkey breast, glazed ham, or smoked whole turkey for the main. And every order comes with mashed potatoes, giblet gravy, green beans, dressing, cranberry sauce, and rolls. For dessert, pumpkin pie of course!
All this yum will cost you $100, making it an affordable option for 8 – 10 people. You can order online or call 972-820-5871.
Best Elegant Thanksgiving Dinner To Go
If you're looking to put your monthly energy bill savings to something fancy, you should consider ordering Thanksgiving dinner from Hotel Crescent Court.
They're offering a full spread for Thanksgiving this year. Start off with an Autumn Pear Salad. Enjoy an Organic Diestel Whole Turkey in sage and herb butter with turkey gravy as your main. The sides are also plentiful: house-made cranberry relish with orange essence, whipped potatoes, roasted vegetables, brioche stuffing, and dinner rules. Plus, there's an apple and pumpkin pie for dessert. So, save room!
This decadent Thanksgiving dinner costs $275 plus tax and a 10% service charge. It feeds between 8 – 10 people. You can order online. Keep in mind that no substitutions are allowed on the menu.
Shop for Cheap Electricity in Texas
The holiday season is an incredible time of the year. And one thing that makes it even better is having more in your budget for festivities. And the easiest way to make that happen is to shop for a cheaper electricity provider in Dallas. Luckily, you have the power to choose the best electricity plan for your home in Texas! That means the potential for HUGE savings.
Visit www.TexasElectricityRatings.com for the tools, tips, and resources you need to start saving on your electricity plans. We make it easy for you to shop and compare electricity rates in the Oncor service area, so you can find cheaper electricity rates. Don't wait! Shop for a new energy provider today.