Christmas Presents for All Gadget Geeks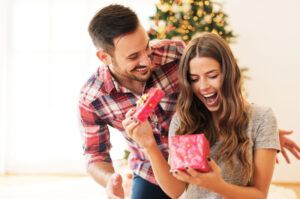 While Christmas is fast approaching, there's still time to get some presents for your loved ones. And there's no better present than one that keeps on giving. These smart home gifts are a great addition to any household because they can increase your home's efficiency and reduce your electricity bills. From gadget geeks to thermostat warriors, everyone can be energy friendly this Christmas.
1. Smart Thermostat
This is the perfect Christmas gift for any dad who watches the thermostat like a hawk. A smart thermostat can regulate your home's temperature based on your routine. So, you won't heat any room in your house unnecessarily. This can save you up to 26% of your electricity usage.
Ecobee's Smart Thermostat Premium measures air quality and senses when you're home. This doesn't just help with temperature adjustment, it can also monitor for intruders. Additionally, you can control the thermostat with your voice through Siri or Alexa.
2. Electric Kettle
If your household uses stovetop kettles or the microwave to heat your water, it's time to invest in an electric kettle. Firstly, you can get hot water faster. But, electric kettles also use less electricity, so they're the cheaper option long-term. Give your family the gift of sipping on hot tea on Christmas Day, knowing they'll save money on electricity.
This kettle from Hamilton Beach lets you control what temperature you want to heat your water to. Plus, the glass exterior lets you see how the water boils, so it's an aesthetic addition to any kitchen.
3. Make Any Switch Smart: SwitchBot Bot
This smart home Christmas gift is great for anyone in the family. From efficient moms to curious kids, everyone can get a kick out of the SwitchBot bot.
This gadget pushes buttons for you. While that seems awfully simple, it's actually very convenient. You connect the SwitchBot to your phone and remotely turn on any rocker or push-button switch. Turn on computers, fans, or appliances from your smart phone. With this, switching the light on will be as easy as switching electric companies.
4. LED Strip Lights Are Smart
These LED strip lights will make your Christmas tree decorations jealous. They're vibrant, use less electricity, and you can control them from your phone with an app. And you can even activate them with Alexa or Google. Lastly, at 100 ft length, you can illuminate a whole room, even after Christmas.
5. Water Leak Detector
Unfortunately, water leaks can damage your house and cost you hundreds if not thousands of dollars. With a Fibaro flood sensor, your loved ones won't have to worry about this anymore. This little device vigilantly checks your water pressure and sends alerts to your phone if anything is wrong. This is great if you travel because it can immediately shut off the your home's main water valve until the leak is fixed.
The Gift of Cheap Electricity
Equipping your home with smart devices can help you stay efficient and save on electricity. But, nothing reduces your electricity bills as much as getting a good deal. Visit https://www.texaselectricityratings.com/ to compare current rates, find the best plan, and get the best deal in Texas on your electricity.