What's the Best Texas Electricity Plan for Me?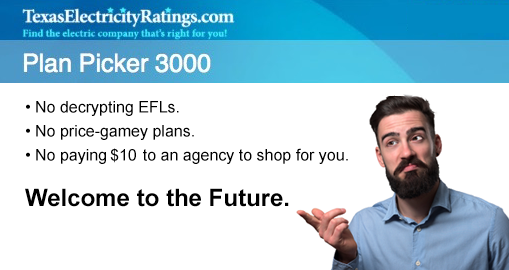 The power to choose your energy company can be overwhelming at first. If you're an Oncor customer, you'll have over 100 plans to choose from. Luckily, the Plan Picker 3000 from Texas Energy Ratings will help narrow down the options, making it easier to find the right plan for you.
What Do You Value Most in an Electricity Plan?
There are several questions to ask when shopping for the cheapest electricity rates in Dallas. Do you prefer a bill with no surprises? Do you want to have the lowest rates? Do you prefer a plan from one of the highest rated energy providers in Texas? Or do you prefer a low deposit electricity plan? Choosing one of these options helps Plan Picker 3000find your best option.
What Contract Length Do You Prefer?
The length of your contract will change your electricity rates. Longer contracts lock in lower rates than shorter contracts most of the time. The catch is that with longer contracts, you won't always get a cheap early termination fee. If you're looking for a bad credit option for electricity, you'll want to go with a no contract plan. If you're okay with paying a deposit and know you'll be in your house for a while, you should opt for the longer contracts.
What's Your Monthly Household Energy Use?
For the last two questions, you need to know roughly how much electricity your household uses each month. Plans tend to offer different rates depending whether you use below 1000 kWh, between 1000 – 2000 kWh, or over 2000 kWh. Many retailers advertise their rates at a price that reflects 1000 kWh of use per month, near the average use for Texan households.
Some retailers will offer tiered rates depending upon how much energy you use each month. They often award bill credits when energy use hits 1000 kWh and again at 2000 kWh. Sometimes plan rates can if usage is just under 1000 kWh or over 2000 kWh. And sometimes, if you use under some other certain amount, you'll have to pay an additional charge. So it pays to find out and pay attention.
Once you have a rough idea about your household's energy use, answer these last two questions and click submit. Plan Picker 3000 will filter out the options and provide you with several options that fit your needs. This helps make it much easier for you to compare electricity companies and choose a plan that's right for you.
Comparing Electricity Rates Is the Best Way to Save
The deregulated energy market in Texas is very competitive. But if you don't know how to take advantage of the cheapest rates, you could end up spending more than you need to on your monthly energy bill. Visit www.TexasElectricityRatings.comfor more information on how to switch Texas electricity companies so start taking steps towards savings today.