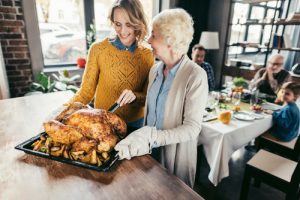 Where Can You Get Thanksgiving To Go In Houston?
Houston weather on Thanksgiving is rarely what most people consider cold. Mild fall temperatures are still around, and the Texas winter remains weeks away. You may see professional football coaches on TV bundled up to combat the chill. However, they're hundreds — if not thousands — of miles away. Here in Texas, a hoodie or sweater will suffice. 
But once you gather Thanksgiving guests into your house, the heat from the oven and stove top can be stifling. It causes your crew to shed their sweaters faster than the deviled eggs disappear from the appetizer table. Instead of spending time, effort, natural gas, and electricity on cooking, let these restaurants provide Thanksgiving to go in Houston. Your Houston electricity bill will be a dollar or two lower, and your kitchen will be clean.
Babin's Seafood House
No, you don't have to eat fish on Thanksgiving when you order from Babin's Seafood House. You get turkey, ham, green beans, cornbread dressing, sweet and mashed potatoes, gravy, cranberry sauce, and French bread. They have to-go packages for parties of four, eight, 16, and 24. Call in your order by Monday, November 23. 
Tacodeli
Maybe you don't like roasted turkey or spiral sliced ham. Try something completely different at Tacodeli. For Thanksgiving, they offer mole (pronounced moe-lay) by the pint. If you've never had mole, it's a Mexican sauce made from several types of chilis and unsweetened dark chocolate. You can also order their special mole taco with shredded chicken, housemade mole, queso fresco, cilantro, and onion. Order ahead, and pick up your Thanksgiving food by Wednesday, November 25. 
Brenner's Steakhouse
Perhaps tacos for Thanksgiving aren't your speed. Brenner's Steakhouse offers Thanksgiving prime rib to-go packages for two and four people. These options are perfect for a socially distanced holiday. Both packages include a bottle of The Prisoner Napa Valley Red Blend along with a starter, prime rib, and two sides. Place your order by Monday, November 23. 
One More Easy Order
Thanksgiving dinner isn't the only easy thing you can order today. Shop electricity plans at https://www.texaselectricityratings.com. Sign up before you trade your hoodie for a heavy coat. Prices rise in the winter months, and electricity demand increases by 7% on average, too. Lock in your Texas power plan today!