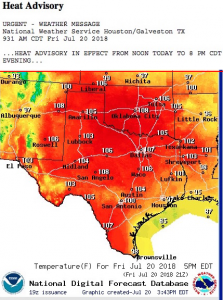 Why is high electric demand such a Texas problem?
Summers in Texas are supposed to be hot. But when the temperatures start hanging around 100°F or above for a few days, then the situation starts getting serious. Not just for homeless folks who need to get out of the heat to survive or anyone else who works outside. It also affects anyone using Texas electricity.
And we're not talking about how cray-cray 'spensive wholesale prices will be. Nope, we're talking about just how to keep the lights on. Basically, there's a whole lotta Texans using an almost finite amount of electricity. And in an energy-rich state, that should sound crazy.
Back in April, ERCOT announced in its Seasonal Assessment of Resource Adequacy (SARA) for summer that it anticipated a summer peak demand of 72,756 MW and said it could cover it with 78,184 MW of generation resources. While that sounded comforting, the grid manager said it had to juggle the possibility of planned and unplanned power plant outages. ERCOT predicted that the amount to be up to 4,349 MW. At worse then, ERCOT might sometime have to face hot weather with only have 73,835 MW.
Luckily, ERCOT isn't faced with that sever level of outages just now. Its operations messages are showing that "no loss of generation greater than 450 MW" has occurred in the past couple of days. However, the high temperatures on Thursday, July 19 blew ERCOT's peak of 72,707 MW right out of the swimming pool, setting a record of 73,259 MW.
The fact is ERCOT's operating reserves are quite TIGHT. At 4:10 PM on July 20, as Dallas hitting 108°F and Houston was a tepid 96°F, the peak demand was 72,707 MW with just 3,384 MW in reserve. True, as long as reserves stay above 3,000 MW, conditions are "normal". But once that reserve falls below that, ERCOT's Energy Emergency protocols take over and things could get interesting. And it's not even August.
When reserves fall below 2,500 MW, ERCOT goes into the control room watch and tries to find more power. They may issue a conservation alert.
If reserves fall to 2,300 MW, an Energy Emergency Level 1 Power Watch is issued, announcing that conservation is NEEDED. ERCOT will also connect to asynchronous connections on other adjacent grids to import power, including Mexico.
When reserves fall below 1,750, Energy Emergency Level 2 Power Warning is issued. Customers who participate in demand response programs will see a loss of power.
If available power continues to fall or the frequency falls below 59.5 Hz, then ERCOT's job is to preserve the grid system itself. Because AC power alternates polarity 60 times per second, all generators in ERCOT are synchronized to 60 Hz If the demand (load) on the system is too great, then the generator's output drops and does the frequency. If any generators fall out of sync, they can send out the wrong polarity at the wrong time into the grid. This can damage other generators and equipment on the grid. To prevent this, ERCOT will order TDUs to shed load, causing blackouts.
Oddly enough, rolling blackouts have only happened once in ERCOT and that was in February 2011 when a cold snap froze out several power plants. But the idea behind this type of electricity power plan was the same: a limited energy supply can only shoulder so much demand safely.
How hot will it get this weekend?
Plenty. Brutal temperatures are forecast this weekend to be nearly 110°F in Dallas, while Houston is expected to see highs of about 103°F. The silver lining for ERCOT is that most businesses will be closed, which will help keep demand lower. But the coming workweek is also forecast to be a blast furnace for most of the state, especially Dallas and Houston, featuring triple-digit heat.
How will this affect my family?
While ERCOT has not yet asked for conservation measures, it may only be a matter of "when". In the meantime, Texas retail energy providers are asking that their customers reduce energy usage during high demand periods from 2 p.m. to 6 p.m. This can be done by raising the temperature on your home's thermostat by four degrees (or more when you're away during the day). Another thing is to run appliances that use heat, such as the dishwasher, washer, or clothes dryer, later in the evening. One added bonus here is that as all these appliances add to your home's cooling load, shifting their use to a later time when it's cooler outside will actually reduce the load on your air conditioner. Also remember to close curtains and drapes, especially on the south and south-western facing windows, unplug ANY unused electronics and devices, and turn off any lights in unoccupied rooms.
When will prices fall?
Even though there are high summer electricity rates, they won't last once autumn begins. As temperatures and prices begin to moderate, you'll be able to shop for the best fixed rate plans available in your area by shopping at TexasElectricityRatings.com. Compare Texas electricity rates to see which plan fits your family's needs.