What to Do Before Buying an Electric Vehicle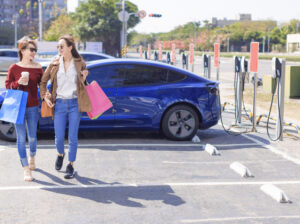 It's kind of like bringing a new baby home…except it does 0 to 60 mph in under 6 seconds. Buying an electric vehicle (EV) can come with more prep than you think. From ensuring there's a safe way to charge it at home to the higher electric bills, these tips can help you prepare your home for an EV.
Home Charging Your EV Safely
All EVs come with a 110-volt-compatible home connector kit. You can plug this into a standard outlet to charge your car safely. But, homeowners can also install a 240-volt Level 2 wall charger for faster home charging. These typically cost $400-700.
But, what happens if you have a detached garage? In this case, you may need to install a new charging system by running a 240 AC line from your home. Then, you need to connect this to a new electric breaker box. And this work needs to be done by a certified electrician. Along with labor costs, this can easily add another $2,000 to your EV purchase.
110 or 240 Volts?
If you can't decide whether a Level 1 or Level 2 charger is right for you, here's how you can choose.
Stick to 110-Volt home EV charging if you have a hybrid or you don't drive more than 40-50 miles per day. In this case, you don't need that much electricity, and you can fully charge your car overnight to 100%.
Install a 240-Volt home charger if you need faster charging. You can reap the benefits of a Level 2 charger in your home if you have a fully-electric vehicle that you plan to use for longer distances.
Perks of Getting an Electric Vehicle
Apart from the environmental benefits, as an EV owner, you can also take advantage of these perks:
Back-up battery: In case there's a power outage, a fully-charged electric vehicle can power your home for up to 3 days.
Tax credit: You may qualify for up to $7500 tax credit with a new electric vehicle.
Improved performance: For those who have a need for speed, EVs have a higher acceleration rate than gas-fuelled cars. Coupled with a smooth and silent ride, electric cars are often a joy to drive.
How Does Your EV Affect Your Electric Bill?
Undoubtedly, charging your electric vehicle at home will mean you use more electricity. EV owners can expect $30 to $60 extra on their electricity bill every month. However, according to Consumer Reports, an EV saves you hundreds of dollars a year compared to gasoline fueled cars.
Get a New Electricity Plan
Apart from setting up safe charging stations in your home, the best way to prepare your home for an EV is by finding the best electricity deal. This won't just reduce the imminent electric bill increase. Since cheap electricity is crucial to your transportation, you need to commit to a trustworthy retail electric provider.
Visit www.texaselectricityratings.com to find provider reviews, the current rates, and all the information you need to sign up for a new electricity plan.