Four Favorites from the 2023 Technology Event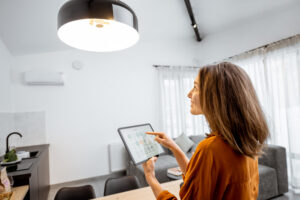 The 2023 edition of the Consumer Electronics Show (CES) revealed the latest marvels in technology. Some of them will even help reduce your energy bill—though not as much as getting a great deal on electricity. Ok, you've already heard from the Houston side. But these four smart home picks from CES are our favorites in Dallas. And we can't wait to see them on the shelves.
1. LG Art Air Conditioner
As much as we love our AC during hot summer months in Dallas, we have to admit our AC units aren't aesthetically pleasing. However, LG offers a brilliant solution to this interior design problem.
Their ARTCOOL Gallery is an AC unit that doubles as a framed piece of digital art. Much like the art TV's, you can personalize what image you'd like to display on the screen. From a dynamic slideshow to a static picture of the Mona Lisa, you can enjoy your space with this elegant home gadget that keeps your home cool.
2. U-Scan
You can find smart home gadgets for every room in your house. And now, even your toilet. Premiered at CES 2023, the U-Scan is a smart gadget that monitors your pee. As weird as that sounds, it has many health uses. From tracking ovulation cycles to monitoring nutrition and hydration levels, everyone can benefit from this. In addition, the U-Scan can even distinguish whose urine it analyzes in your household. So, it can tell you exactly who in your household needs to drink more water. And since it works with replaceable filters, the U-Scan doesn't contribute to your electricity bill.
3. A Lock to Elevate Your Smart Home
Do you ever wish you were James Bond? The Lockly Flex Touch Pro can make entering your home feel like you're entering a secret MI6 base. This smart home gadget can turn any deadlock bolt into a fingerprint reader. Simply touch the pad, and the door unlocks for you.
4. Our Top CES Smart Home Pick: Displace TV
Finally, our favorite innovation from CES 2023 is the Displace TV. This 55" OLED TV doesn't have any wires, ports, or mounts. It works with rechargeable batteries that can last weeks, so you can save electricity. Or, at least, become more aware of how much electricity you use watching TV.
One of the best features of the Displace TV is that you simply stick it on any wall in your house and start watching. Luckily, it's lightweight, so it's easy to move around. And if you're worried about the TV falling off, it also has built-in airbags to protect it.
As if these features didn't make the Displace TV cool enough, you can also control it with hand movement instead of a remote. Talk about feeling like Tom Cruise in Minority Report! Plus, if 55 inches isn't enough, you can combine several units to create one giant screen.
The Best Deals on Electricity in Texas
While we wait for these awesome home gadgets to hit the market, there are other ways to save money on your Dallas electricity. And the best of them is to look for your new plan at https://www.texaselectricityratings.com/. You can compare the current rates, see provider reviews, and choose the best deal for your home.