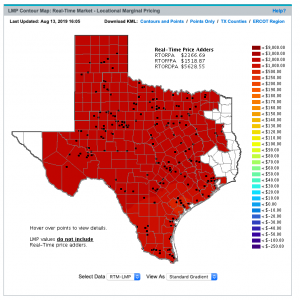 How high will my August electricity bill be?
Did you sign on to a wholesale electricity rate plan? Did you buy a variable rate plan?
RUN, DO NOT WALK
and choose a cheap electricity fixed-rate plan now. Be sure to choose a term that's long enough to at least get you through summer into fall.
Why? Because when 28.7 million Texans crank up the AC on a HOT August afternoon, electricity can get scarcer than ice cubes on a hot frying pan. When it's really stinking hot, all that big Texas electricity demand triggers scarcity pricing. Your wholesale or variable plan rates blow up faster than a Panhandle thunderhead.
You could be paying up to $9.00/kWh!
Why are Texas electricity wholesale and variable plan prices so high?
ERCOT operates under an "Operating Reserve Demand Curve" (ORDC). ORDC is a market mechanism that allows generators to be paid to be ready. It's sort of like ambulance and fire crews who get paid when they go on duty. You don't want to use them, but they're ready when you need them. This past January, the Public Utilities Commission of Texas (PUCT) told ERCOT to boost payments to generators during periods of high electricity demand. As a result, wholesale electricity prices in Texas now increase faster when there's less generation capacity available.
Why Are Texas Wholesale and Variable Electricity Rates Spiking?
Tight reserve margins can wreak total havoc during high demand periods on the wholesale markets. ERCOT has a much slimmer generator reserve margin this summer than last year. Though it calculates a peak summer demand of 74,853 MW, its reserve margin has fallen to roughly 8.5% or about 6.4 MW. However, with power plant outages, low wind output, etc, normal operating reserves are actually lower — at or above 3,000 MW.
Generally speaking, that sliver of reserve works fine as long as temperatures stay below 100°F.
But that kind of dice-roll just doesn't happen very often in Texas on late August afternoons. Just this past August 13, Peak demand rose to 74,181 MW between 3 and 4 p.m. Consequently, ERCOT had to issue an Energy Emergency Alert (EEA1) when reserves fell below 2,300 MW.
That's the moment when scarcity pricing kicked in and the wholesale electricity price shot up to $9,000/MWh. If you have a wholesale electricity plan or variable rate, it's a sure bet you'll face crazy-high bills in a few weeks.
Fixed Rate Texas Electricity Plans Are Low!
The average 12 month fixed rate electricity plan is just 10.1 cents per kWh.
That's just the average rate. There are even lower rates offered by some of the best providers in the Texas market!
Still want to roll the dice on your wholesale electricity plan or variable rate plan?
Go to https://www.texaselectricityratings.com and shop for the fixed rate plan that best meets your family's needs. We make the whole electricity choosing process easy for you, complete with valuable tools like our Ultimate Texas Electricity Shopping Tool Kit that features our Rate Analyzer, Bill Calculator, Rate Meter/Lifestyle Meter, Plan Picker, and our unparalleled Customer Reviews and Provider Ratings.
Go with a sure bet! Switch now and save!