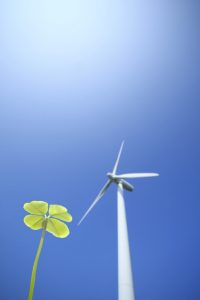 Who has St. Patrick's Day 
Green Electricity?
Even when St. Patrick's Day falls midweek like it does this year, people still manage to celebrate. Put on your favorite green shirt and head down to your favorite Irish pub for a pint of Guinness. But before you celebrate all things Irish, take a minute to think about your home's electricity. You can go green and save some green with renewable Texas energy. 
On St. Patrick's Day, green electricity is easy to find on https://www.texaselectricityratings.com. Search plans and secure your Texas power plan right away! You'll pinch yourself for not considering green electricity plans before prices rise in the summer. 
Houston 12-Month Bill Credit Plan For Moderate Usage
Choose the GridEdge 12 plan from Chariot Energy, and you won't shop Houston electricity plans until next St. Patrick's Day. This plan has the lowest rate of all 12-month green electricity plans in Houston. At 1,000 kWh of usage, customers pay an average rate of just 6.7 cents per kWh. 
The key feature for this plan is a $90 bill credit at 1,000 kWh in a billing cycle. As long as you meet this threshold each month, this plan is great. But beware, your power bill will turn you as green as St. Patrick's Day beer if you don't. 
Houston Electricity Company With A Bill Credit Window
If you want a longer commitment, try the 2-year Gexa Saver Supreme 24 plan from Gexa Energy. This plan has the lowest rate of just 7.6 cents per kWh   among other plans with this contract term. The major feature here is an $85 bill credit customers earn for usage between 1,000 and 2,000 kWh. If your usage falls outside this range, you miss the pot of gold at the end of the rainbow.
Simple Pricing For Low Houston Electricity Bill
Since we're discussing cheap green energy, it may surprise you to see a plan with a 10.6-cent average rate. Don't automatically dismiss the Solarize 36 plan from Chariot Energy. This plan's price per kWh is higher than others; however, the monthly bill is lower for people averaging 1,000 kWh of usage. 
How is this possible? Other plans' bill credit thresholds lead to widely varying bill amounts as seasonal usage varies. Reading your bill after missing a bill credit can leave you feeling green under the gills. 
Since the Solarize 36 plan has no bill credits, you'll never get that sinking sensation. This three-year plan's straightforward pricing structure takes the guesswork and electricity expense fluctuation out of your bill. 
Go Green With Renewable Energy
With green electricity, St. Patrick's Day gets a whole lot better. Renewable energy plans help you do your part to keep nature as green as a leprechaun's top hat.  It's no blarney you can save a lot of money when you compare electricity companies on Texas Electricity Ratings.