Top 3 MUST-SEE Sights for a De-Light-Ful Christmas in Texas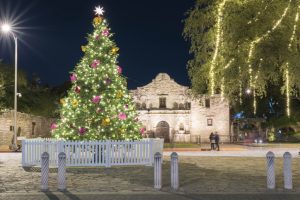 With more people out and about this year, it's time to get into the Christmas spirit and make some memories. Despite what some may believe, Texas has plenty of holiday cheer –even without the snow. So, what's there to do? See these 3 Christmas attractions in Texas and make memories to last a lifetime.
Keep in mind, you'll need to do a bit of traveling to see them all. Still, that'll be easier with all the money you've saved by switching to a cheap electricity plan in Texas.
1. Explore the Holiday Lights on the River Walk
Venture over to San Antonio to see over 100,000 lights glistening above the historic river walk. The Holiday of Lights on the River Walk is an electrifying display of brilliance that will warm up the holiday cheer inside you.
But there is more than just Christmas lights to see. There are plenty of parade floats, celebrities, and other events to keep you and your family entertained.
Plus, it's a completely free event.
2. See Santa at Wonderland of Lights
Experience a truly magical event with the Wonderland of Lights in Marshall, Texas. But it's no small light display. With over 10 Million lights, you'll wonder how they keep their electricity bills low.
Plus, there's more than just lights. You can find a Christmas Market, an outdoor ice skating rink, and a vintage carousel. There's even a neighborhood of tiny houses that create Santa's Village.
This event dates back to 1987 when George S. Smith, the Marshall News Messenger Editor, imagined what the courthouse would look like decked with a brilliant display of lights. He wrote about it in the paper.
A few months later, a Marshal Native that was living abroad in France sent him a check for $25,000 and a note that simply said, "have your wish."
3.  Experience a Christmas in Texas Concert at the Stockyards
This year is the 20th Annual Christmas in the Stockyards. Visit Fort Worth and experience an enlightening cowboy Christmas. From the Sounds of the Season to a parade, there is plenty of holiday entertainment and festivities to keep you and your family busy.
It is a truly Western Christmas experience. East Exchange Avenue and Mule Alley have lights strung about every tree along. Garland and ribbon are everywhere. There's even a giant wreath. In short, it is a truly spectacular scene.
Best of all, there is a photo op with Cowboy Santa and story time with Mrs. Claus herself. While it's free to get in, pictures with Cowboy Santa will cost extra. (Prices vary).
Shop for Cheap Electricity in Texas
The last thing you want to worry about over the holidays is your electricity bill. And while electricity rates are at historical highs, that doesn't mean you're stuck paying more.
As an Oncor customer, you have the power to choose the cheapest electricity. Plus, you've got a lot of options to choose from.
To make sure you don't choose the wrong plan, visit https://www.texaselectricityratings.com.
We've got the tools, tips, and tricks you need to keep your electricity bills low. That means you can focus on the holidays (not your wallet).