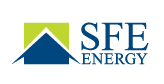 SFE Energy Resources
---
Recommended SFE Energy Plans
---
Most Recent SFE Energy Reviews
Amazing
Great service. My bill has never been this low.

— Joseph Riley from Langhorne PA
Controls my bills! So worth it!!!
I had a young lady come to my door, she explained I had a daily rate and it allowed me to use up to 10,00KWH for electric and 1000ccf for gas, which allowed me to use more without the pricing spiking. My bills have been consistent and Im not surprised month to month. Now if the utilities could lower the stupid delivery fees then that would be nice.

Definitely worth it! — Brittany from Grove City OH
5 star company
Representative was here today to sign me up. Her presentation was clear, concise, and very informative. I expect significant savings for both gas and electric services by transferring my business to this company.

— K.W. Wright from Columbus OH
4-5 Star Reviews: 9 (25%)
Amazing
Great service. My bill has never been this low.
No 3-4 star reviews have been posted or approved yet
Canceled next day
Signed up thinking PGE had a new gas provider. Went online to research the company and found out they're not part of PGE. Figured my bill would be higher so canceled right away. I was not charged a cancellation fee.
1-2 Star Reviews: 26 (72%)
I was enrolled through lies.
This company called me saying that their phone call was from pse&g and asked me pse&g POD # in order to send me an apology check because I over paid. They lied to me to enrolled me in their electric supplier. The they called from was not in service I got their number after I was enrolled. Is not fair
SFE Energy News
No applicable blogs have been written

SFE Energy FAQs
What do customers think about SFE Energy?
---
That depends on who you ask. There will always be someone who feels wronged by a company, no matter how good they actually are. The average SFE Energy customer review is 1.5 / 5 stars. Keep in mind, consumers will go out of their way to complain far more often than they will to give praise.
Why is my electricity rate higher than when I signed up?
---
The rate you see when you sign up is the average rate at that exact amount of usage in one billing cycle. Some companies try to game the system by applying bill credits between certain usage thresholds. It works great if you are within the margins, but as soon as you leave that band you no longer get that bill credit and your rate per kWh can double. The PUC only requires that companies disclose their average rates at 500, 1000, and 2000 kWhs. Companies can get around this by giving you a $50 bill credit if you use between 1000 and 2000 kWhs per billing cycle. The only way to really know what you're getting into is to read your EFL. A 10¢ rate at all usage amounts may end up being cheaper than that 8¢ rate at 1,000 kWh!
Recommended SFE Energy Plans