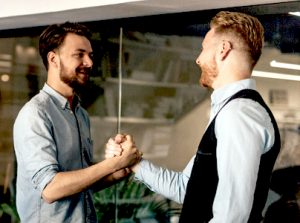 How much do your Houston neighbors pay for electricity?
You've probably walked over to your neighbor's house to check out his new grill, lawn mower, or power tool the very day he brought it home. You inspect this new piece of equipment like you're on a car dealership showroom floor. He describes the bells and whistles. He gushes about how it is so much better than the previous model. You wish you had one. 
Have you ever heard your neighbor boast about how low his electricity bill is? If you have, the first thing you ask is which retail electricity company he uses. As with the grill, lawn mower, or power tool, you wish you had an electricity company that inspires you to sing its praises. 
Compare Electricity Rates
Switching electricity companies from your current provider to your neighbor's could work for you. After all, your two homes are probably similar in age, size, and condition. 
In the end, your neighbor's recommendation just one man's opinion. But what if you could get many opinions from people in your part of Texas? That's exactly what you get when you browse the electricity plans trending in Houston shown on Texas Electricity Ratings. This week, your friends and neighbors are choosing the following electricity plans for their homes. 
Lowest electric rates thanks to a bill credit
The cheapest of the electricity plans trending In Houston is the Texas Saver 12 plan from Pulse Power. You can lock in this plan's low price for a full year. When customers use 1,000 kWh of electricity per billing cycle, they pay an average rate of 7.4 cents per kWh. This low average rate happens because of two things. First, the retail electricity company does not assess a base charge (though CenterPoint Energy TDU does for all Houston customers). Second, a $95 bill credit kicks in when customers use at least 1,000 kWh in a billing period. 
Great customer service on a 6-month power plan
You may want to test out a new electricity company. However, you don't want to ride the fluctuations of the Texas electricity market. The Entrust 6 plan from Entrust Energy is a good option for a short-term commitment. This 6-month fixed rate contract offers an average price of 9.2 cents per kWh at 1,000 kWh of usage. With a rating of 4.4 out of 5.0 stars on Texas Electricity Ratings, you should be happy with your choice. 
Popular pricier Houston electricity plans
Though price is a major factor in selecting a retail power provider, it isn't everything. This is clear because two electricity plans trending in Houston have flat rates near the top end of the competition. Right now, many Houston electricity customers are opting for the Choice 24 plan from Spark Energy and the Solarize 12 plan from Chariot Energy. 
The Choice 24 plan has a two-year contract with an average price of 11.8 cents per kWh at 1,000 kWh. With a relatively low $100 early termination fee, you have the flexibility to jump on better electricity prices later. 
The one-year contract on the Solarize 12 plan locks in an average price of 11.6 cents per kWh. This plan's early termination fee does not provide as much leeway as the Choice 24 plan. At $15 for each month remaining on the contract, the cost of getting out early may eat up savings on a new plan's lower rate. Terminating the contract toward the end of the year-long commitment comes with only a small financial burden. 
Shop trending Houston electricity plans
When you shop https://www.texaselectricityratings.com, you have at your fingertips electricity plans trending in Houston plus many more. You may want to follow the trend, or you may want to explore the unique power plan options available for your home. Either way, Texas Electricity Ratings gives you the information you need to make a smart choice.