Southern Federal Rates and Plans for Houston, Dallas, and the Rest of Texas.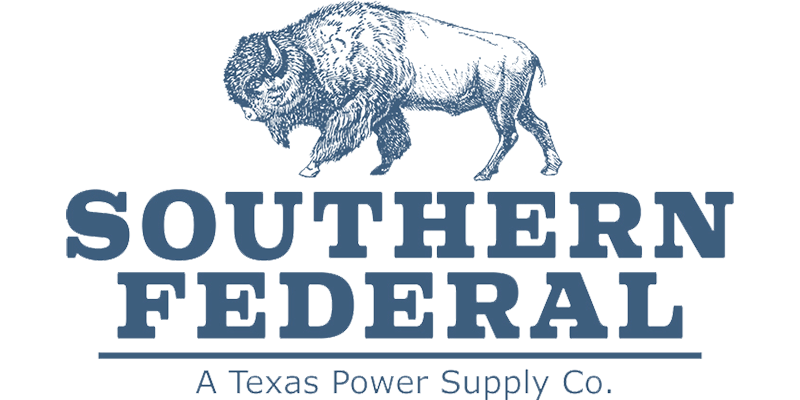 Electricity Rates
These tables show the lowest Southern Federal rates for Houston and Dallas:
Houston
Dallas
Other Cities
Average Rates
Coming Soon
Average Bill
Most customers in Texas use about 1050-1400 kWh of electricity per month. According to various sources, the average electricity rate in Texas is about 11 cents. This would make the average Texas electricity bill about $115 to $154 per month.
Of course, if you have a higher electrical load than normal you will use more energy, and thus your bills can easily be higher than that. High load items would be things like a swimming pool or electric heat in the winter.
Your home size will have an impact on your usage. A smaller 600 sqft apartment might use 500-600 kWh, while an expansive 3,000 sqft. home could easily use 2,200 to 3,000 kWh.
Plans & Products
Reviews
Our reviews of Southern Federal plans
Features
One size does NOT fit all. You have a lot of choices of plan types here in Texas. We've grouped up the plans from Southern Federal so you can shop for just the kinds of features you want.
Fixed Rates
These are the most common types of plans and provide the least surprises on your bills. When you use more, you'll pay more per month, and when you use less, you'll pay less per month. However, your average cost per kWh will likely remain fairly stable compared to bill credit plans.
Bill Credit
These plans will usually give a credit on your bill when your usage falls within certain ranges. If you use more or less, your rate per kWh could be significantly higher than the rate you saw when you signed up. Be sure to read the EFL carefully and understand your usage before ordering these kinds of plans.
Free Energy
These plans will cost much less but only during certain parts of the day or week. If you can adjust your usage to fall into the lower-cost periods, these can be a good choice. If you don't want to put off running appliances until certain parts of the day, these kinds of plans are not for you.
Southern Federal does not currently have any Free Energy offers available. Some Free Energy alternatives to consider are listed below.
Green Energy
Most providers offer some kind of green or renewable energy plan. These plans can help offset your carbon footprint which helps us all!
Southern Federal does not currently have any Green Energy offers available. Some Green Energy alternatives to consider are listed below.
Solar Buyback
If you have rooftop solar, you can benefit from a specific solar-buyback program, where the retailer monitors the amount of electricity your panels are feeding to the grid and pays you for each kWh you provide.
Southern Federal does not currently have any Solar Buyback offers available. Some Solar Buyback alternatives to consider are listed below.
EV Charging
EVs are great, and because the charging cycles often happen during non-peak-load hours, some providers give a much lower rate for usage during those times. Remember, you'll have to coordinate your charging schedule to take advantage of these low rates.
Southern Federal does not currently have any EV Charging offers available. Some EV Charging alternatives to consider are listed below.
No Deposit
For credit-challenged consumers who don't want to put down a deposit to begin service, a prepaid (no deposit) plan can make a lot of sense. Instead of paying for your energy after you've used it, you pay before you use it. To start service, you'll need to load somewhere between $25 to $75 on your account. You'll typically pay more per kWh, but these plans usually have helpful apps and notices to help you manage your electricity usage and keep your costs under control.
Southern Federal does not have any plans in our category here, so below you will find some alternatives which we have reviewed.
For Your Home
Apartment
Apartments typically use anywhere from 500-800 kWh per month. When apartment dwellers shop for electricity, they should focus on fixed-rate plans with low monthly recurring charges, and pay particular attention to the 500 kWh rate on the EFL. Also, most apartment consumers should match their contract term to their lease term so they don't get hit with early termination fees.
Southern Federal does not have any plans in our category here, so below you will find some alternatives which we have reviewed.
House
Most medium size houses use about 1100-1700 kWh per month. Consumers in this group should use the 1000 kWh rate on the EFL as a guide for the actual rate they will end up paying. Bill Credit plans can make sense for these users, as well as free energy plans if you can move about 30% of your electricity usage to the off-peak times. The monthly recurring charge is not as important as it does not contribute a significant portion of your monthly bill. 12-24 month plans usually make sense for people in typical houses.
Southern Federal does not have any plans in our category here, so below you will find some alternatives which we have reviewed.
Large House
Customers in large homes probably use 1800-3500 kWh per month, especially if you have a hot tub, pool, electric vehicle, multiple air conditioners, and the like. Focus on the 2000 kWh usage rates shown in the EFL. If you look at a bill credit plan, make sure the credit does not go away if your usage goes over certain thresholds. Generally, longer term plans of 24-36 months are best for large consumers to smooth out price volatility.
Southern Federal does not have any plans in our category here, so below you will find some alternatives which we have reviewed.
For Your Business
Retail Shops
Light commercial users like professional offices, pizza parlors, hair salons, and other retail shops with bills less than $1,000 per month
Light Industry
Laundromats, Warehouses, small manufacturing plants, large repair shops with bills between $1,000 and $5,000 per month
Heavy Industry
Factories, business campuses, foundries, server farms with bills over $5,000 per month.
Enter your zip code to find rates for your city
Reviews & Ratings
Our Rating
Southern Federal Customer Ratings:
Average of Southern Federal Customer Reviews submitted through Texas Electricity Ratings.
Southern Federal Score Details:
| Company | Stars | Rating | Reviews |
| --- | --- | --- | --- |
| Southern Federal | | 1.0/5 | 1 |
Customer Reviews
Southern Federal Reviews:
1 total reviews for Southern Federal.
Compare
Buyer's Guides
Expert advice and information to help you evalute which Southern Federal option is best for you
Cheapest Rate
Sometimes the simplest approach is the best. Here is the lowest rate available from this provider:
Contract Term
Month To Month
3-8 Months
9-18 Months
19-36 Months
FAQ
What do customers think about Southern Federal?

That depends on who you ask. There will always be someone who feels wronged by a company, no matter how good they actually are. The average Southern Federal customer review is 0 / 5 stars. Keep in mind, consumers will go out of their way to complain far more often than they will to give praise.
Service
Customer Service
Phone Number
Chat
Account Login
Bill Pay
Billing
Estimate My Usage
Coming Soon
Understand Your Bill
Bill Period or Cycle
The dates this bill covers. Your Texas utility company will read the meter at their discretion. This will not always be a month or 30 days. If you are on a plan that has "monthly" fees, that fee will appear on your bill, regardless of how many days were within the period.
TDSP Fees
These are fees charged by your utility, and are present regardless of which electricity provider you have chosen.
Fees are charged from the utility and are passed on to the retail electricity provider
TDSP fees can be a fixed charged per bill, or a variable charge based on how much electricity you used during that period. There are a few providers that offer "bundled" rates, which include these fees in their Energy Charge. In bundled rates, your actual average rate will not change during the course of your contract (assuming the plan has no monthly charge).
Some of the TDSP fees you may be charged are:

Customer Charge
Distribution Cost Recovery Factor
Distribution System Charge
Energy Efficiency Cost Recovery Factor
Metering Charge
Nuclear Decommissioning Fee
PUC Assessment
System Restoration Charge
Transition Charge (1-5)
Transmission Cost Recovery Factor
Transmission System Charge
The TDSP fees charged and their amounts will vary depending on which TDSP services your area. As of May 2018, Oncor has the lowest per-bill charge at $5.25, while AEP-North has the highest, at $10.53 per bill. TNMP has the lowest average usage charges, at around 3.3¢/kWh, and CenterPoint is the highest, around 4.1¢/kWh.
Electric companies generally have the same energy charge applied, no-matter which TDSP the plan is in. The difference in the TDSP fees are the reason the same plan can cost around a penny higher in CenterPoint vs TNMP.
Energy Rate vs. Average Rate
the 'Energy Rate' is the price in cents that you pay your electricity provider for the actual electricity that you consumed. The 'Average Rate' is the total you paid for electricity service (including all TDSP fees, bill credits, taxes, etc) divided by the number of kWhs you used that month.
ESI ID (Electric Service Identifier)
This is the unique identifier of the electricity meter for your address. If you have multiple meters (one for the house, one for the shed) you will have multiple ESI IDs. Each ESI ID will generally get it's own bill, unless your current provider offers some sort of combined billing.
How To
Switch Providers
Coming Soon
Move In
Coming Soon
Starting Service
Deposits
Generally, all providers in Texas will perform a credit check to determine if they require a deposit to start service. Required credit scores and deposit amounts vary by provider.
Most providers can waive deposits with supporting documentation under certain circumstances.
Renew My Contract
Coming Soon
Report Outage
If your power is out, you should NOT contact Southern Federal. Instead, you should contact the company which is responsible for maintaining the infrastructure, poles and wires to your home.
Houston
Coming Soon
Dallas
Coming Soon
Other Cities
Coming Soon
Misc
About Southern Federal Power
Genie Retail Energy launched Southern Federal Power in July 2019 in order to sell retail electricity products and services in Texas. Southern Federal Power oversees two other brands in Texas, Ranchero Power and Watt Bro. Also referred to as "SoFed", the company serves about 10,000 Texas customers. The company is best known for not having raised or changed its rates during the spiraling rate increases that happened during Winter Storm Uri in 2021. It also gave its customers cash incentives to cut their usage and reduce strain on the grid during the crisis.