Tyler Electricity Rates, Plans & Suppliers
Currently, the cheapest Tyler electricity rate is 22.6 ¢/kWh, 9% lower than the average rate of 24.9 &cent/kWh.
Based on recent order data, the best electricity providers in Tyler are 4Change Energy, Gexa Energy, and Frontier Utilities.
67% are choosing plans with a contract length of 24 months, with 12 month contracts being the second most popular choice at 12%.
The average electric bill in Tyler ranges from $260 to $310, with an average electricity usage of 1100-1400 kWh per month.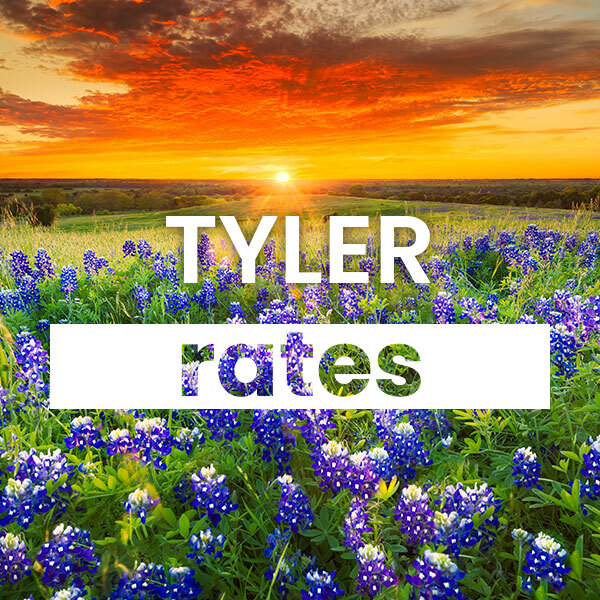 Five Cheapest Electric Rates for Tyler
Company
Term
Rate
Frontier Utilities
12/months
12.3¢/kWh
Gexa Energy
12/months
12.4¢/kWh
4Change Energy
24/months
12.5¢/kWh
Constellation
12/months
12.9¢/kWh
Discount Power
12/months
12.9¢/kWh
Rates as of Nov 28, 2023 at 08:26 PM
Green Energy Options in Tyler
Most Texas electricity companies have a 100% green / renewable energy plan, where 100% of the energy you buy supports renewable energy generators. Some Tyler electricity companies are exclusively green, where every plan is 100% green and prices and rates support 100% green energy and renewable generation.
Company
Term
Rate
Gexa Energy
12/months
12.4¢/kWh
Chariot Energy
24/months
14.8¢/kWh
Rhythm
24/months
15.4¢/kWh
GoodCharlie Energy
36/months
15.9¢/kWh
Champion Energy Services
24/months
16.0¢/kWh
Rates as of Nov 28, 2023 at 08:26 PM
Tyler's Top 5 Electricity Companies
Power To Choose for Tyler residents
Tyler electricity consumers do have a Power To Choose their own Retail Electric Provider (REP). Texas Electricity Ratings has created a great electricity marketplace where you can compare, shop, and order from multiple top-tier energy providers like these:
"Plug In" (haha) Your Zip Code To Compare Electricity Rates and Switch Today
No Deposit & Prepaid Plans for Tyler
There are several no deposit light companies in Tyler that can get your lights on tonight. No deposit electricity plans require that you prepay for your electricity. You can order online, and deposit a small amount - generally $25-$75 and get your lights on in a few hours. Once you've ordered service, you download an app and that reminds you when you need to deposit more money to keep your lights on.
Company
Term
Rate
Payless Power
6/months
18.1¢/kWh
Payless Power
12/months
18.3¢/kWh
Rates as of Nov 28, 2023 at 08:26 PM
Tyler Rates, Plans and Provider FAQ
Find rates for your zip code in Tyler
About Tyler Texas
History of Tyler
Tyler became recognized legally, starting with an act of the State's legislature on 11 th April 1846. Smith County was created by the Texas government and authorized the county seat. In the first plat, it was designated as a 28-block town that was centered by the main square, which spans 100 acres that the County of Smith in 1847 acquired. The new town was named after President John Tyler, who spearheaded the annexation of Texas.
According to history, Tyler's early economy relied on agriculture since it diversified during the period. For example, the second major industry was logging, while metalworking was under contemporary manufacturing, not to forget leather tanning and wood milling. It could also help if you knew that workforce needed for agricultural purposes came from slave labor before the civil war.
Tyler Culture
It is in Tyler, where the annual Texas Rose Festival takes place, and this event draws several tourists to the city. The Festival is dedicated to celebrating the role of the rose-growing industry in the locality. Additionally, the Festival features some civic events, a parade, and a coronation of Queen Rose. The city is also home to Rose Museum, and the Festival's history characterizes that. On the other hand, Tyler is home to Caldwell Zoo, many local museums, country clubs, and other tourist attraction sites.
Landmarks in Tyler, TX
Tyler State Park

This amazing park is located north of Tyler, TX, and covers 985.5 acres. The park is notable because of its 64-acre lake, among other natural features. In 1934 and 1935, private owners deeded the land, and the Civilian Conservative Corps were the ones who made the initial improvements. However, it was not until 1939 that the park was opened, and in-park activities, including boating, camping, fishing, lake swimming, mountain biking, and nature study, to mention a few.

Waterpark at the Villages

This amazing resort spans 25,000 square feet of fun suited for the entire family. It could also help if you knew that it features waterslides, a lazy river, and a wave pool, among other attractions. There is also a 19,000 square foot glass-enclosed recreational spot that is climate controlled to ensure visitors have full all year round. This glass-enclosed spot is also designed with a retractable roof to allow for open-air excitement during summer. The park was first opened in 2008. It is such a nice place to visit while in Tyler.
Tourist Attraction Sites in Tyler, TX
Caldwell Zoo

This bustling park sits on a piece of land measuring 85 acres. The park is famous because of its variety of animals from all over the globe. The Association of Zoos and Aquariums accredited the zoo. The zoo is at 2203 Martin Luther King Jr Blvd, Tyler, 75702, TX, USA.

Tyler Rose Garden

This is a beautiful rose park in Tyler incorporated with a museum. It's not only a beautiful but also free to walk park where you can stall with your dog. The park's address is 420 Rose Park Dr, Tyler, 75702, TX, USA.